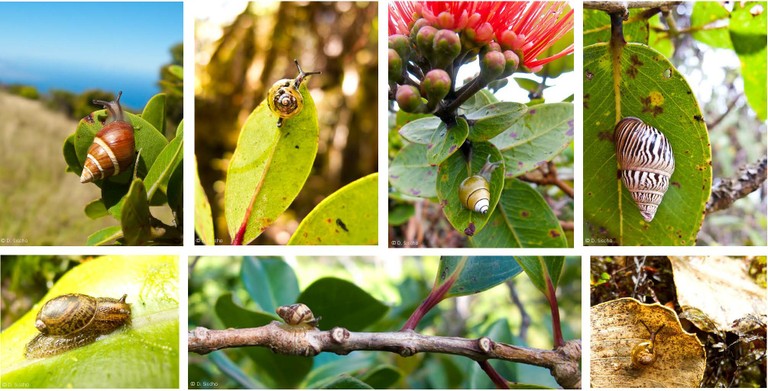 About 90 percent of terrestrial snails described in Hawaiʻi have gone extinct. See the Snail Extinction Prevention Program
at

dlnr.hawaii.gov/ecosystems/hip/sep

. See story, below. Photos from DLNR
ARBITRARY DETENTION AND DEPORTATION "of many long-term U.S. residents from Southeast Asia, including those who fled war and genocide," is the target of an inquest by Sen. Mazie Hirono and California Sen. Kamala Harris. They led 13 senators in urging Secretary of Homeland Security Kirstjen Nielsen to reexamine the policy and said they are particularly concerned with "the Trump
Vietnamese boat people were among the
refugees taken in by the United States.
The Trump administration seeks to change
the refugee agreements and deport many
refugees from Laos, Cambodia,
and Vietnam. Photo from Wikipedia
Administration's targeting of Vietnamese refugees who arrived in the country prior to the reestablishment of diplomatic relations between the United States and Vietnam in 1995." The Senators contend that the detention and deportation of those who sought refuge in the U.S. "violates a 2008 repatriation agreement between the two countries. The agreement provided legal protection for hundreds of thousands of Vietnamese refugees who fled to the United States following the Vietnam War."
A letter from Hirono, Harris, and colleagues to the Homeland Security Secretary says that "In Fiscal Year 2018, there was an increase in deportations of Southeast Asian immigrants with more than 350 Laotian, Cambodian, and Vietnamese immigrants who were ordered to be deported. Those processed for deportation by the Trump administration's recent, aggressive deportation efforts include legal permanent residents who have lived in the United States for decades after fleeing violence and genocide in their home countries. We urge you to reexamine policies on the arbitrary detention and deportation of Southeast Asian immigrants who prove no threat to public safety, are interwoven into our communities, and support United States citizen families."
Several leading justice and advocacy groups have spoken out against the Trump Administration's actions, including the Southeast Asia Resource Action Center, Vietnamese Anti-Deportation Network, Asian Americans Advancing Justice, AAJC Atlanta, and AAJC Chicago. Hawaiʻi is home to more than
140,000 foreign born residents from Southeast Asia, Hirono noted.
The full text of the letter is available
here
.
To read comments, add your own, and like this story, see
Facebook
. Follow us on
Instagram
and
Twitter
. See our online calendars and our latest print edition at
kaucalendar.com
.
THE PARTIAL GOVERNMENT SHUTDOWN IS AFFECTING HAWAIʻI more than most other states, says a recent report from WalletHub. Hawaiʻi is the fourth hardest hit. It is first in affecting federal jobs, ninth in affecting access to National Parks, seventeenth in affecting income from real estate as a percentage of Gross State Product, and twenty-ninth in affecting families receiving SNAP (Food Stamps).
This shutdown, into its fifteenth day, is the twenty-first time the federal government has shut down since 1976, the third time during the Trump presidency. The longest shutdown was 21 days.
When the government shuts down,
certain federal employees
work without pay. Others are off work - on furlough, explains WalletHub. Among those off work nationwide are 41,000 law enforcement officers, 52,000 IRS workers, and 96 percent of NASA employees. "Non-essential" government services also remain inactive and certain benefits are liable to run out of funding, says WalletHub.
At Hawaiʻi Volcanoes National Park, volunteer groups such as Friends of Hawaiʻi Volcanoes National Park and Hawaiʻi Pacific Parks Association are raising money to keep the park open. See more in tomorrow's
Kaʻū News Briefs
.
Read
WalletHub's report
.
To read comments, add your own, and like this story, see
Facebook
. Follow us on
Instagram
and
Twitter
. See our online calendars and our latest print edition at
kaucalendar.com
.
KAHULI - HAWAIIAN TREE SNAIL - GEORGE, the last known
Achatinella apexfulva
, died on New Year's Day. The state Department of Land & Natural Resources released this story:
George, the last Hawaiian tree snail of his
species died on New Years Day, but his
tissue remains in deep freeze for a possible
revival in the future. DLNR photo
George was approximately 14 years old and his name was derived from the Pinta Island Galapagos tortoise, "Lonesome George," also the last of his species.
The
Achatinella apexfulva
was the first of over 750 species of land snails from the Hawaiian Islands described in western science. The first mention dates back to at least 1787, when Captain George Dixon was docked on O'ahu and was given a shell on a lei. These snails were once common on O'ahu in the Ko'olau Mountains and were used heavily for lei making as access to them was much easier at lower elevations.
In 1997, the last ten known Achatinella apexfulva were brought to a laboratory at the University of Hawai'i for captive rearing. Some additional offspring were produced but later all the Achatinella apexfulva died, except for George.
A two-millimeter snippet of George's foot was collected in 2017 for research purposes and the living tissue remains alive in a deep freeze container at San Diego's Frozen Zoo.
George's passing is a significant loss to locals as he was featured in numerous articles and hundreds of school children have viewed him over the years.
The remaining land snails in Hawai'i face imminent extinction threats from invasive species and climate change. The Snail Extinction Prevention Program is featured prominently in the upcoming television documentary, Forests for Life, which chronicles the vital importance of Hawai'i's native forests to all life in Hawai'i. The hour-long special, considered the most comprehensive look at all the benefits native forests provide and the threats they face, debuts on KFVE-TV (K5), at 7 p.m. on Friday, Jan. 18, with a repeat on Monday, Jan. 21, at 8 p.m.
APPLICATIONS FOR AKAMAI SUMMER INTERNSHIPS are open, with Twenty Meter Telescope sponsors providing $320,000 in funding for the 2019 STEM Internsip Program. A statement from TMT says, "The Akamai Workforce Initiative (is) a program that seeks to develop a skilled STEM workforce to meet the needs of Hawai'i's growing high tech industry." The program offers college students from Hawai'i an opportunity to gain summer work experience at an observatory, company, or scientific/technical facility on Hawai'i Island and Maui for an eight-week program from Sunday, June 16, through Friday, Aug. 16.
TMT is the primary funder of the Akamai Internship Program and provides staff in Hilo and Pasadena, CA, to mentor interns. TMT has supported the Akamai Internship Program since 2009 and contributed a total of nearly $1,000,000 towards developing a skilled Hawai'i STEM workforce.
TMT mentors Amir Sadjadpour, Hiroshi Terada, and Magnolia Ycasas;

2014 Kamehameha Schools - Kapalama graduate Keoki Massad; 2016 Waiakea High School valedictorian Olivia Murray; 2017 Kihei Charter High School graduate Erica Sawczynec; John Miles, TMT mentor;and Warren Skidmore, TMT Scientist together at the TMT Project Office in Pasadena. Photo from TMT
The Hawai'i Community Foundation Career Connected Learning program - TMT's THINK Fund at HCF is a major contributor to the Career Connected Learning Program - the Air Force Office of Scientific Research, and the Daniel K. Inouye Solar Telescope on Maui also provide financial support to the program. Canada-France Hawai'i Telescope and the University of Hawai'i at Hilo also provide in-kind support.
According to the TMT statement, "The Akamai Workforce Initiative premise is that Hawai'i's STEM (Science, Technology, Engineering & Math) workforce needs are attainable through a modest increase in retaining STEM undergraduates and broadening participation to include more Native Hawaiians, women, and other underrepresented groups in STEM."
Local students work with mentors who are top in their
fields. Photo from TMT
Upon acceptance, Akamai interns are matched with a project, and a mentor who will supervise them throughout the project and integrate the intern into the work environment. All Akamai interns complete a one-week intensive residency preparatory course in Hilo where they gain the skills needed to be successful in the workplace and meet other interns, along with Akamai staff and mentors. Throughout the program, interns get coaching on communication skills. They do a presentation of their project at the end of the summer at a public symposium. Interns receive credit from UH Hilo.
Interns are paid a $3,200 stipend and are provided with housing, if needed, and travel to and from their home island to an internship site. Interns complete projects with a mentor at a company or observatory on Maui, Hawai'i Island, or with the Thirty Meter Telescope International Observatory at their headquarters in Pasadena, or with one of TMT's instrument teams, such as the Wide-Field Optical Spectrograph at the University of California, Santa Cruz.
Rendition of the Thirty Meter Telescope planned for
Mauna Kea. Image from TMT
Interns in recent years have been placed at many Hawai'i Island firms including Akabotics, Big Island Abalone, Canada-France-Hawai'i Telescope, Cellana, Hawai'i Electric Light Company, Gemini North Observatory, Liquid Robotics, Natural Energy Laboratory of Hawai'i Authority, Pacific International Space Center for Exploration Systems, Smithsonian Submillimeter Array, Academia Sinica Institute for Astronomy and Astrophysics, Subaru Telescope, UH Hilo, UH Institute for Astronomy Hilo, and W. M. Keck Observatory.
To learn more about the Akamai internship program, go to
akamaihawaii.org
Applications are due by February 14, with applications available at
akamaihawaii.org/interning/application
.
Sen. Russell Ruderman
FUNDS FOR CONSTRUCTION RENOVATIONS AT KAʻŪ HOSPITAL in the amount of $144,000 have been released by the state. Sen. Russell Ruderman applied for the Capital Improvement Project funds.
Ruderman posted to his Facebook: "Great news! We have been informed that funds have been released for the renovations at Kaʻū Hospital."
A letter from Gov. David Ige about the funds confirmation says, "Mahalo for your work on behalf of the resident of your district to secure these funds. Projects such as these are critical components of the public infrastructure and contribute to building a better home for our kupuna, keiki, and all the residents of Hawaiʻi… By working collaboratively, we can climb the mountains of challenges that face Hawaiʻi."
To read comments, add your own, and like this story, see
Facebook
. Follow us on
Instagram
and
Twitter
. See our online calendars and our latest print edition at
kaucalendar.com
.
Kaʻū High Winter Sports Schedule
Girls Basketball:
Jan. 9, Wed., @Kamehameha,
Jan. 14, Mon., host Kealakehe,
Jan. 17, Thu., host Keaʻau
Boys Basketball:
Jan. 8, Tue., host Kamehameha,
Jan. 11, Fri., host Konawaena,
Jan. 16, Wed., host Waiakea,
Wrestling:
Jan. 12, Sat., @Kealakeha
Soccer:
Jan. 5, Sat., Boys host Kealakehe
Jan. 12, Sat., host Honokaʻa
Jan. 14, Mon., @Makualani
Jan. 16, Wed., Boys host Kona
Jan. 18, Fri., Boys host Pāhoa
Swimming:
Jan. 12, Sat., @Kamehameha,
HUI MĀLAMA OLA NĀ ʻŌIWI classes in January include Expanded Food and Nutrition Program (EFNEP) in Ka'ū on Wednesdays, from Jan. 16 through Feb. 19. See more at
hmono.org
.
To read comments, add your own, and like this story, see
Facebook
. Follow us on
Instagram
and
Twitter
. See our online calendars and our latest print edition at
kaucalendar.com
.