A power line wildfire that started Monday was reported contained on Wednesday, with firefighters from Hawaiʻi Volcanoes National Park, County Fire Department, state Department of Land & Natural Resources and the Pōhakuloa Training Area responding. Photo by Jancie Wei/HVNP
A WILDFIRE NEAR A POWER LINE ON THE SOUTHEAST FLANK OF MAUANA LOA within Hawaiʻi Volcanoes National Park was 70 percent contained Wednesday morning and is mapped at 42.5 acres in size. Light rain overnight and into early Wednesday morning helped firefighters extinguish residual smoldering. A statement from HVNP said the "weather outlook is favorable for firefighters to continue to make progress strengthening fire lines, mopping up, and extinguishing residual heat. As a result, containment is expected to rise significantly" Wednesday and Thursday.
Mauna Loa Road remains closed to the public from the gate at the Kīpukapuaulu parking lot. Only authorized vehicles are allowed past the gate until further notice.
The fire was first reported at 6:09 p.m. on Monday and started on a power line road at around 4,800 ft. elevation in the park. The cause of the fire is under investigation.
Isolated smoldering continues in leaf litter, logs, and snags from the 2018 Keauhou fire. Hazards include snags from previously burned koa and ʻōhiʻa trees and extremely rough uneven lava rock terrain. No homes or other structures are threatened, but the burn did impact habitat for native birds. A 1,760-foot section of ungulate-proof fence that protects native forest from non-native hooved animals was damaged.
The park message said, "Hawaiʻi Volcanoes National Park extends its deepest appreciation to the State of Hawaiʻi Department of Land and Natural Resources Division of Forestry and Wildlife (DOFAW); County of Hawaiʻi Fire Department, and the U.S. Army's Pōhakuloa Training Area (PTA) personnel for providing critical local response through the initial attack."
HAWAI'I TOURISM AUTHORITY FUNDING THROUGH THE STATE LEGISLATURE IS VETOED.
Gov. David Ige announced the veto this week. The governor said he would fund HTA with federal covid rescue money. The rationale of the veto was the use of a "gut and replace" procedure that often changes the content of legislation at the last moment. The League of Women's Voters and other non-profits have long opposed gut and replace as they see it unconstitutional.
Keliʻi Akina of Grassroot Institute of Hawaiʻi said, "Gov. Ige was absolutely right that the bill was vulnerable to a court challenge, and all of Hawaiʻi can be happy now that no tax dollars are going to be wasted defending it.
"I hope this will be the end of legislators using gut-and-replace to get their way. That they tried to use it this time was really beyond the pale, especially since it was only last November that the state Supreme Court ruled against it. The public has a right to comment on pending legislation, and gut-and-replace violates that right," said Akina.
HURRICANE DARBY RESTRENGTHENED TO MAJOR STATUS on Wednesday. The 5 p.m. report from the Central Pacific Hurricane Center said the "intensity has been increased to 100 kt, making Darby a major hurricane once again. Satellite images from the past couple of hours indicated that the upper level outflow has started to become a bit asymmetric, which may indicate that Darby is starting to be affected by the large upper level trough to the northwest." The Hurricane Center predicts Darby will pass as a Depression south of Hawaiʻi Island on Saturday afternoon.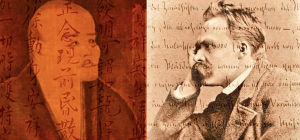 THURSDAY NIGHT AT THE CENTER: Nietzsche's Amor Fati and Albert Saijo's Zensational Rhapsody will be the topic at 6 p.m. in Volcano Art Center's Niaulani Campus in Volcano Village. Tim Freeman, Assistant Professor of Philosophy at UH-Hilo, will give a talk and audio visual presentation. The presentation was recently given in May at a philosophy conference at the University of Tallinn in Estonia. The topics addressed concern the relationship between Nietzsche's thought and Zen, as well as the relationships between philosophy and poetry, philosophy and music, art and truth, and, as well, some thoughts on living in this perilous time of global conflict and ecological crisis. The presentation will take about 40 minutes with discussion to follow. The series is intended to inspire, enhance appreciation of art and life experience, while fostering community connections. This presentation is free, although a $5 donation is greatly appreciated.
To read comments, add your own, and like this story, see www.facebook.com/kaucalendar. See latest print edition at www.kaucalendar.com. See upcoming events at https://kaunewsbriefs.blogspot.com/2022/04/upcoming-events-for-kau-and-volcano.htm.
HAWAI'I VOLCANOES NATIONAL PARK ARTIST IN RESIDENCE BEN COSGROVE will offer a free performance this Saturday, July 16 from 2:30 p.m. in Kahuku, courtesy of Friends of Hawaiʻi Volcanoes National Park and the National Park Arts Foundation.
Cosgrove is a traveling musical artist and keyboardist who explores rhythms of landscape, place and environment. He performed and held fellowships at Acadia National Park, Isle Royale National Park, NASA, Harvard University and more.
Due to high infection rates of Covid-19 on island, attendance is limited to 25 people. Registration is required and is free.