Kaʻū won two titles at the Hawaiian AAU Championships last weekend. Hokulelele Basektball Club players took first
in the Fifth Grade Division in double overtime play at Hawai'i Convention Center on O'ahu.
Photo from Hokulele Basketball Club
TWO BASKETBALL CHAMPIONSHIP TITLES CAME HOME TO KAʻŪ with the Hokulele Basketball Club last weekend. Hokulele's Fifth and Seventh Grade teams came in first in their divisions at the Hawaiian AAU Championships Saturday and Sunday at the Hawai'i Convention Center on O'ahu. Hokulele's Seventh Grade Team won with a 3-0 record. Hokulelele's Fifth Grade Team won with a 2-1 record. The Fifth Grade won the championship in double overtime.
Kaʻū's Hokulele Baseketball Seventh Grade team took first in its
division
at Hawaiian AAU Championships at Hawai'i Convention
Center
on O'ahu. Photo from Hokulele Basketball
The AAU event drew nearly 100 teams for all age divisions from around the state.
"Hokulele would like to thank everyone who supported the club and players in fundraisers to make this trip possible for them!" said a statement from the Hokulele coaches and support crew. "Hokulele Basketball Club now prepares for their summer travel plans in July. Tournaments and events to be determined."
Head Coach and President of Hokulele is Ravel Kaupu Jr.. Vice President is Jan Kaeza Penera. Coaches are Chrysa Dacalio and Jaron Garcia. The non-profit conducts training in basketball for youth and hosts tournaments at the Robert Herkes Kaʻū District Gym. Hokulele also takes youth players on the road to compete on and off island.
T
o read
comments, add your own, and like this story, see
facebook.com/kaucalendar
. See latest print edition at
kaucalendar.com
, in the mail and on stands.
Patrick Riele, lone senior on the Trojan Boys Volleyball
Team receives lei on Monday, accompanied by his
mother Catherine Williams and brother Jed Punch.
Photo from Coach Josh Ortega
IN BOYS VOLLEYBALL, KAʻŪ TROJANS BEAT KA UMEKE on Monday, scoring 25-20, 25-22 and 25-16. As Boys Volleyball wraps up this season, the only senior on the team, Patrick Riele, was honored, with lei and gifts, his mother Catherine Williams and brother Jed Punch on hand.
Coach Josh Ortega said, "With this win, we will play Honoka'a at home this Thursday at 6 p.m. If we win on Thursday night we will play on Saturday at Kohala with time to be determined. If we lose on Thursday night we will be done for the season."
T
o read
comments, add your own, and like this story, see
facebook.com/kaucalendar
. See latest print edition at
kaucalendar.com
, in the mail and on stands.
ADDITIONAL SUPPORT FOR A NEW TEACHER CONTRACT FOR THE STATE'S PUBLIC SCHOOLS came from Gov. Josh Green and Superintendent of Schools Keith Hayashi when they held a press conference Monday with teachers union head Osa Tui, Jr.
With 13,500 teachers represented by the union, the deal proposes an approximate 14.5 percent in pay increases over the four-year contract. Union members are scheduled to vote on ratification of the contract on April 26.
The Superintendent of Schools said, "This agreement helps set a solid foundation for the next four years with predictable increases that recognize the incredible work of the educators in our schools who directly
Hawai'i School Superintendent promotes ratification of a teachers union
agreement during a press conference with Gov. Josh Green and HSTA chief
Osa Tui, Jr. Photo from Gov. Josh Green
support student learning. It also elevates the teaching profession across the pipeline – from beginning teachers to veteran teachers to non-traditional teachers – while supporting their continued professional growth. The Department appreciates the collaborative effort under Gov. Green's leadership along with HSTA and the Board of Education to demonstrate our collective commitment to public education," said Hayashi.
The Governor said, "This is another great step forward in raising pay and improving the quality of life for our teachers, who we value tremendously. I was honored to engage directly in the negotiations, to help move the needle forward toward this crucial collective bargaining agreement for our teachers and our kids."
Tui, President of the union Hawai'i State Teachers Association, said, "Ultimately, the salary improvements we've secured and the many other improvements to contract language will benefit the public school students of Hawaiʻi who should see improved recruitment and retention of highly qualified educators to our classrooms."
The proposed four-year contract provides average annual pay raises of 3.4% for teachers to help stabilize Hawai'i's public education workforce; raises pay for instructors, who are teachers working toward
licensure, an increase that will also assist in teacher recruitment; and it provides bonuses for the most experienced teachers, to increase teacher retention.
Additionally, teachers who traditionally work after-hours to support extracurricular programs such as band, drama and chorus, will receive raises to acknowledge their significant contributions to student enrichment.
Other cost-items include increases in employer contributions to teachers' health insurance premiums.
The agreement establishes a program to minimize learning-loss during emergency school closures, by allowing schools to continue delivering instruction. The agreement assures improvements in health and safety in the work environment, and provides for creation of work groups to address student needs including Hawaiian Education; Career and Technical Education; movement toward a restorative student discipline model and for English Language Learners (formerly English as a Second Language).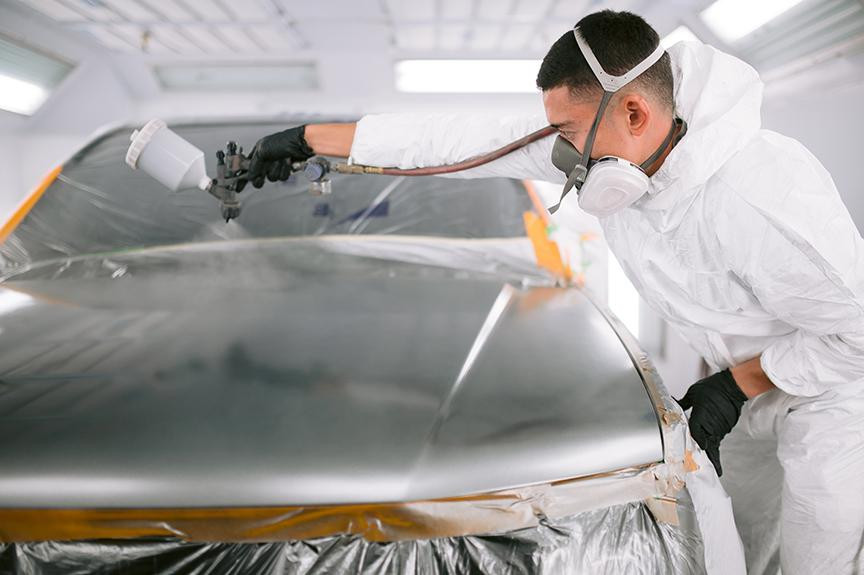 The Auto Body Repair & Painting Program hosts a car show this Saturday, as prospective students are invited to the Manono Campus in Hilo this Saturday for a full presentation on career opportunities provided by businesses and agencies along with
HCC faculty and students. Photo from HCC
KAʻŪ HIGH AND VOLCANO SCHOOL OF THE ARTS & SCIENCES students are invited to Hawai'i Community College Day at the main Manono Campus in Hilo this Saturday, April 22 from 10 a.m. to 2 p.m.. The Open House and Career & Resource Fair, co-sponsored by Hawai'i County, is also for adults as
an introduction to higher education and training for numerous careers. Hawai'i Community College Day in Hilo will cover both Hawai'i CC in Hilo, its second campus at Hawaiʻi CC–Pālamanui in Kona, and a learning center in Honokaʻa.
Community College Day will feature the Auto Body Repair & Painting Program's Car Show, as well as presentations and interaction with some 30 businesses and organizations.
There will be food trucks and entertainment at noon from Lopaka Kenoi and CJ Kama. Also at noon will be food distribution in partnership with the Food Basket
Hawai'i CC offers career and technical education programs that prepare students for the workforce. The college also offers affordable pathways to bachelor's degrees by delivering associate degree programs designed to allow students to seamlessly transfer to four-year colleges and universities. Hawai'i CC also offers college credits for undergraduates at Kaʻū High.
SIX STEPS TO FOOD BUSINESS SUCCESS is the subject of Hawai'i Small Business Development
Center's webinar on Friday, April 20 from 9:30 a.m. to 11 a.m. The
6 Step Process for Successful Food Business Management
is the strategic road map that helps food biz entrepreneurs customize their own strategy and road map to success. In this webinar, learn about the Tri-pod of Success and The 5 R's - tools that empower and enable food and beverage business owners to succeed with far less mysterious outcomes and hard work and far more focused results-creating efforts.
Volcano Thursday Market, Cooper Center, Volcano Village, Thursdays, 3 p.m. to 6 p.m., with live music, artisan crafts, ono grinds, and fresh produce. See Volcano Evening Market facebook.
Volcano Swap Meet, fourth Saturday of the month from 8 a.m. to noon. Large variety of vendors with numerous products. Tools, clothes, books, toys, local made healing extract and creams, antiques, jewelry, gemstones, crystals, food, music, plants, fruits, and vegetables. Also offered are cakes, coffee, and shave ice. Live music.
Volcano Farmers Market, Cooper Center, Volcano Village on Sundays, 6 a.m. to 10 a.m., with local produce, baked goods, food to go, island beef and Ka'ū Coffee. EBT is used for Supplemental Nutrition Assistance Program, formerly Food Stamps. Call 808-967-7800.
O Ka'ū Kākou Market, Nā'ālehu, Wednesdays, 8 a.m. to 2 p.m. Contact Nadine Ebert at 808-938-5124 or June Domondon 808-938-4875. See facebook.com/OKauKakouMarket.
Ocean View Community Market, Saturdays and Wednesdays, 6:30 a.m. to 2 p.m., corner Kona Dr. Drive and Hwy 11, near Thai Grindz. Masks mandatory. 100-person limit, social distancing required. Gate unlocked for vendors at 5:30 a.m., $15 dollars, no rez needed. Parking in the upper lot. Vendors must provide their own sanitizer. Food vendor permits required. Carpooling is encouraged.