Coffee berry borer, which can devastate coffee production on this island, will be subject to a
predator wasp, with recent approval from USDA and the state. Photo from U.H.
A WASP WILL BE INTRODUCED TO HELP KILL OFF COFFEE BERRY BORERS that can devastate the local coffee industry. The state and federal government recently gave permission to release the wasp as a biological control by approving the Final Environmental Assessment for the project with a Finding of No Significant Impact. The report noted that testing showed the wasp would not kill native beetles in Hawai'i.
The first release is expected to be in South Kona, where there has been heavy damage by the borer. The location is near the USDA ARS laboratory and University of Hawai'i experiment station to facilitate monitoring.
Ka'u Coffee farmers too have been affected with farms spending many thousands of dollars each year on protecting their coffee beans from the borer, which lives inside the coffee bean and hollows it out.
The parasitoid wasp chosen to control CBB is Phymastichus coffea. USDA's Agricultural Research Service in Hilo and Hawaiʻi Department of Agriculture Plant Plant Quarantine Branch approved the application.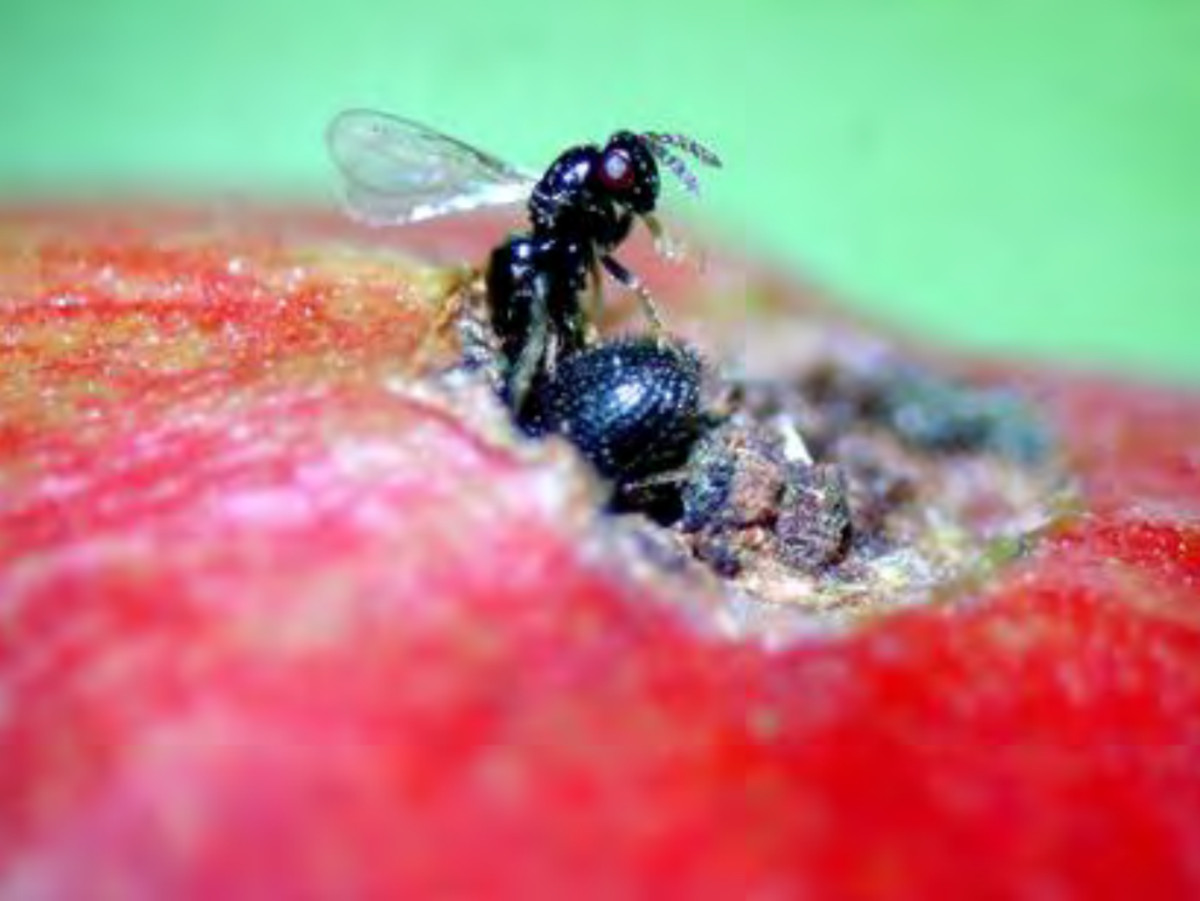 A predatory wasp attacks a coffee berry borer in a coffee
bean. Photo from Environmental Assessment
The final EA says that Coffee Berry Borer "is the most destructive insect pest of coffee globally. Though endemic to Central Africa, CBB is now found in almost every coffee-producing country in the world. In 2010, it first invaded the island of Hawai'i where high quality coffee is the second largest cash crop, valued at more than $55 million during the 2020-21 season. Coffee berry borer has since invaded coffee on the islands of O'ahu, Maui and Kau'i. Coffee crop loss due to CBB is estimated at $7.7 million. CBB has had the effect of making coffee farming more intensive and less profitable: damage causes significant losses in yield and alters the flavor profile of salvageable coffee beans. If left unmanaged, CBB can damage ˃90% of the crop.
"The primary means of control in Hawaii is using the microbial insecticide Beauveria bassiana and sanitation (removal of all coffee berries after harvest). Biological control of CBB using parasitoids has been conducted in many countries around the world, especially in Latin America (Mexico south to Brazil) and has potential for Hawaii. One of the most promising agents is a parasitoid wasp,
Phymastichus coffea
LaSalle (Hymenoptera: Eulophidae). Phymastichus coffea is a primary, gregarious, idiobiont endoparasitoid of CBB adult females. After being parasitized by P. coffea, females stop oviposition and usually die after 4-12 days. Therefore,
P. coffea
was chosen as a potential biological control agent and was brought from Colombia into a quarantine containment facility in Volcano, Hawai'i for host range testing to determine whether the parasitoid might attack non-target species and thereby pose a risk to the environment."
MAKING SURE THAT COFFEE TREES RESISTANT TO COFFEE LEAF RUST can produce high quality beans for the market was the aim of a recent coffee tasting.
A report from University of Hawai'i College of Agriculture & Human Resources says three coffees were grown at the Kona Research Station in Kainaliu and cultivated similarly with the same fertilizer and CLR spray program. All coffee used for this tasting were harvested in the 2022-2023 season, medium roasted on 2/20/23, finely ground, and served as a pour-over. The coffee to water ratio used was 1:17 and the
U.H. and famers are testing hybrid coffee trees that are resistant
to coffee leaf rust, above. Photo from U.H.
water was from the purified water station at the Captain Cook Choicemart.
Coffee A was a Kona Typica variety grafted onto Coffee liberia rootstock. These trees are CLR-susceptible. Only ripe cherry were pulped, fermented overnight, washed, dried, and hulled. Once hulled, the green beans were hand-sorted with a size 16 screen and physical defects such as CBB-damaged, shriveled, cracked, shells, and discolored beans were removed.
Coffee B was a mix of color break to ripe cherry from a mix of 15+ Catimor hybrid trees. These trees are CLR-resistant. The cherry were pulped and honey dried. They were not fermented or washed. Once dried, the parchment was hulled and the green beans were hand-sorted with a size 16 screen. Physical defects such as CBB-damaged, shriveled, cracked, shells, and discolored beans were removed.
Coffee C was a mix of ripe cherry only from two specific Catimor hybrid trees that were previously cupped in March 2022. One tree cupped at an 81.58 and the other at an 84, indicating a level of specialty grade coffee. These trees are CLR-resistant. The cherry were pulped, fermented overnight, washed, dried, and hulled. Once hulled, the green beans were hand-sorted with a size 16 screen and physical defects such as CBB-damaged, shriveled, cracked, shells, and discolored beans were removed.
There were 62 participants in the blind tasting with these results: 42.7% selected Coffee C (Catimor hybrids), which are CLR resistant, while 29.8% people selected Coffee A (Kona Typica) as their favorite and 27.4% selected Coffee B (honeyed mix of Catimor hybrids) as their favorite.
Sanya Cowal, of U.C. Santa Cruz, would
like to interview coffee farmers.
A COFFEE LEAF RUST RESEARCH AND MANAGEMENT UPDATE happens Teusday, Feb. 28 by zoom at 9:30 a.m.
Dr. Lisa Keith of USDA PBARC will present
"Managing CLR: A Research Update"
, Dr. Zhiang Cheng and Lilly Buchholz of UH-CTAHR will present
"Brief Update on Field Trials of Systemic and Biological Fungicides for the Management of Coffee Leaf Rust"
, and Julie Coughlin of UH-CTAHR will present on an
"IR-4 Pesticide Registration Program Update on CLR"​
.
All recorded presentations are available for viewing at the Kona Extension YouTube
Coffee Leaf Rust playlist
. The event is free and open to all. Register at
www.HawaiiCoffeeEd.com/clrwebinars
to receive the Zoom link.
KA'U COFFEE FARMERS ARE INVITED TO BE INTERVIEWED by Sanya Cowal, a Ph.D. student at University of California Santa Cruz. She studies study the ecological and social dynamics of coffee production and is looking for coffee producers who might be willing to chat with her for about an hour regarding farming practices for a study about coffee farming knowledge systems. She plans to conduct interviews in person in June and July. She said, "I would like to share the results in an article made available to all who are interested as well as publish a paper in an academic journal." Those interested in participating, can reach out to her at
scowal@ucsc.edu
or 503-867-9901.
ENOKI MUSHROOMS ARE RECALLED AND STATE DEPARTMENT OF HEALTH HAS ISSUED AN ALERT. The voluntary recall is for enoki mushrooms sold in Hawai'i, produced by Taiwan-based Changhua County Mushrooms Productions Cooperative and distributed by Jan Fruits Inc. According to DOH, these mushrooms have the potential to be contaminated with Listeria monocytogenes.
The recall is the result of a routine sampling program by DOH's Laboratory Preparedness and Response Branch which revealed that the enoki mushrooms contained Listeria monocytogenes. No illnesses have been reported to date in connection with the enoki mushrooms.
The enoki mushrooms are sold in a 7.05oz (200g) clear plastic package with a green-lettered
"Premium," printed with two QR scan codes and UPC 8 51084 00835 8 on the back side of a package. The package has no lot code or dates.
DOH recommends for anyone who has purchased this product to "throw it away or return it to the place of purchase. If you have consumed this product, watch for symptoms such as stomach cramps, diarrhea, vomiting, nausea, or fever. If symptoms occur, contact your healthcare provider.
In addition, DOH and the Centers for Disease Control and Prevention recommend the following for all other enoki mushrooms:
Thoroughly cook enoki mushrooms before serving or consuming them, do not serve or consume them raw.
Do not use raw enoki mushrooms as garnish.
Do not add raw enoki mushrooms on top of soup dishes right before serving. The enoki mushrooms will not get hot enough to kill Listeria.
Keep raw enoki mushrooms separate from foods that won't be cooked.
Wash hands after handling raw enoki mushrooms.
DOH notes that listeriosis is a life-threatening, invasive infection caused by eating Listeria–contaminated food. The disease primarily affects pregnant individuals and their newborns, older adults, and persons with immune systems weakened by cancer, cancer treatments, or other serious conditions (like diabetes, kidney failure, liver disease, and HIV/AIDS). A person with listeriosis generally has fever and muscle aches and can have a bloodstream infection or meningitis. Although people can sometimes develop listeriosis up to two months after eating contaminated food, symptoms usually start within several days, often with diarrhea. Listeriosis is treated with antibiotics.
Anyone suspecting listeriosis should contact a healthcare provider. Listeria is a bacterium that can be found in dust, soil, water, sewage and in the environment, where produce can become contaminated.
Banana poka, also called banana lilikoi is
invasive between 3,800 ft. and 6,800 ft. elevation
on MaunaLoa and is targeted for removal
this month for survey and control by HVNP.
Photo from state Dept. Land & Natural Resources
FLIGHT OPERATIONS TO SERVICE REMOTE PLACES in March are announced by Hawai'i Volcanoes National Park:
March 2 from 10 a.m. to 11 a.m. for crew support sling loads in ʻŌlaʻa between 3,500- and 4,500-ft. elevation.
March 8 between 7:30 a.m. and 11:30 a.m. for survey and control of invasive banana poka at the 3,800-ft. to the 6,800-ft. elevation on Mauna Loa. In addition, flights are planned for crew support at the Great Crack boundary fence line between 1,000- and 2,500-ft. elevation.
March 14 between 8 a.m. and 11 a.m. for survey and control of invasive guinea grass along Keauhou Trail from sea level to the 2,400-ft. elevation.
March 22 between 8 a.m. and 2 p.m. multiple flights are planned to service the park's radio repeater on Mauna Loa. A second mission to survey segments of Mauna Loa Trail impacted by the eruption and to post signs at backcountry cabins is also planned.
In addition, the USGS Hawaiian Volcano Observatory may conduct additional flight operations over Kīlauea and Mauna Loa to assess volcanic activity and maintain instrumentation.
The park statement says that it "regrets any noise impact to residents and park visitors. Dates and times are subject to change based on aircraft availability and weather.
Management of the park requires the use of aircraft to monitor and research volcanic activity, conduct search-and-rescue missions and law enforcement operations, support management of natural and cultural resources, and to maintain backcountry facilities."
FREE FOOD
St. Jude's Hot Meals are free to those in need on Saturdays from 9 a.m. until food runs out, no later than noon. Volunteers from the community are welcome to help and can contact Karen at
pooch53@gmail.com
. Location is 96-8606 Paradise Circle Drive in Ocean View. Those in need can also take hot showers from 9 a.m. to noon and use the computer lab from 9:30 a.m. to 1 p.m.
Free Meals Mondays, Wednesdays, and Fridays are served from 12:30 p.m. to 3:30 p.m. at Nā'ālehu Hongwanji. Volunteers prepare the food provided by 'O Ka'ū Kākou with fresh produce from its gardens on the farm of Eva Liu, who supports the project. Other community members also make donations and approximately 150 meals are served each day, according to OKK President Wayne Kawachi.
OUTDOOR MARKETS
Volcano Evening Market, Cooper Center, Volcano Village, Thursdays, 3 p.m. to 6 p.m., with live music, artisan crafts, ono grinds, and fresh produce. See facebook.com.
Volcano Swap Meet, fourth Saturday of the month from 8 a.m. to noon. Large variety of vendors with numerous products. Tools, clothes, books, toys, local made healing extract and creams, antiques, jewelry, gemstones, crystals, food, music, plants, fruits, and vegetables. Also offered are cakes, coffee, and shave ice. Live music. Volcano Farmers Market, Cooper Center, Volcano Village on Sundays, 6 a.m. to 10 a.m., with local produce, baked goods, food to go, island beef and Ka'ū Coffee. EBT is used for Supplemental Nutrition Assistance Program, formerly Food Stamps. Call 808-967-7800.
O Ka'ū Kākou Market, Nā'ālehu, Wednesdays, 8 a.m. to 2 p.m. Contact Nadine Ebert at 808-938-5124 or June Domondon 808-938-4875. See facebook.com/OKauKakouMarket.
Ocean View Community Market, Saturdays and Wednesdays, 6:30 a.m. to 2 p.m., corner Kona Dr. Drive and Hwy 11, near Thai Grindz. Masks mandatory. 100-person limit, social distancing required. Gate unlocked for vendors at 5:30 a.m., $15 dollars, no rez needed. Parking in the upper lot. Vendors must provide their own sanitizer. Food vendor permits required. Carpooling is encouraged.