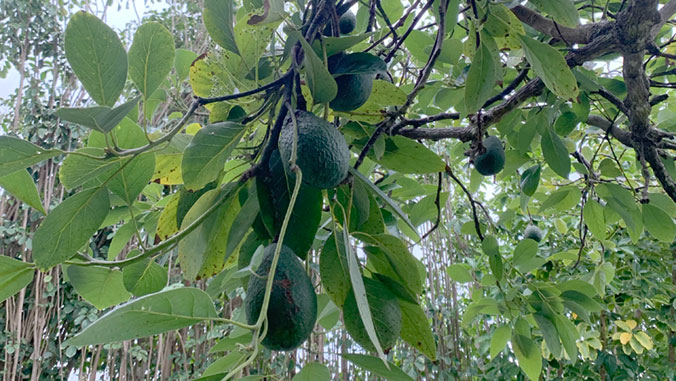 Upping avocado production in Hawaiʻi to help meet the worldwide demand for the fruit is the focus of funding provided
to $4.4 million to University of Hawaiʻi.
U.H. Photo
U.H. ag agent Sharon Motomura-Wages
will research expansion of avocado
production in Hawaiʻi. U.H. Photo
Led by a team from the University of California-Riverside, Tian and Motomura-Wages will characterize pathogen populations, identify disease-resistant germplasm from Hawaiʻi collections, and evaluate the performance in Hawaiʻi of elite rootstocks selected by the California Rootstock Breeding Program. Tian and Motomura-Wages also will introduce effective fungicides, rapid in-field diagnostics, and advanced management strategies to local avocado producers.
Motomura-Wages said, "This grant would not be possible without the support of our stakeholders and their valued input. I would like to thank our producers for working together with CTAHR to pursue critical funding opportunities and devoting their time to serve as advisors on projects they believe will benefit Hawaiʻi's avocado industry."
SCRI supports specialty crop industries by addressing problems in production, distribution, processing, and consumer markets.
View the grant summary here.
HOW TO DIVERSIFY THE ECONOMY is an editorial this weekend from Grassroot Institute of Hawaiʻi. Its founder and CEO, Keliʻi Akina, Phd., who is also an Office of Hawaiian Affairs trustee, writes:
We've heard the mantra for many decades: Hawaiʻi's economy needs to diversify. But lately we're hearing it even more, thanks to the collapse of our state's biggest industry, tourism, due to the coronavirus lockdowns implemented in March that continue to this day. The idea of diversification, of course, has merit. It's clearly not a good idea to put so many of our eggs in one basket. In years past, when the pineapple and sugar industries were dying in Hawaiʻi, we heard much the same thing.
But just as government cannot shut down an economy and turn it back on as if it were an engine, so is it risky to let government get involved in specifying exactly how our economy should diversify.
In fact, according to Seth Colby, an economist with the state Department of Taxation, diversification could actually make us worse off, depending on how it's achieved.
Keliʻi Akina, founder of Grassroot Institute of Hawaiʻi and
OHA trustee.
"If we were just trying to get more industries into Hawaiʻi, we could actually have a decline in income," he said last week in a presentation to the Hawaiʻi Economic Association. "If all of us had to go back and work in the agricultural sector, we're not as productive in that, and we would lose income."
Instead, he said, the key is to focus on what you're good at, and, "In the case of Hawaiʻi, we're very good at tourism." Thus, we probably should continue to focus on tourism — though, I would add, we should stop subsidizing it, since that has undoubtedly contributed to our overreliance on one industry. But we can still encourage diversity, and the key to that," Colby said, "is improving Hawaiʻi's business environment.
"We have one of the highest tax burdens for high-income earners and, most of the time, entrepreneurs," he said. "We have the second-highest income tax brackets in the country. We have one of the highest regulatory burdens. We're at the bottom of all the business rankings all the time. Rather than focusing on a specific industry, what if we just focus on moving up Hawaii as this place to do business?"
What if, indeed!
Colby also talked about reliability for investors. Large investment projects like the Thirty Meter Telescope or the Superferry typically run into significant local opposition, sending a signal to businesses that Hawaiʻi is a risky place to invest.
Finally, there are practical issues, he said. Hawaiʻi is geographically remote. Real estate is expensive, as is energy, shipping, and nearly everything else. If you're thinking about setting up a new business, you have to have a reason to choose Hawaiʻi over another location. For many industries, it doesn't make economic sense.
But logic hasn't stopped the state from trying to create new industries through government action. Over the years, we have seen millions of taxpayer dollars poured into initiatives meant to diversify Hawaiʻi's economy. There have been tech parks, farm co-ops, research centers, space industry incentives, an attempt to create a stock exchange, and dozens of other programs, tax breaks, and grants, all of which promised to diversify the economy. But that's not how diversification happens. Even if they have the best intentions in the world, our lawmakers cannot create a Silicon Valley in the islands through just tax breaks, incentives, and grants.
The only way to diversify an economy is to let it happen organically, by removing the barriers to innovation that have been built up over the years. A few examples: Cut taxes and regulations, reduce government spending and borrowing, allow more competition in currently protected industries, increase labor mobility, rely more on the private sector to provide public services. Such an environment would appeal to outside investors, while the businesses already established here, being able to keep more of their profits, would be able to invest in new enterprises — ones that the entrepreneurs, not the politicians, believe could succeed here.
Tourism likely will always remain Hawaiʻi's most important industry. But by all means, let's encourage sustainable diversification as well. And the way to do that is to just have our state and county governments get out of the way. E hana kakou! (Let's work together!)
To read comments, add your own, and like this story, see Facebook. Follow us on Instagram and Twitter. See our Fresh Food on The Kaʻū Calendar and our latest print edition at kaucalendar.com.

CONTACT COUNTY OF HAWAIʻI ELECTIONS OFFICE, urges west Hawaiʻi state Sen. Dru Kanuha. He sent out a message to those who have not received election ballots in the mail. "With the general elections just around the corner, please contact the COH Elections Office if you have not received your ballot by today. Exercising the right to vote is one of the most important ways you can support policies that serve our communities' needs and ensure your voice is heard in decisions that benefit society.
"As we continue to reduce the spread of COVID-19, by observing COVID-19 mandates and practicing general physical precautions, this also comes with finding different ways to enjoy the aloha spirit in our State or to kōkua those who do so much for our community and ask for so little in return.
"Therefore, a big mahalo to those who generously continue to dedicate their time away from the safety of their homes: our first responders, healthcare workers, and every single person carrying out essential roles for the safety and well-being of our community."
To read comments, add your own, and like this story, see
Facebook
. Follow us on
Instagram
and
Twitter
. See our
Fresh Food on The Kaʻū Calendar
and our latest print edition at
kaucalendar.com
.
SUNDAY'S UPDATE ON COVID-19 came from county Civil Defense: "The number of new active cases, on Hawaiʻi Island, reported and monitored by the Department of Health, is 14. At this date, for Hawaiʻi Island, ten are hospitalized. A total of 40 deaths have been reported on Hawaiʻi Island. Please do your part to stop the spread of this virus."
Civil Defense reported that no tests were scheduled for Sunday. Testing open to the public is scheduled in Kona, tomorrow, Monday, at Keauhou Shopping Center. "Understand that the importance of testing is to identify positive cases as early as possible and in this way help stop the spread of the Coronavirus. Know that the preventive measures of face coverings, distancing, and gatherings are mandated for all to follow in order to stop the spread of the virus and protect our family, friends, and community. Please accept this kuleana to make Hawaiʻi Safe," urged Civil Defense.
Midday, state Department of Health reported 83 new cases statewide and one new death. The state death toll for COVID-19 is 187. The state case total to date is 14,031.
Hawaiʻi Island police continue enforcement of preventative policies of face coverings, distancing, and gatherings. While on patrol, police officers will provide face coverings to people they encounter who do not have one.
See the Hawaiʻi County COVID-19
webpage
. Request travel exemptions for critical infrastructure and medical travel
here
. Report violators of COVID-19 safety protocols or quarantine to non-emergency at 935-3311.
At noon Sunday the COVID-19 case count in the U.S. was more than 8,147,060, with more than 219,667 deaths. Worldwide, there were more than 39,848,303 million cases and more than 1,111,994 deaths.
To read comments, add your own, and like this story, see
Facebook
. Follow us on
Instagram
and
Twitter
. See our
Fresh Food on The Kaʻū Calendar
and our latest print edition at
kaucalendar.com
.
The 'amakihi is a protected native Hawaiian bird in the Hakalau National Wildlife Refuge.
Read, below, about a resolution passed last year by Hawaiʻi County Council
to stem the affects of humans in Hawaiʻi County. US Fish &Wildlife photo
Kaʻū Life: The Way We Were Last Year
Last year, a Climate Emergency Resolution passed Hawaiʻi County Council during National Wildlife Refuge Week – see
yesterday's Kaʻū News Briefs
. The council called for a "just transition" to "an economy that is ecologically sustainable, equitable, and just for all its members." Read the resolution
here
.
The resolution talks about phasing out industries harming "workers, community health, and the planet, while also providing just pathways for workers into new livelihoods." It attempts to guide the county toward "just transition initiatives" to shift the economy "from dirty energy to energy democracy, from funding highways to expanding public transit, from incinerators and landfills to zero waste, from industrial food systems to food sovereignty, from car-dependent sprawl and unbridled growth to smart urban development without displacement, and from rampant, destructive over-development to habitat and ecosystem restoration."
The resolution says that "justice requires that frontline communities, which have historically borne the brunt of the extractive fossil-fuel economy, participate actively in the planning and implementation of this mobilization effort at all levels of government and that they benefit first from the transition to a renewable energy economy, and recognizing fairness demands a guarantee of high-paying, good-quality jobs with comprehensive benefits for all..." It supports these and other tenets of a Green New Deal effort "as the mobilization to restore a safe climate is launched."
Helping farmers with sustainable practices is part of the County
Council Climate Emergency Resolution passed last year. These
farms are Kaʻū Coffee growing at Moaʻula. Photo by Julia Neal
The resolution contends that "County of Hawaiʻi has an opportunity to continue to be a global leader by rapidly organizing a regional emergency climate mobilization effort and converting to an ecologically, socially, and economically regenerative economy at emergency speed, and by catalyzing a unified regional just transition and climate emergency mobilization effort this year."
The council puts forth the recommendation for the county to "implement a just, equitable, countywide emergency climate mobilization effort to reverse global warming, by drastically reducing countywide emissions of carbon dioxide and greenhouse gases, and safely drawing down carbon from the atmosphere no later than 2030, while accelerating adaptation and resilience strategies in preparation for intensifying climate change impacts."
It calls for County of Hawaiʻi to revise "its existing policies, priorities, processes, and use and distribution of resources to implement emergency climate mobilization efforts countywide, including the development of an environmentally preferable purchasing policy to guide efficient, consistent, and just action."
It asks that County of Hawaiʻi commit "to rapidly completing the
Hawaiʻi Island Climate Action Plan
by establishing ambitious goals, consistent with or exceeding State goals and objectives. The resolution asks the county to work immediately to implement the paths laid out in the plan," including "phasing out existing sources of greenhouse gas emissions and implementing initiatives such as tree planting, to sequester carbon from the air."
Educating county employees and residents about the climate crisis and the work needed is also on the agenda proposed in the resolution "to allow our community to more proactively respond to the inevitable disruption of our communities by rising sea levels and egregious weather disasters."
Hawaiian green sea turtles live at Punaluʻu black sand beach, but nest in
the northern Hawaiian Islands which
have been devastated
by recent
hurricanes and are subject to rising waters due to climate chang
e.
Photo from Sen. Mazie Hirono's Twitter feed.
The agenda calls for the county to integrate "science-based and cultural-based approaches to combating climate change locally involving researchers, cultural practitioners, and other community organizations integral to the emergency climate mobilization effort." It asks for "full community participation, inclusion, and support," and commits to "working with and keeping the concerns of vulnerable communities central to all just transition and climate emergency mobilization effort planning."
It asks that that county be involved in reducing emissions related to transportation "by supporting both affordable housing and transit-oriented development while implementing a robust Transportation Demand Management Program calling on the Hawaiʻi County Department of Planning, Mass Transit Agency, and the Department of Public Works, alongside other appropriate local agencies, to participate in this regional emergency climate mobilization effort, as well as actively encourage and promote the use of emission-free vehicles, and enable a rapid expansion of public EV charging infrastructure."
The resolution calls on the County of Hawaiʻi to join a nationwide effort to transform "our region and rapidly catalyzing a mobilization at all levels of government to restore a safe climate." It urges cooperation with State of Hawaiʻi, the United States of America, "and all governments and peoples worldwide, to initiate a just transition and climate emergency mobilization effort."
The resolution was sent to Mayor Harry Kim; the Director of the Department of Public Works; Mass Transit Administrator; Director of the Planning Department; Corporation Counsel; and the Hawaiʻi Climate Change Mitigation and Adaptation Commission.
To read comments, add your own, and like this story, see
Facebook
. Follow us on
Instagram
and
Twitter
. See our
Fresh Food on The Kaʻū Calendar
and our latest print edition at
kaucalendar.com
.
Presidential Debates Schedule: The first Presidential Debate was held Sept. 29. The single Vice Presidential Debate was held Wednesday, Oct. 7. The second Presidential Debate was scheduled for Thursday, Oct. 15 but was canceled. The final Presidential Debate will be held Thursday, Oct. 22 in Nashville, Tennessee.
Each debate will air from 3 p.m. to 4:30 p.m. on. Each debate will be broadcast live on C-SPAN, ABC, CBS, FOX, NBC, CNN, Fox News, Fox Business Network, and MSNBC, among others. All the major news networks will offer a free live stream, as will YouTube and Twitter. Listen to the Hawaiʻi Public Radio broadcast at 89.1, or stream the audio
here
, on the
HPR mobile app
, or on a
smart speaker
.
Live Online Event Hōkūleʻa: The Revival Begins, 1975-1980
, Friday,
Oct. 23
, 4 p.m. to 5:30 p.m. Free 13th annual wayfinding talk story session presented by 'Imiloa Astronomy Center and the Ama Olukai Foundation will focus on the history of the Polynesian Voyaging Society's formative years leading up to the iconic voyaging canoe, Hōkūleʻa. Register for a chance to ask questions of the presenters at
imiloahawaii.org
.
Hawaiʻi Farmers Union United Annual Meeting
, Sunday,
Nov. 15
at 9 a.m. via Zoom, meeting code 450 691 6693. No additional password required. Attend by phone at (669) 900-6833, code 450 691 6693#. Delegates at the meeting will elect the HFUU president, and adopt policies and bylaw amendments. Voting by delegates only. Nominations for president are due by Friday,
Oct. 30
or at the meeting; send electronically to Nominations Committee Chair, David S. Case, at
casedavids@gmail.com
. Policy proposals and bylaw amendments requested from Chapters and individual members; send by e-mail by noon on Sunday,
Oct. 25
to HFUU Policy Chair, Saleh Azizi at
azizi.saleh@gmail.com
with a copy to HFUU Secretary, David Case at
casedavids@gmail.com
. Review and comment on proposals prior to the Convention, from Friday,
Oct. 30
. Nov. 15 business meeting preceded by world-class educational and musical presentations Nov. 12, 13, and 14. See program and other materials regarding the Pre-Convention Program at
hfuuhi.org
.
Give Input on the Hawaiʻi 2050 Sustainability Plan Update
by the State of Hawaiʻi Office of Planning from
Oct. 13 through 28
. The public is invited to participate in online sessions to learn about the strategic plan and contribute to the revision process. Free; advance registration required.
Register online
.
Take Free Courses and Certifications for Hawaiʻi Residents through Coursera
are offered by state Department of Business, Economic Development, and Tourism. More than 3,000 options. Registration open until
Oct. 31
. Recommended courses for picking up
technology skills
.
View more.
Give Input of Pandemic on Small Businesses to Hawaiʻi Small Business Development Center.
Partnering with the Federal Reserve Bank system, the 2020 Small Business Credit Survey provides vital information to policymakers and lenders who are weighing decisions that affect small businesses. Ten-minute-long survey open to businesses currently in operation, recently closed, or about to launch. Survey closes
Oct. 31
. Responses are confidential.
Complete the survey.
Questions? Contact SFFedSmallBusiness@sf.frb.org.
Vote and Register In-Person
same day. Locations are in Hilo at 101 Pauahi Street, #1, and Kona, 74-5044 Ane Keohokalole Hwy. Ballots for registered voters should start to arrive around
Oct. 16
. Secure ballot dropbox located in Nāʻālehu Police Station at 95-5355 Māmalahoa Hwy from
Oct. 14
, 24 hours a day, until 7 p.m. on
Nov. 3
,
Election Day . See other locations
here
. is Tuesday, Nov. 3. See tips on helping others to register to vote at
nationalvoterregistrationday.org
. Find more information at
elections.hawaii.gov
. Check voter registration status
here
.

Attend Free Virtual Hawaiʻi Book & Music Festival
through
Nov. 4
The 15th year of the festival takes off with a special set of in-depth presentations covering a variety of topics deeply impacting the local community. Featuring Hawaiʻi Public Radio's Burt Lum, host of Bytemarks Café, on several panels.
More info & sc
hedule
.
Artists and Vendors, sign up for the Annual Art & Craft Fair at Ocean View Community Center on Nov. 7. The event, held outside from 8 a.m. to 1 p.m., will help raise funds for the Center, as well as benefit local artists and crafters. Booths are $8 for a 10' x 10' space, tents not provided. Face masks required. Free admission for attendees. Contact organizer Helen McCullough at 808-209-9204 or hmccullough.1@gmail.com.
PETFIX and Hawaiʻi Rainbow Ranger Spay and Neuter Clinic for Dogs will be held Saturday, Nov. 7 in Ocean View. Microchips available For information and to register, call 808-990-3548 or email petfixbigisland@gmail.com.
Hawaiʻi Wildlife Fund Public Cleanup Events
– with size limited due to COVID-19 precautions and government proclamations – are on Sunday,
Nov. 15
, cleanup and survey; and Saturday,
Dec. 19
, cleanup. HWF says details are forthcoming but will be a blend of hiking, BYO-4wd, and limited HWF carpool options. Contact Megan Lamson-Leatherman at (808) 280-8124 or wild@aloha.net.
Veteran Farmers
are invited to register for the virtual
Farmer Veteran Coalition Conference: Veterans Farming through Adversity
held
Nov. 18 and 19
, Wednesday and Thursday. Presented by Farmer Veteran Coalition, the sixth annual conference will feature education, workshops, keynote speakers, panel discussions, networking opportunities, and more. The cost to attend is $45 ($35 for coalition members). Advance registration required.
Register online
.
Hawaiian Islands Challenge Virtual Run
through Dec. 31. Registration closes
Nov. 30
. Individuals or teams can register to traverse some or all of 808 kilometers on six different courses, one on each main island. Register
here
.
Virtual Workshops on Hawaiʻi's Legislative Processes
through Public Access Room. Sign up by contacting (808) 587-0478 or
par@capitol.hawaii.gov
. Ask questions and discuss all things legislative in a non-partisan environment. Attend Coffee Hour with PAR:
Fridays at 3 p.m.
on Zoom, meeting ID 990 4865 9652 or click
https://zoom.us/j/99048659652
. PAR staff will be available to answer questions and to discuss the legislative process. Anyone wanting to listen in without taking part in discussions is welcome. Learn more at
https://lrb.hawaii.gov/public-access-room
.
Apply for Expanded Hawaiʻi County Rent and Mortgage Assistance Program. RMAP partners encourage Hawaiʻi Island residents who are at least 18 years old and lost income or work hours due to COVID-19 may be eligible for up to $2,000 per month for rent, lease, or mortgage payments. The previous grant limit was $1,000 per month. RMAP applicants must also have a current annual household income at or below 140 percent of area median income for the number of members in their household – $81,760/yr. for one person, $126,000 for five.
Payments are made directly to landlords, property managers, or mortgage lenders. Approved applicants also have access to financial counseling services.
Hawai'i Community Lending and Hawai'i County have modified RMAP to address barriers for applicants, application processing, and how to encourage more residents to apply. Other changes include reimbursement for payments made with personal resources, such as savings, credit cards, personal loans, or assistance from family or friends. In addition, households who entered into a forbearance or payment agreement with their mortgage lender or landlord for payments that were due between March and December 2020 may now be eligible. Residents who previously applied to RMAP and were rejected are encouraged to reapply.
RMAP nonprofit partners are: Hawaiian Community Assets/Hawaiʻi Community Lending,
www.HawaiianCommunity.net
, 808-934-0801; HOPE Services Hawaiʻi,
www.hopeserviceshawaii.org
/rmap, 808-935-3050; Hawai'i First Federal Credit Union,
www.hawaiifirstfcu.com/pathways
, 808-933-6600; Neighborhood Place of Puna,
www.neighborhoodplaceofpuna.org
/coronavirus-rent-mortgage-relief, 808-965-5550; Hawai'i Island Home for Recovery,
www.hihrecovery.org/RMAP
, 808-640-4443 or 808-934-7852; Habitat for Humanity Hawai'i Island,
www.habitathawaiiisland.org
/rmap.html, 808-450-2118.
Coffee Growers
are urged to take a survey on how the pandemic is affecting them by Hawaiʻi Coffee Association.
Take the survey here.
Micronesian-Language COVID-19 Helpline
offered by
We Are Oceania
. Receive answers to questions about COVID-19 symptoms, testing, quarantine, health insurance, housing, unemployment, and other related questions, for those Micronesians who do not speak English. COVID-19 questions can be asked 8 a.m. to 10 p.m., daily. Other questions about health insurance, housing, or unemployment, helpline available weekdays, 8:30 a.m. to 4 p.m. WAO helpline: (808) 913-1364. Watch the video
here
.
Anyone Feeling Depressed or Anxious
, or who needs someone to talk to, can call Department of Health's expanded Hawai'i C.A.R.E.S. program at 1-800-753-6879 – the same number previously used by Crisis Line of Hawai'i. Individuals in crisis can also text ALOHA to 741741, available 24/7.
Learn How to Practice Self-Care
through Big Island Substance Abuse Council's Practice Self-Care Series. In partnership with Hawai'i Department of Health, the program seeks to "remind the community that now more than ever, it's important to be gentle with yourself. Be present, limit the amount of news and media, listen to your body, and most importantly, ask for help if you need it. If you or someone you know is experiencing mental health challenges, please reach out to friends and family for support, and seek professional help for serious or persistent symptoms."
For additional series that feature refreshing wellness tips, follow the Behavioral Health & Homelessness Statewide Unified Response Group on
Facebook
.
Student Athletes of Kaʻū High interested in participating in athletics during the 2020-2021 school year are encouraged to call Athletic Director Kalei Namohala at 313-4161 to sign up for the Student Athlete Google Classroom.
COVID-19 Talk Story on Nā Leo TV
series aims to help deliver accurate and current information to Hawaiʻi Island residents. Airs live Thursdays at 10 a.m. at 10 a.m. on Spectrun Channel 53, online at
naleo.tv/channel-53/
, and streaming via the Nā Leo's free mobile app. Watch all episodes on-demand at
naleo.tv/covid19
.
Sign Up for 'Imiloa's Hālau Lamakū Place- and Culture-based Fall Enrichment Program at 'Imiloa Astronomy Center in Hilo. Held for seven weeks, Oct. 19 through Dec.4, Monday through Friday, 8 a.m. to 3 p.m., except holidays.
The program offers "fun, engaging and educational activities, crafts, games, outdoor exploration, and observations grounded in Hawaiian culture, science, math, and art. Explorations from deep ocean to deep space, and everything in between – all from 'Imiloa's facilities and outdoor gardens.
Enrollment limited to seven pods for K-5th grade students with one instructor, one assistant, and up to eight participants, who will remain together for all seven weeks. Participant's required synchronous and asynchronous school distance learning needs will be addressed. Students will bring their own lunch, two snacks, and two bottled water each day.
Cost per member child is $695; registration starts Friday, Sept. 25 at 8 a.m. Non-member cost per child is $995; registration starts Friday, Oct. 2 at 8 a.m. Enrollment open through Oct. 7, first-come, first-served. Scholarship applications are open; proof of financial need required. See
imiloahawaii.org/halau-lamaku
to register, apply for a scholarship, become a member, and find out more.
Resilience Hub at Nāʻālehu Hongwanji
, Monday-Wednesday-Friday, noon to 4 p.m. Drop-in wifi and laptop access, free meals for participating keiki. Follows all county, state, and federal COVID-19 guidelines. For more info, contact Michelle Galimba, 808-430-4927.
Nominate Businesses that Provide Excellent COVID-19 Safety Precautions
for a Gold Star. Submit nominations to County of Hawaiʻi Department of Research and Development
here
. Find help for small businesses
here
.
Attend Weekly Virtual Town Meetings
, hosted by Kaʻū High & Pāhala Elementary, on Wednesdays at 5:30 p.m. Discussion topics include attendance, best practices, Grab-n-Go meals, school updates, questions and feedback, and more.
Go to KHPES website for Live WebEx link.
Pre-Register for Boys & Girls Club Mobile Outreach Program in Ocean View
here
. Completing the form does not guarantee a spot in the program. A staff member will reach out to eligible families, to complete the registration process. Questions? Contact Boys & Girls Club of the Big Island Administrative Office, Monday through Friday, 9 a.m. to 5 p.m., at (808) 961-5536 or email mobiletutoring@bgcbi.org.
Free Tutors for Keiki in Pāhala
, for grades one through six, available from Boys & Girls Club of the
Big
Island
. Subjects are Homework Help, Social Studies,
Reading
, Writing, Math, Spelling, Test Taking Strategies, Organizational Skills, and more. Contact Boys & Girls Club at info@bgcbi.org or 961-5536.
Free Wifi Access for Students is available in Pāhala, Nāʻālehu, and Ocean View through Kaʻū High & Pāhala Elementary.
In Pāhala, access is limited to ten students at a time at the school gym on weekdays from to Support is provided by Joshua Ortega.
In Nāʻālehu, access is limited to 12 students at a time at Nāʻālehu Assembly of God on Thursdays from to Support is provided by Carla Lind.
In Ocean View, access is limited to five students at a time at Ocean View Community Center on Mondays, Tuesdays, and Wednesdays from 8:30 a.m. to 10:30 a.m. Support is provided by Carla Lind and Mrs. Marcia Masters. No restrooms available at this location.
Kaʻū Mobile Learning Hub at St. Jude's lower parking lot is available weekdays from 8:30 a.m. to 1:30 p.m. Instruction and support are provided by Carla Lind, Mrs. VanNewkirk, Mrs. Heather Naboa, Mrs. Marcia Masters, and Mrs. Ebanez.
All students and staff must wear a mask at all times and follow all COVID-19 guidelines. Each student must bring their device, school materials, and a water bottle. Questions? Call 313-4100.
32nd Annual The Trash Show Hawaiʻi: Artists Recycle
open through Halloween, Saturday,
Oct. 31
from 10 a.m. to 4 p.m. at East Hawaiʻi Cultural Center, 141 Kalakaua St. in Hilo. Features The TrashFace Collection by Volcano Artist Ira Ono. To attend, all visitors are required to wear a face mask, maintain six-foot social distancing, no physical contact when greeting people, a maximum of ten people in the gallery, and encouraging anyone who feels ill to stay home. See more art from Ono at Volcano Garden Arts & Café Ono, 19-3834 Old Volcano Rd.,
www.volcanogardenarts.com
,
www.cafeono.net
, 967-7261. For more information go to
ehcc.org
.
Sign Up for Solid Waste Operations Alerts
here
. Receive notice via phone or email of site closures, availability of services, hours of operation, special conditions affecting solid waste service (such as road closures, flooding, fires), or special events, such as household hazardous waste collections.
Attend Sunday Drive-In Worship Service at Waiʻōhinu's Kauahaʻao Congregational Church.
Parking on the lawn begins at , with Worship Service starting at Face coveri required when usher comes to vehicle to pass out worship bulletin and other materials, and at the same time, collect any offering or gifts the individual(s) would like to give, or when leaving vehicles for the restroom. Church provides paper fans to stay cool. Bring water. Catch the live-streamed service at and Praise Jam, which runs from to Service is emailed Sunday afternoon to anyone on the email list. Sign up by emailing atdwongyuen.kauahaaochurch@gmail.com or call 928-8039 or 937-2155.
St. Jude's Episcopal Church
services and worship are posted online at stjudeshawaii.org. Join the Aloha Hour via Zoom at 11 a.m. on Sundays,
here
, Meeting ID: 684 344 9828, Password: Aloha. Weekly hot meals, hot showers, the computer lab, and in-person services and bible studies are suspended.
One-Time Emergency Food For Pets
is available through KARES. Call David or Barbara Breskin at 319-8333.
Emergency Boxes Available at Cooper Center Tuesday through Saturday 8 a.m. to 11:15 a.m. Call ahead, 967-7800.
Volcano Art Center, Niʻaulani Campus in Volcano Village, open
Monday through Friday, 10 a.m. to 4 p.m. Gallery in Hawaiʻi Volcanoes National Park, open Wednesday through Sunday, 9 a.m. to 4 p.m. Virtual Shopping Appointments offered via Skype or FaceTime. Book at
volcanoartcenter.org/shop
for $5. Shop online gallery 24/7. Orders shipped or free local pickup available. See the VAC Virtual Classroom, which features over 90 videos.
volcanoartcenter.org/events
, 967-8222
Guided Nature Walks through Nature Trail & Sculpture Garden
, Mondays, 9:30 a.m. at Volcano Art Center Niʻaulani Campus in Volcano Village. No reservations for five or fewer – limited to ten people. Free; donations appreciated. Email programs@volcanoartcenter.org. Garden is open to walk through at one's own pace, 10 a.m. to 4 p.m. weekdays. Free.
volcanoartcenter.org/events
, 967-8222
Health and Fitness Website for Kūpuna
,
808b-fit.com
, contains videos for kūpuna to play and move along with. There are videos for stretching, tai chi, yoga, dancing, dance fitness, bon dance, hula, chair dancing, and chair yoga.
Yoga with Emily Catey Weiss
, Mondays, Wednesdays, and Fridays, 8 a.m. to 9 a.m. at Volcano Art Center Niʻaulani Campus in Volcano Village. Advanced registration required; $5 per class.
volcanoartcenter.org/events
, 967-8222
Volcano Farmers Market, Cooper Center, Volcano Village, open on Sundays from 6 a.m. to 10 a.m., with much local produce, island beef, and prepared foods. Call 808-967-7800.
Ocean View Swap Meet reopens Sept. 5 at Ocean View makai shopping center, near Mālama Market. Hours for patrons are 8 a.m. to 3 p.m. Saturday and Sunday. Vendor set-up time is 5 a.m. Masks are required for all vendors and patrons.
Ocean View Community Market
, open Saturdays and Wednesdays, , on the corner of
Kona Drive
and Highway 11, where Thai Grindz is located. Managed by Mark Cocucci. Masks mandatory. 100-person limit, social distancing required. Gate unlocked for vendors at $15 dollars, no reservations needed. Parking in upper lot only. Vendors must provide own sanitizer. Food vendor permits required. Carpooling encouraged.
ʻO Kaʻū Kākou Market, in Nāʻālehu, open Monday, Wednesday, and Saturday, to
. Limit of 50 customers, 25 vendor booths, with 30 feet of space between vendors. Masks and hand sanitizing are required, social distancing enforced. Contact Sue Barnett, OKK Market Manager, at 808-345-9374 (voice or text) or kaufarmer@aol.com for more and to apply to vend. facebook.com/OKauKakouMarket
Choose Aloha for Home
is available to families, to provide a healthy way to grow together using neuroscience and positive psychology. Program uses a series of self-guided videos, activities, and "dinner table discussion topics." Sign up
here
.

ʻOhana Help Desk
offers online How-To Guides for Chromebooks and iPads
here
. ʻOhana Help Desk also available by phone, weekdays, 7 a.m. to 8 p.m., Sundays from 4 p.m. to 8 p.m.
Ocean View Mobile Learning Lab
, weekdays from to at St. Jude's lower parking lot. Open to students of Nāʻālehu Elementary and Kaʻū High & Pāhala Elementary, to connect to internet for distance learning. Questions? See
khpes.org
or call 313-4100.
Apply for Holomua Hawaiʻi Relief Grants
for small businesses and nonprofits of up to $10,000 to support core operations, safe on-going and reopening costs, personal protective equipment, and training and technical assistance. The business or nonprofit must employ 50 people or fewer. See the program
website
.
Pāhala and Nāʻālehu Public Libraries,
open for wifi, pick-up, and other services. Nāʻālehu open Monday and Wednesday, 9 a.m. to 4 p.m., Friday, 11 a.m. to 4 p.m. Pāhala open Tuesday, noon to 7 p.m., Thursday, 9 a.m. to 4 p.m. Schedule a Library Take Out time at
picktime.com/hspls
. Open for library card account help and reference assistance from the front door. Wifi available to anyone with a library card from each library parking lot.
librarieshawaii.org
Free Book Exchanges
, at laundromats in Ocean View and Nāʻālehu, provided by Friends of the Kaʻū Libraries. Open to all. Keep the books, pass them on to other readers, or return them. Selection of books replenished weekly at both sites.
Sign Up for Two Women's Health Programs from Kaʻū Women's Collective. Piko focuses on reproductive health; increasing access, respect, cultural competence, education, and choice. Pilina aims to grow membership and establish a culture of collaborative decision-making. Meetings held Sundays on Oct. 11, Nov. 8, and Dec. 13 at Follow @kau_womens_health_collective. Contact rootsmedieshawaii@gmail.com. Call 808-450-0498.
Receive Help Over the Phone with Critical Financial Issues,
through Cities for Financial Empowerment Fund Financial Navigators from County of Hawaiʻi, in partnership with Hawaiʻi First Federal Credit Union. Complete webform
here
or call 808-933-6600. Contact Sharon Hirota at 808-961-80
19 with questions.
Find Resources for LGBTQ+, Loved Ones, and Allies
at Sexual and Gender Minority online resource hub, Hawaiʻi Department of Health's first website dedicated to LGBTQ+ resources.Resources: Understanding the Pacific's alternative genders; Pronoun guide; Book lists for children and teens; ʻOhana support; and DOH data. For more information on joining the SGM Workgroup, email Thaddeus Pham at thaddeus.pham@doh.hawaii.gov. See
health.hawaii.gov
.
Free Job Training
for workers displaced by COVID-19 is launched by the state for up to 650 workers. Using $10 million in federal CARES Act funds, Department of Business Economic Development & Tourism matches workers with companies in sectors such as conservation, renewable energy, agriculture, creative arts, aerospace, entrepreneurship, and STEM fields. The programs offer on-the-job training through Dec. 15, with wages starting at $13 to $15 an hour, health care benefits, and mentoring. Eligible people are displaced workers, or recent high school or college graduates. There are two different tracks in innovation or conservation sectors. To learn more, go to
https://dbedt.hawaii.gov/blog/20-21/
.
Learn About Hawaiʻi's History & Culture
through Papakilo Database, a resource developed by The Office of Hawaiian Affairs. C
onsists of "collections of data pertaining to historically and culturally significant places, events, and documents in Hawaiʻi's history. The purpose of this educational online repository is to increase the community's ability to preserve and perpetuate cultural and historical information and practices." See
papakilodatabase.com
.
Read Report on Public Input about Disaster Recovery
from damage during the 2018 Kīlauea eruption. The project will focus on repairing and/or replacement of critical infrastructure in Hawai'i Volcanoes National Park, and U.S. Geological Survey-operated facilities and equipment. Comments received are being considered and used for refining a design concept and developing the National Park Service and USGS's proposed action. Once the proposed action is developed, the NPS and USGS will seek additional community input through public scoping prior to the environmental analysis process, tentatively planned for early 2021. View the Civic Engagement and Comment Analysis Report
here
.
Coffee Farmers and Producers of Other Agricultural Products
encouraged to apply to the Coronavirus Food Assistance Program through Dec. 11. Coffee included; see funding updates and resources
hawaiicoffeeassoc.org
. See complete list of eligible commodities, payment rates, and calculations at
farmers.gov/cfap
.
Local Ag Producers can Sign Up for a Program to Sell Produce and Meats
on Hawaiʻi Island. Hawai'i Farm Bureau, in partnership with County of Hawai'i and non-profit entities, has developed a program to purchase product from commercial farmers and livestock producers on Hawai'i Island for distribution to families in need. The Food Basket and other channels will distribute the products.
Learn more
.
Native Hawaiian Farmers and Ranchers
urged to use U.S. Dept. of Ag On-Farm Market Directory. Visit the
program website
for more information and to register.
Seed Biodiversity for Hawaiʻi's Local Food System
, and the role seed plays in human health and nutrition, is the focus of a recent blog post from Hawaiʻi Seed Growers Network. In
It all Begins...and Ends with Seed
, Education and Outreach Coordinator Nancy Redfeather shares her insights. Read the
blog
.
Receive Free Marketing Assistance
, for small businesses affected by COVID-19 from Univeristy of Hawaiʻi-Hilo faculty and their senior class. Help with moving a business online, finding out more about the businesses' customers, analyzing marketing effectiveness, and providing customer service or website feedback. Visit
https://bit.ly/2YvFxsl
.
Find Grants and Loans Offered to Farmers and Ranchers, at oahuaca.org. The website has a new search feature.
Find Rangeland Management Resources
at
globalrangelands.org/state/hawaii
. The site offers access to current research, industry news, educational events, and more about rangeland management in Hawaiʻi. The website is maintained by the University of Hawai'i College of Tropical Agriculture and Human Resources Cooperative Extension Service. Subscribe to the
newsletter
to receive updates.
Begin Learning Basics of Organic Farming
, from two free modules of a virtual training program by the Organic Farming Research Foundation, the University of California Sustainable Agriculture Research & Education Program, and
California
Polytechnic
State
University
in
San Luis Obispo
.