Going to Hawai'i Volcanoes National Park at night is providing great views of Halema'uma'u crater for locals
and visitors. This photo was taken yesterday evening. See more in Volcano Watch below NPS photo by Janice Wei

THE 31ST HAWAI'I INTERNATIONAL TROPICAL FRUIT CONFERENCE announced today that the presentations and proceedings are free at
htfg.org
. Originally scheduled in person this week, the conference pivoted to all virtual presentations due to the recent surge of COVID-19.
"All the conference downloads are available and we invite members and the public to watch them and then participate in our lively Q&A 10 a.m. on Tuesday, Oct. 19," says Ken Love, executive director of the statewide Hawai'i Tropical Fruit Growers, the non-profit that annually facilitates the conference. This is the second year the conference was presented in a virtual format.
The title of the 2021 conference is
Mango Makers and Food Preservers
. Videos and PowerPoints by researchers and agro experts are geared to farmers, educators, orchard managers and proponents of sustainable agriculture. Florida mango expert and keynote Stephen Brady offers a detailed three-part presentation on mango culture and viewers can download a handy mango rating form. Also HTFG President Mark Suiso of Oʻahu's Makaha Mangoes offers his fruit growing tips.
Find a presentation by Jane Tai on
Demonstrating Value-Added Specialty Crops with Dehydration
, as well as an
Agriculture Legislative Recap
by state Sen. Mike Gabbard. Other reports include an
Update on Distribution of BBTV-Resistant bananas
, the latest information on the
Avocado Lace Bug
and a wide variety of videos from the Hawai'i Ulu Cooperative in Kona.
The conference is made possible with the support of the Hawai'i Department of Agriculture, County of Kaua'i and HTFG members from across the state, including founder Ken Love who lives on Hawai'i Island. Questions? Contact Love at
kenlove@hawaiiantel.net
or Mark Suiso at
mark.suiso@gmail.com
.
Marking its 32nd year, HTFG was incorporated in 1989 to promote tropical fruit grown in Hawai'i. It is a statewide association of tropical fruit growers, packers, distributors and hobbyists dedicated to tropical fruit research, education, marketing and promotion;
www.HTFG.org
.
To read comments, add your own, and like this story, see
www.facebook.com/kaucalendar/.
See latest print edition at
kaucalendar.com
.
Sen. Mike Gabbard gives a wrap of successful legislation
through his Committee on Ag & Environment.
STATE SEN. MIKE GABBARD GIVES A WRAP UP on the 2021 state legislature regarding agriculture and environment at the annual Hawai'i International Tropical Fruit Conference this week, with proceedings available online. Gabbard chairs the state Senate's Committee on Agriculture & Environment.
He notes that Hawai'i became the first state in the country to declare a climate emergency, while about 2000 jurisdictions in 34 countries had already done so. Gabbard says the state Senate's resolution says "There is a climate emergency threatening humanity and the natural world and commits the state to statewide action that is rooted in equity, self-determination, culture, tradition and the belief that people around the world have the right to clean, healthy and adequate air, water, land, food, education shelter." The resolution requests "statewide collaboration to pursue climate mitigation and adaptation efforts," says Gabbard.
He reviews successful legislation that makes ag loans easier to receive. Another lets farmers have larger parcels of land under shade cloth for their crops. Another provides subsidies to fight coffee leaf rust and coffee berry borer as well funding to rid Hawai'i of spittlebugs that ruin pastures. One bill requires state departments that buy food, like the public schools, to purchase an increasing percentage of locally grown foods over the next 30 years. See his review of all bills that went through his Agriculture & Environment Committee that passed and bills Gabbard hopes to pass in the 2022 legislature, including preventing "Fake Farms," at
https://www.htfg.org/2021conference
.
Wendy M. DeWeese is appointed by the
Governor to serve as judge for Third
Circuit Court on this island.
FIVE NEW CIRCUIT JUDGES RECEIVED APPOINTMENTS BY THE GOVERNOR today, four of them women, including Wendy M. DeWeese. She is appointed to the Circuit Court of the Third Circuit on this island. The seat was held by Circuit Judge Melvin H. Fujino, who retired in 2020. DeWeese is a judge
with the District Family Court of the Third Circuit. She received a BA from Pomona College in California and her Juris Doctor from Southwestern University School of Law. DeWeese was born in the U.S., grew up in Europe and lived and worked in California before moving to Hawaiʻi.
"In 2005, the Big Island welcomed me with open arms and has given me so much since then. I am just so very grateful, honored and humbled to have the opportunity to give back to the community that has been so kind, generous and inspiring to me," DeWeese said.
Appointees who will serve on O'ahu are Clariss Y. Malinao, Kevin T. Morikone, and Shanlyn A.S. Park. On Maui, the appointee is Kirstin M. Hamman.
Gov. David Ige made his choices from five lists of nominees submitted by the state Judicial Selection Committee on Sept. 13.
A HIGH SURF ADVISORY FOR ALL EAST FACING SHORES was issued Friday afternoon for Saturday morning through Sunday afternoon. County Civil Defense released the statement that included an advisory for winds up to 30 mph and gusts over 45 mph.
A High Surf Advisory means surf will be higher than normal, shore break, and dangerous currents could
cause injury or death. Civil Defense cautioned:
• Expect strong breaking waves, shore break, and rip currents making swimming difficult and dangerous.
• Beach-goers, swimmers, and surfers should heed all advice given by ocean safety officials and exercise caution.
This classic photo by Peter Anderson shows the blowhole at South Point
combined with high surf. Photo by Peter Anderson
• Beaches may be closed without notice.
The National Weather Service Wind Advisory remains in effect through Saturday evening for the leeward side of Hawai'i Island from Kohala down the Hamakua Coast through Hilo, Puna and Ka`u District.
Due to the Wind Advisory, Civil Defense recommends:
• Secure outdoor items.
• Be aware of downed trees.
• Know that road closures may occur without notice.
• Stay clear of downed utility poles and lines and report any downed utility poles or lines to authorities.
• Motorist, especially those in high profile vehicles, drive with caution.
Civil Defensed recommends staying tuned to radio for updates and changes in conditions.


WHAT'S THAT RISING FROM THE LAVA LAKE? is the question in this week's
Volcano Watch
, written by scientists. and affiliates of USGS Hawaiian Volcano Observatory:
The past year has seen fluctuating lava lakes, ephemeral lava fountains, craggy spires, and drifting "islands" reminiscent of pre-1924 Halemaʻumaʻu activity at the summit of Kīlauea. The recent activity has USGS Hawaiian Volcano Observatory (HVO) scientists reflecting on prior observations and how they compare to recent activity.
View looking down at the September-October 2021

lava

lake eruption of Halemaʻumaʻu from the F1

thermal

camera located on the western rim of the crater at Kīlauea's summit. Molten material appears as warmer colors of yellow, orange, and pink, whereas cooler material is represented by dark blue and purple colors. The left-hand image is from Sept. 29 at 5:32 p.m. and shows that the

lava lake

has essentially repaved the floor of the crater with the exception of the central raft and part of the old west

vent

system. The right-hand image is from Oct. 4 at 7:50 p.m with noticeably darker blue/purple rafts present throughout the eastern part of the lava lake and with both the central raft and old western vent system having more exposed area. USGS images
The last eruption of Halemaʻumaʻu began Dec. 20, 2020, and created a lava lake at the base of the crater with striking topographic relief across its surface. Part of this relief formed the first night of the eruption. A broad, high, light brown to tan feature—made up of less-dense material—appeared to be floating in the lava lake. Over the next week, it migrated around the lake based on flow directions from vents active at the time, eventually halting in the center of the lake.
HVO geologists found this feature to be reminiscent of the "floating islands" described by Kīlauea summit observers a century ago and earlier. As the eruption waned in intensity, more of these features formed in a variety of sizes and heights; all eventually became stationary. Contemporary geologists suggest that raft may be a better term to describe these features, which we continue to learn about with the new eruption at Kīlauea's summit.
The current Halemaʻumaʻu eruption started at 3:21 p.m. HST on Sept. 29, as lava fountains erupted from a north-south-trending crack in the crust of the December 2020-May 2021 lava lake surface. A
thermal camera monitoring Halemaʻumaʻu
documented the eruption start, showing a new lava lake rising rapidly and covering many of the island features formed during the previous eruption.
Though not every ānuenue (rainbow) has an actively erupting volcanic fissure at its end, this one did for a brief moment during HVO scientists' helicopter overflight of the Kīlauea summit on the morning of Oct. 8. Misty rains were clearing at the time, forming the rainbow and allowing the scientists a mostly clear view of the western fissure feeding lava into Halema'uma'u.
USGS image
By the time geologists arrived for visual observations about an hour after this new eruption began, only the largest island, a small island to the northeast, and part of the high-standing west vent system from the December 2020 eruption remained above the surface of the new rising lava lake. Several hours later, the northeast island was submerged by lava and the highest point of the large central island was only 10 meters (33 ft) above the surface of the new lava lake.
It seemed apparent that the newly forming lava lake was going to continue rising and eventually cover all remnant topography of the earlier eruption. However, as the eruption progressed, the height of the large island above the lava lake surface started to increase. Islands that geologists saw being submerged in new lava soon also started to reappear.
The smaller island in the northeast part of the lava lake—that was submerged at around 5:20 p.m. HST—reappeared a little over an hour later. Over the next few days, more islands within the eastern and northern part of the lava lake would re-emerge above the lava lake surface. The largest island now has a high point that is 20 meters (66 ft) above the active surface of the lava lake.
On the morning of October 8, 2021, HVO scientists completed a routine helicopter overflight of the ongoing eruption within Halema'uma'u at the summit of Kīlauea. This overview photo of the
lava lake
was captured from the northeast, with theerupting western fissure in the right of the frame, and a number of islands from the December 2020–May 2021 lava lake visible in the center. USGS image
It's unclear why these islands—or rafts—that were only a few days ago submerged by the lava lake have reappeared. The recently cooled and solidified crust of lava erupted during the December 2020–May 2021 eruption seems to be buoyant in a way that is allowing for it to gradually float up within the new molten lava erupted in the past week.
It seems unlikely that these are individual pieces of crust detaching from the old, solidified lava lake floor and rising up. If that were the case, at least some of the smaller island would then migrate around the lava lake as lava flows moving outward from the active vents push them around. All of the islands appear to be stationary except for floating vertically upward so it's likely that all or large chunks of the older lava lake floor are moving upward together.
Similar lava lake behavior was observed by Thomas A. Jaggar, founder of HVO, about a century ago. However, Halemaʻumaʻu crater was much smaller then, about a one-fifth or twenty percent of its size today. Detailed documentation of activity at Kīlauea over the past century allows for these observations, made decades apart, to be compared. As lava lakes rise and fall, so, too, do islands or rafts!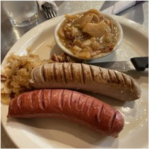 To read comments, add your own, and like this story, see www.facebook.com/kaucalendar/. See latest print edition at kaucalendar.com.
THE BEST WURST BARBECUE COOKOUT AND FUNDRAISER for Volcano Art Center is tomorrow, Saturday, Oct. 9 from 10 a.m. to 3 p.m. It takes place in the parking lot at Volcano Art Center, Niaulani Campus in Volcano Village. Plates will include a sampling of Bratwurst or Kielbasa sausage on a bed of sauerkraut with a side of German potato salad, pickle and a beverage for $15.Social distancing, mandatory mask wearing and other CDC guidelines will be practiced.
To read comments, add your own, and like this story, see www.facebook.com/kaucalendar/. See latest print edition at kaucalendar.com.
Read the entire Kaʻū Calendar and back issues at
through
Pāhala
,
Nāʻālehu, Ocean View to Miloli'i.
Pick it up from newsstands.