One of dirt roads into Honu'apo that are now off limits due to fire hazards and the danger of falling into imu, holes
in the ground with old bagasse from sugar cane days, and embers from wildfires. Photo by Bob Martin
THE COUNTY SHUT DOWN PUBLIC LANDS OF HONU'APO TODAY on the
Pāhala side of the estuary due, in part, to an unusual fire hazard - falling into holes full of burning embers. Department of Parks & Recreation announced the closure with no date to reopen, effective immediately. The closure includes the part of the Honu'apo section of the Ala Kahakai Trail along the coast and all shoreline access for fishing and hiking on Pāhala side of the estuary. The Nāʻālehu side of the estuary area at Whittington Beach Park with parking, restrooms and picnic facilities remains open.
The county statement refers to the presence of wildfire danger from bagasse, which is sugar cane waste from the nearby Honu`apo sugar mill that operated generations ago. The Honu`apo Mill was located mauka of what is now Hwy 11. Wastewater from processing sugar cane and the resulting bagasse were dumped on lands around the estuary. Apparently, many layers of bagasse and other grass remain deep into the ground and in lava tubes and imu - holes in the earth, which shelter embers that ignite fires, especially in high winds. The imu present a hazard for people walking there, who can suffer broken bones and burns from falling in them.
Fires started by underground embers are frequent at Honu'apo where
the lands on Pāhala side of the estuary have been closed to the public.
Photo by Bob Martin
County Planning Commissioner John Replogle said he recalls when he was a young boy that every night three or four trucks would come out of the sugar mill and dump soil, rocks and cane waste on the Honu'apo lands. He said there were also cattle feed lots in the area.
The county statement says, "The closure is required to protect the public's safety and welfare related to the bagasse fires that are ongoing throughout the area. These active fires and the resulting latent hot spots and voids are not readily observable as they occur beneath thick mats of grasses and vegetation."
The county reports that four people have sustained "significant burn injuries, and there have been other close calls related to active response to these fires. In addition, the vastness of the affected area, the challenging terrain for fire equipment access, and the inherent difficulty of establishing and maintaining a safe perimeter prompt this closure."
The county statement says that "Hawai'i County Fire Department is managing the situation and will determine when the lands can be reopened for shoreline access and other purposes. The gate that provides access from Highway 11 to the public lands will be closed and locked, and signage posted. We request the public's assistance in keeping this entire area clear for fire and emergency personnel access when the gate is open. Whittington Beach Park, which is adjacent to these lands at Honu'apo, remains open along with the areas south of the Honu'apo Estuary."
Among those recently injured at Honu'apo public lands is volunteer firefighter Lizze Stabo, who fell into a hole and received second and third degree burns. She remains in Straub Hospital in O'ahu after skin grafts and other treatment and is expected to be there for several more weeks. She has been under medical care at Straub since the accident, which happened on Sept. 3.
and at
https://www.facebook.com/donate/379759600195220/
HAWAI'I COUNTY WILL PARTNER WITH TEDX for the first time and reports: "The County of Hawai'i has teamed up with TEDx to host a group of local thought-leaders in conjunction with the TED Countdown event and summit. The
Countdown
is a global initiative to champion and accelerate solutions to the climate crisis, turning ideas into action. Ahead of the pivotal
26th UN Climate Change Conference (COP26)
in Glasgow, the Countdown Summit will unveil some of the imaginative and scalable solutions that we'll need to turn the tide on climate change and create a healthier and more equitable world for all."
Eleven speakers from across Hawai'i will convene on Saturday, Nov. 13 to share their perspective on the event's theme,
Local Insights Grow Global Solutions
. The presenters vary in expertise, from energy and technology to Hawaiian culture, botany, chemistry, and design. "The virtual event will broadcast all 11 presentations along with live Q&As and messages from other local leaders on the urgent steps we all can take to reduce our carbon impact and curtail the effects of Climate Change," says the announcement from the County.
This year's speakers are:
Dr. Greg Asner
, Director of the ASU Center for Global Discovery and Conservation Science in Hilo, Hawaiʻi, and Tempe, Arizona. He holds Bachelors, Masters, and Doctoral degrees in engineering, ecology, and biology, respectively, from the University of Colorado. Asner has lived and worked in the Hawaiian Islands since 1987 and is focusing recently on this island, in particularly Miloli'i.
Celeste Connors
with 20 years of experience working at the intersection of economic, environment, energy, and international development policy. Before joining the Hawai'i Green Growth Local2030 Hub, she was CEO and co-founder of cdots development LLC, which works to build resilient infrastructure systems and services in vulnerable communities.
John De Fries
who grew up surrounded by elders within his family who were steeped in the traditional practices of the Hawaiian culture. He
h
as over 40 years of experience in Hawaiʻi's largest industry – hospitality. His professional journey has taken him from leading tour groups across Hawaiʻi, to resort and real estate development, to leadership of Hawaiʻi County's diverse economic development efforts.
Brandon Jirō Hayashi MSc, CEM, Business Development Manager for Pacific Islands with Terraformation, a global forestry accelerator. He works with mission-driven experts in numerous fields as they seek to empower the planting of one trillion native trees by 2030 to sequester carbon dioxide emissions, increase biodiversity, and restore natural ecosystem services.
Robert K. Iopa
, a native Hawaiian and architect, born and raised in Hilo. He is known as a respected advocate and creative interpreter of culture, most notably Hawaiian culture. Throughout his career, Iopa has led and participated in the development projects throughout Asia, South America, the South Pacific, and all of the major Islands of Hawaiʻi. His design firm is WCIT Architecture.
Dr. Katie L. Kamelamela
, a graduate of U.H. Botany Department who envisions "Hawai'i practices on Hawai'i landscapes." She manages the first Community Based Subsistence Forest Area in a State Forest Reserve. She focuses on relationships people cultivate with forests. She helps communities, governing agencies, and nonprofits achieve long-term practice-based dreams through partnerships, in a changing climate.
Dr. Cliff Kapono
, a pro surfer, chemist and journalist, who lives a life that is equal parts science and surf. He contributed peer-reviewed publications in molecular bioscience and produced award-winning films on indigenous activism, ocean conservation, global food security and virtual reality. He has been profiled in
The New York Times
, NBC, CBS,
Surfer Magazine
, and more. He is based in Hilo.
Kekuhi Kealiikanakaoleohaililani
,
an educator trained in Hula ʻAihaʻa and Hula Pele, chant and ritual for 35 years under Hālau O Kekuhi, named for her grandmother, Edith Kekuhi Kanakaʻole. She was elevated to Kumu Hula (hula master) of Hālau o Kekuhi by her mother, Kumu Hula Pualani Kanahele and her Aunt Kumu Hula Nalani Kanakaole. Her Masterʻs degree is in Professional Development and Education.
Nicole Lautze
,
a Full Professor at University of Hawaiʻi at Mānoa and Director of Hawai'i Geothermal and Groundwater Resources Center. She supports geothermal as a renewable resource that does not emit planet-warming greenhouse gases. She earned a Bachelor of Science in Geology from UCLA (among the top 50 graduating seniors) and a Ph.D. in Geology and Geophysics from the University of Hawaiʻi at Mānoa.
Mahina Paishon-Duarte
, co-founder, CEO of Waiwai Collective, a regenerative urban oasis, a kīpuka, for growing community, culture, commerce. She is founding executive director of Paepae o Heʻeia, the first modern Hawaiian fishpond that created ʻāina-based education for students from preschool through post-doc levels. She also served as a policy program manager with NOAAs Papahānaumokuākea Marine National Monument.
Yishan Wong
who founded Terraformation to bring Silicon Valley expertise in rapid growth to the climate movement. He built the world's largest fully off-grid, 100% solar-powered desalination system to alleviate water shortages that slow arid ecosystem restoration, relieving a bottleneck to mass reforestation. He served as CEO of Reddit and Director of Engineering at Facebook, and as an engineer at PayPal. He lives in Kamuela.
In addition to the County hosting the event, sponsors and supporting organizations include:. Na Leo TV, University of Hawai'i, ASU Center for Global Discovery and Conservation Science, Hawai'i Green Growth, Hawai'i Tourism Authority, Akaka Foundation for Tropical Forests, Terraformation, Hawai'i Groundwater & Geothermal Resources Center, WCIT Architecture, Hawai'i Marine Education and Research Center, Waiwai Collective, Hālau 'Ōhi'a, Big Island Grown, the Aloha Plus Challenge, Hawaiian Electric, Hawai'i Preparatory Academy, SSFM International, Nicholson Hawai'i, Build Your Dreams, Tinguely Development, HPM Building Supply, Andrew Richard Hara, BREW, SSFM International
They "are all on board to show their support for this inaugural TEDx event," says the statement from the county. "This event is already proving evident that through organized efforts, strong leadership, compassionate listening, and a merging of indigenous wisdom with innovative technology and ideas, Hawai'i can become the epicenter for a necessary global change."
Sign up for free to read full bios on all of the speakers and learn more about the Countdown to this year's TEDxCounty of Hawai'i event at
www.tedxcountyofhawaii.com
.
The Burning Sea,
33″h x38″w by Phyllis A Cullen of Ninole
VOLCANO ART CENTER LAUNCHES ITS FIRST VIRTUAL ONLY EXHIBIT on Friday. Studio Art Quilt Associates presents
Shifting Tides: Convergence in Cloth
at
www.volcanoartcenter.org
from Oct. 8 to
Nov. 8.
Created as a group exhibit to shine a light on the issues facing the Pacific Ocean today,
Shifting Tides
is a collection of work by 45 artists chosen from the seven Pacific-facing regions of Studio Art Quilt Associates. An international organization that promotes the quilt as an art form, SAQA has a history of inviting artists to explore topical, sometimes controversial topics. With this latest show, the organization's west-coast members explore the earth's
largest ecosystem.
From their strikingly different vantage points—from Southern California northward to Western Canada and Alaska, plus Hawaiʻi—artists from a range of backgrounds were asked to express their concerns and feelings about the Pacific. "Merely because we live in this part of the world, we as individuals are part of the Pacific ecosystem. On a daily basis, we may not recognize the changes that are happening, but they are of vital importance to our world," write Georgia French and Sonja Campbell, co-chairs of the exhibit planning committee. "We were stunned with the variety and emotional intensity of their responses, as well as with the beauty and graphic impact of their work."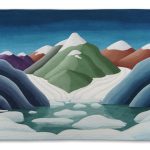 Tidewater Glacier,
30″h x36″w by Cat Larrea of Anchorage, Alaska
The 45 works range widely in content and technique, drawing on realism, abstract, and non-representational depictions. The pieces on display were chosen from more than 160 submissions for SAQA artists. Curated by renowned textile artist, Ann Johnston, the exhibit offers a variety of styles and contexts about the plight of oceans and the communities they support.
"The topic demands a passion we all feel, and the quilts dealt with the subject and the passion in many different ways; all of them hit me as having merit and value," explains Johnson. "The intention of the exhibit was not only to choose good pieces but also to include a representative range of habitats and issues in reference to our Pacific ecosystem. I also wanted to include a range of design approaches and construction techniques. I think the resulting exhibit is a showcase of art that will enlighten the viewers about quilts and encourage exploration of solutions to one of our most anguishing ecological problems."
Volcano Art Center invites those who want to learn more about the issues plaguing the Pacific Ocean, crave a forum that amplifies concerns, and those wanting to immerse into images of
Shifting Tides
to view the exhibi
t at
www.volcanoartcenter.org
Keanakākoʻi Crater is the destination of Walk in the Park, this Sunday, Oct. 10, presented by
Friends of Hawai'i Volcanoes National Park. Photo from Friends of Hawai'i Volcanoes National Park
Second Sundays are Walk in the Park, presented by
Friends of Hawai'i Volcanoes National Park.
Photo from Friends of Hawai'i Volcanoes National Park
WALK IN THE PARK THIS SUNDAY, Oct. 10, presented by Friends of Hawai'i Volcanoes National Park, connects park staff and Friends. This month, the walk explores Keanakākoʻi Crater Rim Trail.
Friends explains, "Keanakākoʻi, meaning 'cave of the adzes', likely formed during the 1400s, during Kīlauea's great summit collapses. Until 1877, Hawaiian kahuna kākoʻi (carving experts) sought the crater's superior and rare basaltic rock for making koʻi, or adze heads. Bound to a sturdy ʻau koʻi (wooden handle), this valuable tool was used to carve vital objects like canoes and houses. But the famous adze quarry was covered by lava, first in 1877, then again during the fissure eruption in July 1974. Today, the crater floor is 115 feet deep." Meet at 10 a.m. Sunday at Devastation Trail Parking Lot for the excursion that lasts until noon.
Friends of Hawai'i Volcanoes National Park is a 501(c)(3) non-profit organization. Walk in the Park is free for Friends members. Non-members are welcome to join the Friends in order to attend. Membership fees are as low as $15. See
https://www.fhvnp.org/become-a-member/join-or-renew/
.
To read comments, add your own, and like this story, see www.facebook.com/kaucalendar/. See latest print edition at kaucalendar.com.
BUILDING DIVISION OFFICES OF HAWAI'I COUNTY ARE CLOSED on Friday, Oct. 8 from 9 a.m. to noon for staff training in both Kona and Hilo.
Read the entire Kaʻū Calendar and back issues at
through
Pāhala
,
Nāʻālehu, Ocean View to Miloli'i.
Pick it up from newsstands.