This time last year, some of the last events before COVID-19 restrictions on gatherings were wrapping up
as the pandemic swept across the country. Amy Shoremount Obra, the New York Metropolitan Opera soprano,
who performs in Pāhala, almost every year, says she hopes to return in late July 2021 for another concert in Pāhala
where she has family members in coffee farming. See more below in Ka`u Life: The Way We Were Last Year.
Photo by Julia Neal
RECORD FINES FOR ILLEGAL TAKE OF AQUARIUM FISH were handed down late last month by the Board of Land & Natural Resources. BLNR voted unanimously to fine two Hawai'i island aquarium fishers $272,000 in civil fines for multiple violations of Hawai'i Administrative Rules related to an illegal aquarium fishing incident on this island.
The fines set the tone for future violators in Kona and Ka`u where there have been several busts in the past year, including arrests for illegal aquarium fish gathering off of South Point. According to state Division of Aquatic Resources, these are record fines for these types of violations; they are well within what the rules allow. Husband and wife, Stephen Howard and Yukako Toriyama were ordered to pay fines for fishing and boating violations, which happened last Sept. 15. Division of Conservation & Resources Enforcement officers received a tip that Howard, a known aquarium collector, launched his boat from Honokōhau Small Boat Harbor and was fishing within the West Hawai'i Regional Fishery Management Area.
Buckets of reef fish illegally taken from Hawai`i
Island waters to sell for aquariums led to a
$272,000 fine. Photo from DLNR
This case achieved a lot of notoriety, as Howard left two women divers underwater in open water during the incident. One was Toriyama. The other woman told DOCARE investigators that Howard had dropped them to dive and collect fish, and when they surfaced, he and his boat were gone. The absence of the divers on Howard's boat, after he had been ordered by enforcement officers back to shore, prompted a multi-agency marine search and rescue operation. It was called off after the women were spotted late in the afternoon, with their dive gear, at a Kona-area gas station.
The aquarium fish the pair of divers caught were later located by enforcement officers from NOAA's Office of Law Enforcement and DAR biologists with the assistance of the other diver. The DAR team quantified and identified 235 fish of ten different species. Toriyama was fined for nine different HAR violations. Howard was fined for 16 different fishing and boating violations. The total retail value of the fish they collected is estimated at $24,730. All of the fish were returned to the ocean.
Howard and Toriyama are also facing criminal charges in Hawai'i District Court.
BLNR Chair Suzanne Case commented, "The Land Board is obviously taking a strong stance against the illegal harvest of aquarium fish. I applaud our DOCARE officers for their work tracking and investigating these cases, and the DAR staff for their expertise in documenting the illegal takes and presenting a detailed account of these egregious actions to the BLNR for consideration. I hope anyone engaged in illegally depleting Hawai'i's natural resources will realize the cost of breaking the law, based on the high fines levied in this case."
In late February, the Land Board also granted a contested case hearing requested by another Hawai'i island aquarium fisher accused of illegally collecting fish last August. BLNR deferred ruling on the case after island residents urged a maximum fine - up to $349,000 for Jason Beevers, who was caught with 300 aquarium bound fish and illegal fishing gear. BLNR proposed a $69,800 fine and Beavers asked for a contested hearing to reconsider it. BLNR granted the contested hearing to be scheduled in the future.
This map of Halema'uma'u at the summit of Kīlauea shows 20 m (66 ft)
contour lines (dark gray) that mark locations of equal elevation above
sea level (asl). The map shows that the lava lake has filled 221 m (725 ft)
of the crater, to an elevation of 737 m (2418 ft) asl since the eruption
began on December 20, 2020. Contour lines highlighted in green, purple,
and blue mark the rim of Halema'uma'u, the edge of the eastern down-
dropped block, and the rim of the 2018 collapse, respectively. Lava is
expected tobe within view of the Kīlauea Overlook visitor area shortly
before it rises tothe level of the green contour line at 800 m (2625 ft) asl.
USGS map
THE LAVA LAKE AT HALEMAʻUMAʻU IS 725 FEET DEEP, according to the report today from Hawaiian Volcano Observatory. USGS HVO reports:
Kīlauea Volcano is erupting. Lava activity is confined to Halemaʻumaʻu, with lava erupting from a vent on the northwest side of the crater and flowing into a growing lava lake. Laser rangefinder measurements this morning, March 14, indicate that the total depth of the lava lake is 221 m (725 ft). SO2 emission rates remain elevated; a measurement on March 7 was 800 t/day.
USGS reports from its Summit Observations that the most recent sulfur dioxide emission rate, measured on March 7, is 800 t/d; this is elevated compared to rates in the months before the eruption started on Dec. 20 (less than 100 t/day), but lower than rates from the pre-2018 lava lake (around 5,000 t/day). Summit tiltmeters tracked deflationary tilt yesterday until late in the evening when inflationary tilt resumed. Inflationary tilt continues this morning as part of an apparent deflation-inflation (DI) event. Seismicity remains stable, with elevated tremor compared to observations before the eruption.
USGS East Rift Zone Observations with geodetic monitors indicate that the summit and upper portion of the East Rift Zone—between the summit and Puʻu ʻŌʻō—have stabilized after contracting by several centimeters in the early days of the ongoing eruption. SO2 and H2S emissions from Puʻu ʻŌʻō were below instrumental detection levels when measured on Jan. 7.
Halemaʻumaʻu lava lake Observations show that lava effusion from the west vent continues to supply the lava lake within Halema'uma'u crater. The main section of the west vent is consistently effusing lava through a crusted-over channel and submerged inlet to the lake.
The northeast section of the west vent, just several meters (yards) away, fed another lava flow starting March 5. After the collapse of a lava pond near the west vent on March 7, this flow stabilized into a second semi-steady inlet to the lava lake. Over the past several days the flow has crusted over and now feeds a steady submerged inlet to the lava lake, which persists as of this update.
Lava circulation and intermittent foundering of thin crust continue in the active western portion of the lava lake. The total depth of the lake is approximately 221 m (725 ft) as measured by a continuous laser rangefinder this morning.
View looking to the northwest of western fissure area of Halema'uma'u lava lake at the Kīlauea. summit
on March 11, 2021. There is a small incandescent opening at the top of the main(southern) west
vent spatter cone (middle-left), and a few smaller incandescent openings at the top of the northern west
vent spatter cone (right of the main cone). The northern west ventspatter cone was the source of a lava
flow this past weekend. There are now two effusion(eruption) points at the base of the spatter cones, one
at the base of each spatter cone.The northern effusion point is the weaker of the two.
USGS photo by N. Deligne
Stagnant and solidified lava crust covers the eastern portion of the lava lake and is slowly growing westward around the main island, apparently preventing any lateral movement of this island or any of the smaller enclosed islands. Rangefinder measurements and visual observations indicate that the crust in the eastern portion of the lava lake is still rising at a rate similar to the active western portion of the lake, suggesting continued accumulation of liquid lava below the crust.
Near-real time webcam views of the lava lake can be
found here
.
USGS Hazard Analysis: High levels of volcanic gas, rockfalls, explosions, and volcanic glass particles are the primary hazards of concern regarding this new activity at the summit of Kīlauea. Large amounts of volcanic gas—primarily water vapor (H2O), carbon dioxide (CO2), and sulfur dioxide (SO2)—are continuously released during eruptions at Kīlauea Volcano. As SO2 is released from the summit during this new eruption, it will react in the atmosphere with oxygen, sunlight, moisture, and other gases and particles, and within hours to days, convert to fine particles. The particles scatter sunlight and cause the visible haze that has been observed downwind of Kīlauea, known as vog (volcanic smog), during previous summit eruptions. Vog creates the potential for airborne health hazards to residents and visitors, damages agricultural crops and other plants, and affects livestock operations. Rockfalls and minor explosions, such as the ones that occurred during the 2008–2018 lava lake eruption at the Kīlauea summit, may occur suddenly and without warning. This underscores the extremely hazardous nature of the Kīlauea caldera rim surrounding Halemaʻumaʻu crater, an area that has been closed to the public since late 2007. Pele's hair and other lightweight volcanic glass fragments from the lava fountains within Halemaʻumaʻu will fall downwind of the fissure vents and lava lake, dusting the ground within a few hundred meters (yards) of the vent. High winds may waft lighter particles to greater distances. Residents are urged to minimize exposure to these volcanic particles, which can cause skin and eye irritation similar to volcanic ash.
Vog information can be found at
vog.ivhhn.org
. See tHawaiʻi Volcanoes National Park Press Release
"How to Safely View the New Eruption in Hawaiʻi Volcanoes National Park"
. See https://
www.optometrystudents.com/hawaii-scope-of-practice/
To read comments, add your own, and like this story, see
Facebook
. Follow us on
Instagram
and
Twitter
.
See our online calendars and our latest print edition at
kaucalendar.com
Ritual Drums & a Kapa Journey
will be a show beginning April 3
at Volcano Art Center Gallery

RITUAL DRUMS & A KAPA JOURNEY are new exhibits at Volcano Art Center beginning Saturday, April 3. Humble Beginnings: A Kapa Journey features the art of Dalani Tanahy.

Pahūpahū: Ritual Drums features the art of Kapua Kaʻauʻa. They will be on display through May 16 from 9 a.m to 5 p.m. daily. The location is the VAC Gallery inside Hawai`i Volcanoes National Park.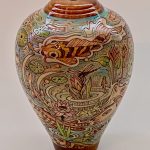 Collaborations with Wood is
now on display at Volcano
Art Center Gallery.
Kapua Kaʻauʻa will also be holding live demonstration of kaula pā hā/ pā walu at the VAC gallery on April 24th. More details on both events are coming soon.
The current exhibit is Collaborations with Wood by John Mydock and Les Petersen. through March 28 9 a.m. to 5 p.m. daily at VAC Gallery inside the National Park. Pederson said that "The beauty of collaboration is that the total sum is greater than its individual parts." See the exhibit anc purchase online at volcanoartcenter.org . Also see classes and other upcoming events.
To visit the exhibits in person, note that while they are free, park entrances fees apply.
NEW COVID CASES REPORTED TODAY ARE 28 statewide, with four on this island, 28 on Oʻahu and 18 on Maui. There are none on Kauaʻi, Lanaʻi, nor Molokaʻi. O
ne Hawai
ʻ
i resident was diagnosed outside the state
. There are active cases in the Na'alehu to South Point and Ocean View areas, after a period with none. There are no active cases reported in the Pahala and Volcano areas.
To read comments, add your own, and like this story, see
Facebook
. Follow us on
Instagram
and
Twitter
.
See our online calendars and our latest print edition at
kaucalendar.com
Traditional New England dancing came to the old

Kaʻū

gym, with its wooden floors last year,
but the pandemic stopped the public dance. Photo by Julia Neal

Kaʻū Life: The Way We Were Last Year
This time last year, the rapid fire of canceling events throughout the community began, as the pandemic swept the country. All high school sports, Boys & Girls Club, school dances, community center meetings and gatherings, senior center lunches, church services and the indoor graduation ceremonies at Kaʻū High School stopped for COVID-19 safety reasons.
State Department of Health says it hopes the pandemic will have lifted enough to bring back in-person graduations this year.
HIKE ONE OF THE MANY open trails, drive to the overlooks in Hawai

ʻ

i Volcanoes National Park at Volcano and Kahuku units. See nps.gov/havo.
WALK THROUGH A GUIDED NATURE TRAIL & Sculpture Garden, Mondays, 9:30 a.m. at Volcano Art Center Niʻaulani Campus in Volcano Village. No reservations for five or fewer – limited to ten people. Free; donations appreciated. Email programs@volcanoartcenter.org. Garden is open to walk through at one's own pace, 10 a.m. to 4 p.m. weekdays.
www.volcanoartcenter.org
, 967-8222
VOLCANO GARDEN ART'S SECRET GARDEN WALK is on free trails to the public. Sponsor Ira Ona describes the "Historical garden with many native plants. We have just created a self-guided nature walk in my new secret garden which is carved out of an upland native Hawaiian forest. Open to walk throughout the week, 10 a.m.-4 p.m. weekdays.
www.volcanogardenarts.com
, 985-8979, Located on Old Volcano Hwy in Volcano Village.
KAʻŪ ART GALLERY IS OPEN TO IN-PERSON TRAFFIC in Nāʻālehu, Wednesdays and Saturdays from 9 a.m. - 3 p.m. It features and sells works by local artists and offers other gift items.
Kaʻū Art Gallery's website has 24/7 access online and is frequently updated to show current inventory items. "We are always looking to collaborate with local artists in our community," said assistant Alexandra Kaupu. Should anyone have an interest in being featured at Kaʻū Art Gallery and Gift Shop, contact gallery owner and director Corrine Kaupu at
kauartgallery@hawaiiantel.biz
GOLF & MEMBERSHIPS for Discovery Harbour Golf Course and its Clubhouse: The new Club offers Social Memberships, with future use of the clubhouse and current use of the pickleball courts as well as walking and running on specified areas of the golf course before 8 a.m. and after 3 p.m. to enjoy the panoramic ocean views. Golf memberships range from unlimited play for the avid golfer to casual play options. Membership is required to play and practice golf on the course. All golf memberships include Social Membership amenities. Membership fees are designed to help underwrite programs and improvements to the facilities. Call 808-731-5122 or stop by the Clubhouse during business hours, 8 a.m. to 4 p.m. daily at 94-1581 Kaulua Circle. Email clubatdiscoveryharbour@gmail.com. See
The Club at Discovery Harbour Facebook page
.
KAILOKI'S, at the old Mehe's location in Ocean View, offers live music and karaoke on a to-be-determined schedule, along with a locally-sourced menu and bar. See
facebook.com/KaiLokis
.
FREE LIFETIME ENTRY for Veterans and Gold Star Families to Hawaiʻi Volcanoes and other national parks. Details at
rb.gy/k3evh6
.
OUTDOOR MARKETS




VOLCANO FARMERS MARKET, Cooper Center, Volcano Village on Sundays. 6 a.m. to 10 a.m., with much local produce, baked goods, food to go, island beef and Hawai'i Coffee. Cooper Center's EBT Machine, used at the Farmer's Market, is out of service until further notice. EBT is used for Supplemental Nutrition Assistance Program, formerly Food Stamps. Call 808-967-7800.

OCEAN VIEW COMMUNITY MARKET, open Saturdays and Thursdays, 6:30 a.m. to 2 p.m., on the corner of Kona Drive and Highway 11, where Thai Grindz is located. Managed by Mark Council. Masks mandatory. 100-person limit, social distancing required. Gate unlocked for vendors at 5:30 a.m., $15 dollars, no reservations needed. Parking in upper lot only. Vendors must provide own sanitizer. Food vendor permits required. Carpooling encouraged.
ʻO KAʻŪ KĀKOU MARKET, in Nāʻālehu, open Wednesday, and Saturday, 8 a.m. to noon. Limit of 50 customers per hour, 20 vendor booths, with 20 feet of space between vendors. Masks and hand sanitizing required, social distancing enforced. Contact Sue Barnett, OKK Market Manager, at 808-345-9374 (voice or text) or kaufarmer@aol.com for more and to apply to vend. See

facebook.com/OKauKakouMarket

.


OCEAN VIEW SWAP MEET is open at Ocean View makai shopping center, near Mālama Market. Hours for patrons are 8 a.m. to 3 p.m. Saturday and Sunday. Vendor set-up time is 5 a.m. Masks required.

BUY LOCAL GIFTS ONLINE, IN-PERSON
VOLCANO SCHOOL OF ARTS & SCIENCES CALENDARS, t-shirts, and sweatshirts sales raise money for the school. Review the calendar at rb.gy/tmxzva. Order the Calendar using this form: rb.gy/ytekoz. Send payment or donations to VSAS PayPal,
paypal.com/paypalme/VolcanoSchool
. To buy t-shirts and sweatshirts, order from here:
rb.gy/2a4cim
. Send in order forms and payment to the main office: VSAS, PO Box 845, Volcano, HI 96785. For a printed copy of the order form to be mailed, contact Kaye at 985-9800, knagamine@volcanoschool.net. Contact Kanani at kwylie@volcanoschool.net for more information and assistance with ordering.
VOLCANO ART CENTER ONLINE, in person. Shop at Niʻaulani Campus in Volcano Village, Monday through Friday, 10 a.m. to 4 p.m. Gallery in Hawaiʻi Volcanoes National Park, open Wednesday through Sunday, 9 a.m. to 4 p.m. Virtual Shopping Appointments offered via Skype or FaceTime. Book at volcanoartcenter.org/shop for $5. Shop online gallery 24/7. Orders shipped or free local pickup available. See the VAC Virtual Classroom, which features over 90 videos. See
volcanoartcenter.org/events
, call 967-8222.

KAʻŪ COFFEE MILL & VISITOR CENTER. Buy online at kaucoffeemill.com and in person at 96-2694 Wood Valley Road, Monday through Thursday, 9 a.m. to 3 pm.

PUNALUʻU BAKESHOP online at bakeshophawaii.com and in-person 8:30 a.m. to 5 p.m., seven days a week in Nāʻālehu.

ALIʻI HAWAIʻI HULA HANDS COFFEE. Order by calling 928-0608 or emailing alihhhcoffee@yahoo.com.

AIKANE PLANTATION COFFEE COMPANY. Order online at aikaneplantation.com. Call 808-927-2252

MIRANDA'S FARMS KAʻŪ COFFEE. Order online at mirandafarms.com or, in person at 73-7136 Mamalahoa Hwy, Nāʻālehu.

KUAHIWI RANCH STORE, in person. Shop weekdays, 10 a.m. to 5 p.m., Sunday, 11 am to 3 p.m. at 95-5520 Hwy 11. Locally processed grass-fed beef, live meat chickens, and feed for cattle, goats, sheep, chickens, horses, dogs, and pigs. Call 929-7333 of 938-1625, email kaohi@kuahiwiranch.com.

CHURCH SERVICES
OCEAN VIEW EVANGELICAL COMMUNITY CHURCH holds services on Sundays beginning with Sing-Along on the Square at 10:15 a.m., followed by Sunday Morning Service at 11 a.m. In-person services following CDC Guidelines and Hawaii mandates by using hand sanitizer, wearing face masks and practicing social distancing.
Music and Sermons are posted to FaceBook.com/OVECC. Also see FaceBook.com/OVECC for more. The church campus for Ocean View Evangelical Community Church is 92-8977 Leilani Circle. ovecchurch@gmail.com
ST. JUDE'S EPISCOPAL CHURCH SERVICES and worship are posted online at StJudesHawaii.org. Join the Aloha Hour via Zoom at 11 a.m. on Sundays, at rb.gy/3jfbzd, Meeting ID: 684 344 9828, Password: Aloha. Weekly hot meals, hot showers, the computer lab, and in-person services and bible studies are suspended. Check the webpage for Christmas services.
HOPE DIA-MEND MINISTRIES holds outdoor services Sundays at 9:45 a.m. at 92-898 Ginger Blossom Lane in Ocean View. Masks and distancing required. For help and/or to donate, call or text Pam and Lance Ako at 808-937-6355, or call the Ministry at 808-920-8137. See them on Facebook and at hopedia-mendministries.com.

HELP FOR HEALTH & COVID TESTING

KAʻŪ HOSPITAL offers COVID testing referral from the ER, a physician or a Kaʻū Clinic health provider.

FREE DRIVE-THRU COVID Testing, Saturdays at Kea'au High School in Puna, 1 p.m. to 5 p.m., and Wednesdays at Konawaena High School from 2 p.m. to 6 p.m. and Civic Auditorium in Hilo from 3 p.m. to 6 p.m. (enter from Kuawa Street entrance). No co-pay, no insurance necessary, but bring insurance card if have. People do not have to have symptoms in order to be tested. Social distancing must be observed and face coverings must be worn at all times. For more, call Civil Defense at 935-0031.


MICRONESIAN COVID-19 Helpline is supported by We Are Oceania, weareoceania.org, to help with identifying COVID-19 symptoms, testing, quarantine, health insurance, housing, unemployment. Call (808) 913-1364. Watch the video at facebook.com/watch/?v=989579144844697.

DEPRESSED, ANXIOUS, NEED SOMEONE TO TALK TO? Call Department of Health's expanded Hawai'i C.A.R.E.S. program at 1-800-753-6879 – the same number previously used by Crisis Line of Hawai'i. Individuals in crisis can also text ALOHA to 741741, available 24/7.


LEARN SELF-CARE THROUGH Big Island Substance Abuse Council's Practice Self-Care Series. For additional series that feature refreshing wellness tips, follow the Behavioral Health & Homelessness Statewide Unified Response Group at

facebook.com/bhhsurg

.


KAʻŪ WOMEN'S COLLECTIVE OFFERS HEALTH PROGRAMS. Piko focuses on reproductive health; increasing access, respect, cultural competence, education, and choice. Pilina aims to grow membership and establish a culture of collaborative decision-making. Follow @kau_womens_health_collective. Contact rootsmedieshawaii@gmail.com. Call 808-450-0498.

RESOURCES FOR LGBTQ+, Loved Ones, and Allies at Sexual and Gender Minority online resource hub at health.hawaii.gov/camhd/lgbtq-safe-spaces.

TALK STORY on Nā Leo TV series aims to help deliver accurate and current information to Hawaiʻi Island residents. Airs live Thursdays at 10 a.m. on Spectrum Channel 53, streaming on Nā Leo's free mobile app, and on-demand at naleo.tv/covid19.

HEALTH AND FITNESS FOR KUPUNA at 808b-fit.com, contains videos for kūpuna to play and move along with. There are videos for stretching, tai chi, yoga, dancing, dance fitness, bon dance, hula, chair dancing, and chair yoga.

YOGA WITH EMILY Catey Weiss, Mondays, Wednesdays, and Fridays, 8 a.m. to 9 a.m. at Volcano Art Center Niʻaulani Campus in Volcano Village. Advanced registration required; $5 per class. volcanoartcenter.org/events, 967-8222.

CHOOSE ALOHA FOR HOME is available to families, to provide a healthy way to grow together using neuroscience and positive psychology. Program uses a series of self-guided videos, activities, and "dinner table discussion topics." Sign up at chooselovemovement.org/choose-love-home.

FOOD RELIEF

PICK UP FOOD WEEKDAYS n the parking lot of ACE Hardware in Ocean View from Hope DIA-mend Ministries TLC at 4:45 p.m. About 300 meals available each day, coordinated by pastors Pam and Lance Ako. For help or to donate, call or text Ako at 808-937-6355, or call 808-920-8137. See them on Facebook and at hopedia-mendministries.com.

EMERGENCY FOOD BOXES available at Cooper Center Tuesday through Saturday 8 a.m. to 11:15 a.m. Call ahead, 967-7800.

FREE FOOD FOR KEIKI offered at Resilience Hub, Nāʻālehu Hongwanji on Monday, Wednesday, and Friday, noon to 4 p.m. The Hub also features drop-in WiFi and laptop access. Location is 95-5695 Hawaiʻi Belt Rd. Contact Michelle Galimba, 808-430-4927, for more.
EDUCATION
Virtual presentation, Sea Turtles in Hawaiʻi. Register to watch at rb.gy/rkd2fd.

Free WiFi Access for Students is available in Pāhala, Nāʻālehu, and Ocean View through Kaʻū High & Pāhala Elementary. Questions? See khpes.org or call 313-4100.

Resilience Hub at Nāʻālehu Hongwanji, Monday-Wednesday-Friday, noon to 4 p.m. Drop-in wifi and laptop access, free meals for participating keiki. Follows all county, state, and federal COVID-19 guidelines. Contact Michelle Galimba, 808-430-4927. Register for Boys & Girls Club Mobile Outreach and Tutoring Programs at rb.gy/o1o2hy. For keiki grades 1-6. Contact Boys & Girls Club of the Big Island Administrative Office, Monday through Friday, 9 a.m. to 5 p.m., at (808) 961-5536 or email mobiletutoring@bgcbi.org or info@bgcbi.org.

ʻOhana Help Desk offers online How-To Guides for Chromebooks and iPads at rb.gy/8er9wm. ʻOhana Help Desk also available by phone, weekdays, 7 a.m. to 8 p.m., Sundays from 4 p.m. to 8 p.m.

Invite Park Rangers to Virtually Visit Classes, through connecting with teachers and home-schoolers with distance learning programs and virtual huakaʻi (field trips). Contact havo_education@nps.gov.

Weekly Virtual Town Meetings, hosted by Kaʻū High & Pāhala Elementary, Wednesdays at 5:30 p.m. Discussion topics include attendance, best practices, Grab-n-Go meals, school updates, questions and feedback, and more. Go to KHPES.org for Live WebEx link.
Pāhala and Nāʻālehu Public Libraries, open for WiFi, pick-up, and other services. Nāʻālehu open Monday and Wednesday, 9 a.m. to 4 p.m., Friday, 11 a.m. to 4 p.m. Pāhala open Tuesday, noon to 7 p.m., Thursday, 9 a.m. to 4 p.m., limited entry into library with Wiki Visits. Schedule a Library Take Out time at picktime.com/hspls. Open for library card account help and reference assistance from the front door. WiFi available to anyone with a library card, from each library parking lot. See librarieshawaii.org.

Free Book Exchanges, at laundromats in Ocean View and Nāʻālehu, provided by Friends of the Kaʻū Libraries. Open to all. Keep the books, pass them on to other readers, or return them. Selection of books replenished weekly at both sites.

Read Report on Public Input about Disaster Recovery from damage during the 2018 Kīlauea eruption.

View the Civic Engagement and Comment Analysis Report at rb.gy/awu65k.

Watch Hawaiʻi's 28th Annual Filipino Fiesta and 8th Flores de Mayo virtual celebration at rb.gy/b53jgn.

Learn About Hawaiʻi's History & Culture through Papakilo Database, papakilodatabase.com.

Virtual Workshops on Hawaiʻi's Legislative Processes through Public Access Room. Sign up by contacting (808) 587-0478 or par@capitol.hawaii.gov. Ask questions and discuss all things legislative in a non-partisan environment. Attend Coffee Hour with PAR: Fridays at 3 p.m. on Zoom, meeting ID 990 4865 9652 or click zoom.us/j/99048659652. PAR staff will be available to answer questions and to discuss the legislative process. Anyone wanting to listen in without taking part in discussions is welcome. Learn more at lrb.hawaii.gov/public-access-room.
ECONOMIC RELIEF

Online Directory at shopbigisland.com, co-sponsored by County of Hawai'i, has a signup sheet for local businesses to fill in the blanks. The only requirement is a physical address on this island.

COMMUNITY

Food Assistance: Apply for The Volcano School of Arts & Sciences COVID-19 Family Relief Funds. Funded by Volcano Community Association, and members of the VSAS Friends and Governing Boards, who have donated, the fund supplies KTA or Dimple Cheek Gift Cards, or gift cards to other locally owned business, to VSAS families in need. Contact Kim Miller at 985-8537, kmiller@volcanoschool.net. Contributions to the fund can be sent in by check to: VSAS, PO Box 845, Volcano, HI 96785 – write Relief Fund in the memo. See volcanoschool.net.

Marketing Assistance, for small businesses affected by COVID-19, from University of Hawaiʻi-Hilo faculty and the senior class at bit.ly/2YvFxsl.

Apply for Utility Assistance to pay for electricity, non-government water, or gas. Applicants must be a Hawaiʻi Island resident, at least 18 years old, lost income or work hours due to COVID-19, and not previously received assistance from other COVID-19 federal or state-funded programs. Funded by CARES Act and distributed by Hawaiʻi County Economic Opportunity Council, required documents for application are government-issued identification, income verification documents for all household members, utility statement with address of services, lease/rental agreement or mortgage document, and proof of hardship. Hardship may include, but not limited to, pay stubs documenting pre-COVID-19 income, unemployment approval letter, or layoff letter. Apply at HCEOC.net or call 808-961-2681.

Apply for Expanded Hawaiʻi County Rent and Mortgage Assistance Program. Contact RMAP partners: Hawaiian Community Assets/Hawaiʻi Community Lending, HawaiianCommunity.net, 808-934-0801; HOPE Services Hawaiʻi, hopeserviceshawaii.org/rmap, 808-935- 3050; Hawai'i First Federal Credit Union, hawaiifirstfcu.com/pathways, 808-933- 6600; Neighborhood Place of Puna, neighborhoodplaceofpuna.org/coronavirus-rent-mortgage-relief, 808-965-5550; Hawai'i Island Home for Recovery, hihrecovery.org/RMAP, 808-640-4443 or 808- 934-7852; Habitat for Humanity Hawai'i Island, habitathawaiiisland.org/rmap.html, 808-450-2118.

Apply for Holomua Hawaiʻi Relief Grants for small businesses and nonprofits, up to $10,000, support core operations, safe on-going and reopening costs, personal protective equipment, and training and technical assistance. The business or nonprofit must employ 50 people or fewer. See rb.gy/v2x2vy.
Receive Help Over the Phone with Critical Financial Issues, through Cities for Financial Empowerment Fund Financial Navigators from County of Hawaiʻi, in partnership with Hawaiʻi First Federal Credit Union. Complete webform at hawaiifirstfcu.com/community-resource-center or call 808-933-6600. Contact Sharon Hirota at 808-961-8019 with questions.
AGRICULTURE
QUALIFY TO BECOME A BEGINNING FARMER OR RANCHER and receive benefits from the U.S. Department of Agriculture To qualify for status as a beginning farmer or rancher: Applicants must be an individual. Business entities may receive benefits only if all of the substantial beneficial interest holders (ten percent or more) of the business entity qualify as beginning farmers or ranchers. For example, a son moves home to take over the family farm and incorporates with his spouse and neither have previous farming experience. Their corporation would qualify as a beginning farmer/rancher. However, if a son moves home and forms a corporation with his father, who has had an insurable interest in crops or livestock for more than five crop years, the corporation cannot receive beginning farmer and rancher benefits. Although the son qualifies as a beginning farmer or rancher, the father does not so the corporation cannot receive benefits; and
Applicants must not have actively operated and managed a farm or ranch anywhere, with an insurable interest in any crop or livestock for more than five crop years (ten years for Whole-Farm Revenue Protection). This includes an insurable interest as an individual or as a substantial beneficial interest holder (ten percent or more) in another person who has an insurable interest in any crop or livestock. Applicants may exclude a crop year's insurable interest if they were under the age of 18, enrolled in post-secondary studies (not to exceed five crop years) or on active duty in the U.S. military.
CONSERVATION RESERVE PROGRAM enrollment ends Feb. 12. Agricultural producers and private landowners interested in the U.S. Department of Agriculture Farm Service Agency Conservation Reserve Program can sign up for the program until Friday, Feb. 12. The competitive program provides annual rental payments for land devoted to conservation.
Contact AskUSDA at (833) ONE-USDA with representatives available 4 a.m. to 12:30 p.m. weekdays. The website,
ask.usda.gov
is available 24/7 and includes live chat agents available 5 a.m. to 1 p.m. on weekdays. Inquiries can also be sent via email at any time to askusda@usda.gov.
Women Farmers can Register with Hawaiʻi Women Farmers Directory, a statewide online directory of women-operated farms, ranches, and agribusinesses. Visit the program website to register,
rb.gy/87fn9d
.
Coffee Growers are urged to take a survey on how the pandemic is affecting them by Hawaiʻi Coffee Association. Take the survey here:
surveymonkey.com/r/638VWS6
.
Program to Sell Produce and Meats on Hawaiʻi Island from commercial farmers and livestock producers on Hawai'i Island for distribution to families in need. Learn more at
rb.gy/exzuk1
.
Native Hawaiian Farmers and Ranchers urged to use U.S. Dept. of Ag On-Farm Market Directory. Visit the program website,
ams.usda.gov/local-food-directories/onfarm
.
Read About Seed Biodiversity for Hawaiʻi's Local Food System in It all Begin and Ends with Seed, where Education by Outreach Coordinator Nancy Redfeather shares her insights. Read the blog at
rb.gy/ijai3y
.
Find Grants and Loans Offered to Farmers and Ranchers, at oahuaca.org. The website has a new search feature. Find Rangeland Management Resources at
globalrangelands.org/state/hawaii
.
Learn Basics of Organic Farming, via free modules at
rb.gy/4wio2y
.
PETS & WILDLIFE
One-Time Emergency Food For Pets is available through KARES. Call David or Barbara Breskin at 319-8333.
Report Humpback Whales in Trouble at NOAA Fisheries 24 hour hotline, 1-888- 256-984. Also report distressed sea turtles, monk seals and dolphins.
For free Veterinary Care, Spay & Neuter, visit
hihs.org
, Services Tab, Spay and Neuter or Community Vet Care, or email petsupport@hihs.org. Call 808-217- 0154. All appointments must be scheduled in advance and are open to healthy dogs and cats. Two pets per family will be accommodated, each pet with own appointment. Unavailable to animals other than dogs and cats. Unavailable to strays and those with contagious illnesses.
Wai'ōhinu Transfer Station is open Mondays, Thursdays, and Saturdays, 6 a.m. to 6 p.m. Recycling services available 8 a.m. to 4 p.m. HI-5 deposit beverage container collection Saturdays only, 8 a.m. to 3:30 p.m. "White goods" appliance collection services will accept one appliance per resident per day. Customers need to check in with the facility attendant before dropping an appliance off at the facility. No unattended drop-offs allowed. Visit
hawaiizerowaste.org or call 961-8270.

Ocean View Transfer Station is open Mondays, Thursdays, and Saturdays, 8 a.m. to 4 p.m. HI-5 deposit beverage container collection will continue as usual on Saturdays only, 8 a.m. to 3 p.m. Visit
hawaiizerowaste.org
or call 961-8270.
Sign Up for Solid Waste Operations Alerts at
rb.gy/iemgrc
for site closures, service hours, and more.