Surfer and scientist Dr. Cliff Kapono, whose father lives in Waiohinu, is on the MEGA Lab team in Hilo, mapping surf spots
internationally to protect them. He is also an ambassador for surf apparel brand REEF, which helps fund the program.
Photo from REEF
THE MEGA LAB IN HILO IS MAPPING TOP SURF SPOTS IN THE WORLD to help protect them. MEGA stands for Multiscale Environmental Graphical Analysis. A statement from its operatives and University of Hawai'i enlightens: "With more than 80 percent of the world's oceans left unexplored, untouched and unseen by humans, researchers know more about the surface of Mars than the ocean."
Dr. John H.R. Burns
Image from MEGA Lab
University of Hawaiʻi at Hilo professor, Dr. John H.R. Burns, leads the team of scientists to 3D map the planet's premier surf breaks to help better protect reefs around the world. Burns, along with Dr. Haunani Kane and Dr. Cliff Kapono, both of Arizona State University, recently mapped the reef at Kurukuru Mailani in Fiji, also known as Cloudbreak, which is home to some of the biggest and best waves in the world. The team takes high resolution images of the reef and uses a technique called photogrammetry to create 3D reconstructions that can be studied to help provide a better understanding of reef systems.
"These models will help us to understand the composition, characteristics and ecology of the reef and these waves that will help us to protect them in the face of disturbances such as sea level rise," said Burns, an associate professor of marine science at UH Hilo.
Dr. Cliff Cliff Kapono
Image from MEGA Lab
According to the UH statement, the researchers are skilled surfers and base their work out of the MEGA lab in Hilo. The MEGA Lab specializes in inventing new methods to study coral health and reef formation that influences the shape and speed of waves across the globe. The non-profit is a global consortium of scientists, athletes and artists working together to create innovative solutions to protect the ocean.
UH students and alumni Kailey Pascoe (MS, UH Hilo, PhD ASU), Crispin Nakoa (MS, UH Hilo, PhD ASU), Atsuko Fukunaga (MS, UH Mānoa) are analyzing data collected in Fiji and constructing high definition 3D reconstructions in the MEGA Lab.
"The 3D maps give us this framework, essentially a basis of the whole system and its structure and then we figure out which specific corals are supporting various types of fish and ultimately we can dissect what elements of the reef give us the food and the resources that we as humans depend on," said Burns.
Dr. Haunani Kane
Image from MEGA Lab
The 3D reef mapping project born out of the MEGA Lab is a collaboration between the Hawaiʻi Island-based lab, surf apparel brand REEF and Surfline, a surf forecast and news website. The project first launched in 2021 at the legendary surf break Banzai Pipeline on Oʻahu's North Shore. The surfing scientists conducted multiple trips to the North Shore to image the famous surfing spot known for its jagged, sharp reef.
"Many funding agencies may see this type of trip as strictly play, but we are doing real science down here," said Kapono, who is the son of the Cliff Kapono who lives in Waiohinu.
The team has not disclosed where their next reef research will take place however they do mention looking for possible spots in the South Pacific and aim to include local communities into the research.
"It's important to remember that we are visitors in these places and learn from the Indigenous peoples before we impose our tools on the community," said Kane.
More on the MEGA Lab:
This fall, MEGA Lab celebrated the grand opening of its new outreach location at Mokupāpapa Discovery Center in Hilo. The lab is open to the public and provides a space for visitors of all ages to learn and participate in branches of research connected to marine science.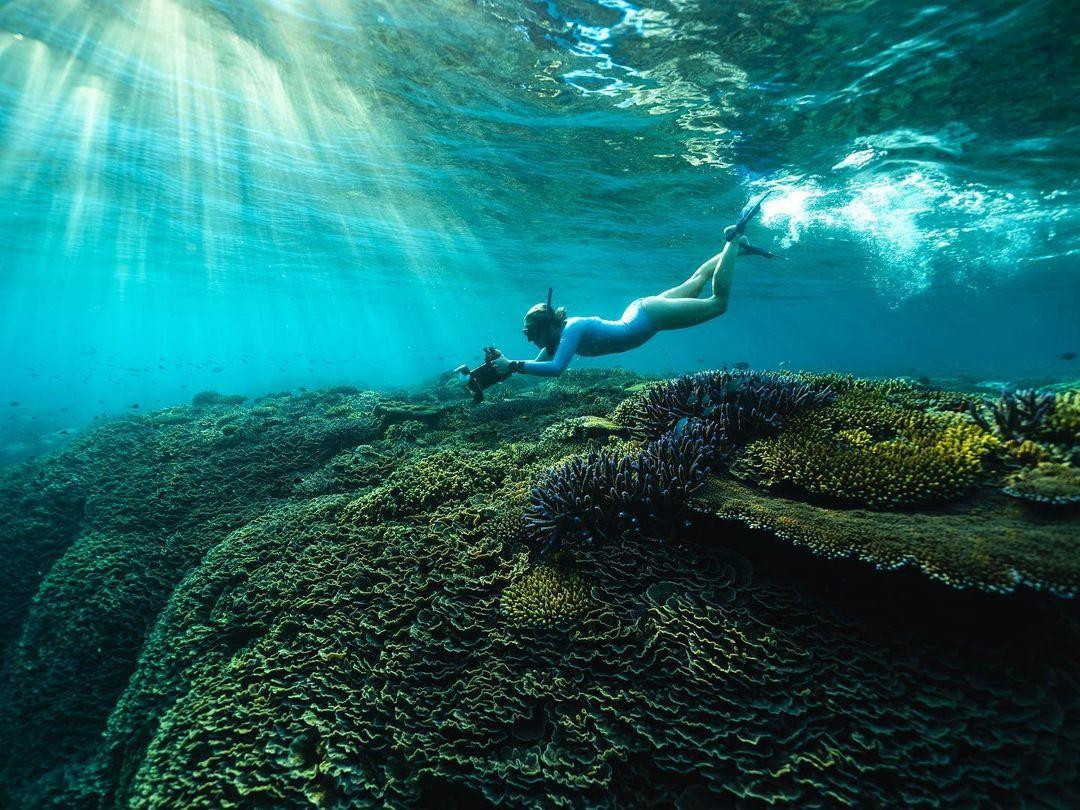 Research technician Kailey Pascoe mapping Cloudbreak reef in Fiji, one of the best surfing spots on the planet.
Photo by Todd Glaser
"We really want to create an engaging place for people to feel like they can be a part of science. For a while, science hasn't been the most welcoming environment. It can be somewhat rigid and sterile. We just wanted to flip that script and show students that you can have fun. You can chase your passions. You can be yourself," said Burns.
To read comments, add your own, and like this story, see
www.facebook.com/kaucalendar.
See latest print edition at
w
wwkaucalendar.com
. See upcoming events at
https://kaunewsbriefs.blogspot.com/2022/04/upcoming-events-for-kau-and-volcano.html
.
Children with disabilities are invited to Surfers Healing Camp on Saturday, Dec. 3.
Photo from Surfers Healing
A SURFERS HEALING CAMP IS OPEN TO CHILDREN WITH DISABILITIES islandwide. Hawai'i County Department of Parks & Recreation made the announcement Tuesday that the Surfers Healing Camp will be held on Saturday, Dec. 3 from 9 a.m. to noon at Richardson Ocean Park in Hilo. Experienced surfing instructors, surfboards, and life vests will be provided. This event is free for all participants.
Surfers Healing is a national organization whose goal is to share the joy of surfing with those who otherwise would not have the opportunity to surf. Surfers Healing Camps are held worldwide, providing more than 6,000 children the opportunity to experience surfing annually. For the past 13 years, Surfers Healing Hawai'i Chapter has offered children with disabilities and their families the unique experience of surfing with professionals under supervised conditions. This free event is offered through a partnership between the county, Surfers Healing Hawai'i Chapter, the Eddie Aikau Foundation, Vans International, and Double Good.
To register a child and learn more about the camp, visit
www.surfershealing.org
. Space is limited. For additional information, call the Recreation Division office at 808-961-8740.
FARMERS AND RANCHERS ARE ALERTED THAT CROP INSURANCE deadlines are looming. The application period closes Dec. 31 for coffee trees, coffee fruit, banana trees, macadamia nut trees, macadamia nuts, and papaya trees.
Crop insurance agent Bonnie Lind is on island to meet farmers and ranchers in-person to teach them about coffee crop insurance and the federal Whole Farm Revenue Protection Program. She met with Ka'u Coffee farmers on Monday and is available again on Thursday at the CTAHR Kona Extension Service Conference Rom at 79-7381 Mamalahoa Hwy in Kealakekua from 2 p.m. to 6 p.m. Phone 888-276-7728 or email
agsecure@sbcglobal.net.
University of Hawai'i staff will host a live Q&A panel discussion on ag insurance this Thursday, Nov. 17 and again Thursday, Dec. 1, both at 9:30 a.m. Register at
www.HawaiiCoffeeEd.com/coffeeinsur
or call 808-3220164.
USDA Risk Management Agency is hosting a roadshow event on the Whole Farm Revenue Protection Program and Micro Farm insurance programs for specialty crop and organic producers. Its next webinar is on Tues., Dec. 13 at 6 a.m. HST.
Also see
https://rma.usda.gov/en/Fact-Sheets/National-Fact-Sheets/Micro-Farm-Program
.
To read comments, add your own, and like this story, see
www.facebook.com/kaucalendar.
See latest print edition at
wwwkaucalendar.com
. See upcoming events at
https://kaunewsbriefs.blogspot.com/2022/04/upcoming-events-for-kau-and-volcano.html
.