Alice Toguchi and her seventh and eighth graders at Nāʻālehu School in 1973. Photo courtesy of Tim Wright, one of her students.
Alice Toguchi enjoys her 100th birthday.
Photo from Charles Toguchi
ONE HUNDRED YEARS OF LIVING brought on a celebration for Alice Toguchi's birthday last week. The renowned
Nāʻālehu
School teacher received many online accolades for her skills, humor and kindness as an educator. Son Charles Toguchi provided the photo of her enjoying her 100th birthday.
SMOKE BILLOWING FROM POHUE BAY BEACH drew firefighters from Ocean View and Pāhala on Sunday afternoon. Hawai'i Volcanoes National Park Fire Management Officer Greg Funderburk said one helicopter from the county fire department responded and spent about an hour on the scene to drop water on the fire that reached to about 40 by 60 feet in size. He said that Hawai'i County did an excellent job in putting down the fire with the chopper, a brush truck, two tankers and crews from Ocean View and Pāhala. When the fire was out, the site was released to the National Park Service fire unit.
A law enforcement officer traveled to Pohue on Monday for the investigation. Funderburk noted that "We are still in drought conditions across the island so people need to be careful." It is unknown whether the fire started from a cigarette, vehicle, campfire or other cause. Several residents at Ranchos stated that none of the palm trees burned at Pohue Bay.
The National Park Service and Hawai'i Volcanoes National Park recently acquired more than 16,000 acres at Kahuku-Pohue Bay. The beach is a nesting place for endangered hawksbill turtles.
Pohue Bay was the scene of a small fire on Sunday, with Ocean View, Pāhala
and National Park
Service responders, including a county helicopter with water drop. The beach is a nesting site
for endangered Hawaiian hawksbill turtles. Photo from NPS
THE STATE LEGACY LAND CONSERVATION PROGRAM is accepting applications for grants "to acquire and preserve land that has natural, environmental, recreational, scenic, cultural, agricultural production, or historic value, including park and trail systems that provide access to such land." Approximately $5.9 million is expected to be available for awards during the current grant cycle." That's
the word from the state Department of Land & Natural Resources. It also says, "The Land Conservation Fund is a valuable tool for conserving and protecting Hawaiʻi's natural beauty and all natural resources for the benefit of present and future generations. Grants from the Land Conservation Fund support efforts by state agencies, counties, and nonprofit land conservation organizations to acquire land and protect resources for public benefit."
Applications for land acquisition grants are due December 12, 2022. A pre-application package is due Oct. 20. Site visits, public input and Legacy Land Conservation Commission meetings follow.
Grants awarded in Kaʻū are: $1.475 million in to preserve 1,841.3 acres at Kiolaka'a in 2021; $2.4 million to preserve 1,363 acres at Kaunamano in 2020; $100,000 toward preservation of 2,209 acres at Waikapuna in 2017; $621,245 toward preservation of 3,128 acres of Kahuku Coastal Property in 2012; $1.5 million toward preservation of 550.9 acres at Kāwā in 2008; $45,375 for preservation of 3 acres for Kipuka Kanohina through the Cafe Conservancy of Hawai'i in Ocean view in 2007; and $1.3 million for preservation of 234.3 acres at Kāwā in 2007.
Cooperation of Three Mountain Alliance, Kamehameha Schools and DLNR has led to propagation and outplanting of an endangered Hawaiian bromeliad that was thought to be extinct in the wild. Photo from Kamehameha Schools
A NATIVE PLANT THOUGHT TO BE EXTINCT HAS BEEN PROPAGATED AT VOLCANO RARE PLANT FACILITY. Delissea argutidentata has a long, unbranched, palm-like trunk topped by a dense round cluster of leaves. It can reach up to 35 feet, much taller than any other species in the lobelia family. Delissea were previously found growing abundantly under the shade of giant koa trees and on the bottoms and slopes of old volcanic craters.
Of the 16 recognized species of Delissea, 14 are extinct and the remaining two are endangered. While no Hawaiian name has been recorded for Delissea argutidentata, it is very similar to plants in the related genus Cyanea, and could have been known by the same name, Hāhā; or given its extremely tall, unbranched form, one could descriptively call this plant hāhā kiʻekiʻe (tall hāhā). The rediscovery was made in a mamane stump within a crater on Kamehameha Schools land.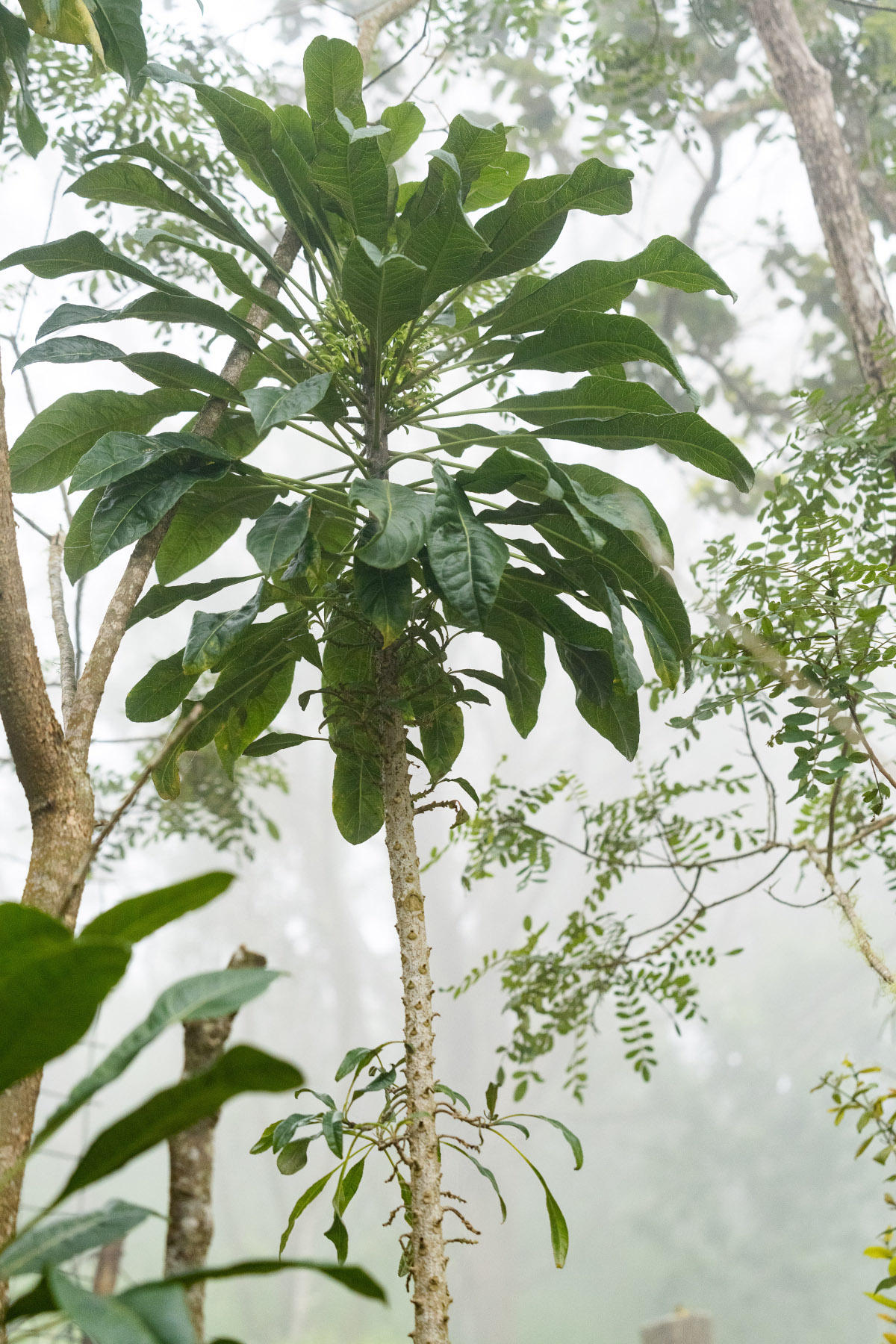 Believed to be extinct in the wild,
Delissea argutidentata,
with its
long, unbranched, palm-like
trunk topped by a dense round cluster of leaves, has been rediscovered, propagated and
out-planted. Photo from Kamehameha Schools
A joint announcement on Monday was made by Kamehameha Schools, Three Mountain Alliance and state Department of Land & Natural Resources. Delissea was rediscovered in March 2021 after last being seen in the same area in the early 1970's. Another Delessia living in the wild was at Pu'u wa'awa'a and died in 2002.
With the new discovery, Volcano Rare Plant Facility propagated seeds and planted about 30 keiki.
KS Senior Natural Resources Manager Amber Nāmaka Whitehead said, "Kamehameha Schools has been successful at stewarding native ecosystems as a whole but what's really exciting is that this is the first step toward a much bigger focus on rare species recovery. We need both – healthy native ecosystems and every one of our rare species. They are critically important to our Hawaiian cultural identity and our health and well-being as a people."
The Three Mountain Alliance staff member who found the plant was collecting seeds from other plants for use in nearby restoration areas. The population was found growing on a dead māmane stump adjacent to an old enclosure, and appears to consist of three separate plants. Within the enclosure, the remains of a larger individual plant were visible. Staff from all three organizations took actions to protect the small population of Delissea and to safekeep its genetics.
Three Mountain Alliance Coordinator Colleen Cole said, "Rediscovery of Delissea is such an important message of hope. In Hawaiʻi, there is often much focus on loss – loss of species, forest, sacred places – and maybe that is human nature but the Delissea reminds us to always nurture and make room for hope and discovery. This was such an inspirational event that means now we can reintroduce this plant in large numbers to its former range, reminding us to remain hopeful and vigilant."
Delissea was discovered in a remote crater on Kamehameha Schools land,
growing in a mamane stump. Photo from Kamehameha Schools
When
Delissea argutidentata
was last seen in this area in the early 1970s, it was located within three small enclosures fenced by a former tenant. "A plant pressing collected from the area in 1971 notes that there were only three plants remaining, the tops of all the plants were damaged – presumably by cattle – and there was no regeneration, likely due to the dense grass. The forward-thinking and installation of protective fencing are key attributes to the species' persistence in an area highly modified by previous pastoral usage," says the joint statement.
In 1992, a single individual plant was rediscovered at Puʻu Waʻawaʻa, but that last known wild plant died in 2002. Until the recent find, there were no known wild plants and the species was considered extinct in the wild, though seed was collected from the Puʻu Waʻawaʻa individual and many of its outplanted keiki survive today.
"The fact that it was discovered here, brings it back to this place," Joshua VanDeMark, DLNR coordinator of the Plant Extinction Prevention Program, said. "The reintroduction of a rare species like this is so critical because the habitat is what will allow it to persist into the future."
Along with staff from TMA and the DLNR Division of Forestry and Wildlife, KS staff visited the area in March 2021, installed a temporary fence around the population, and collected eight ripe fruit. Some fruit were sent to Lyon Arboretum for storage and others were taken to the Volcano Rare Plant Facility for propagation.
In February 2022, KS staff revisited the population and collected 12 fruit from the two largest plants. These fruit were sent to Lyon Arboretum for storage. Staff also observed two tiny wild Delissea argutidentata seedlings within the enclosure installed in March 2021.
"We wouldn't be able to do any of this without these partnerships. For Kamehameha Schools and other private landowners, natural resources stewardship is something you can't do in one place, it's something that happens at a landscape scale. We rely on partnerships with a variety of folks to help us realize this vision of healthy 'āina," said Whitehead, a 1997 Kamehameha Schools Kapālama graduate.
ALLOWING LIMITED COLLECTING OF EIGHT AQUATIC SPECIES FROM WATERS OFF KA LAE UP THE KONA COAST TO BE SOLD FOR AQUARIUMS is moving forward with the state publication of a Revised Final Environmental Impact statement on the subject. The EIS was published in the Oct. 8 state Department of Health Environmental Notice.
The state Board of Land & Natural Resources originally rejected the EIS from the Pet Industry Joint Advisory Council in 2020. The revision, submitted in 2021, drew a deadlock in a vote by the BLNR. The
The long-nose butterflyfish is one of the most popular
fish collected in Hawaiian waters for aquarium sales.
Photo from Waikiki Aquarium
tie vote meant that, legally, limited aquarium collecting would have to be accepted. However, a lawsuit filed by Willie and Kaimi Kaupiko, of Miloli'i, along with Mike Nakachi of For the Fishes, and the Center for Biological Diversity, represented by Earthjustice, led to the delay in the licensing of fish collectors. In January, a Circuit Court Judge banned all commercial aquarium fish collecting until the completion of the environmental review. However, in August this year, a judge ruled in favor of accepting the EIS, which will allow limited collecting of fish for aquariums to move forward.
The Environmental Notice details: "The purpose of the Applicant's action is to ensure that commercial aquarium fish collection allows for the lawful, responsible, and sustainable commercial collection of 8 aquarium fish species from nearshore habitats of the West Hawai'i Regional Fishery Management Area, where collection is currently limited to 40 White List species of fish. The objective of the proposed action is for the Department of Land and Natural Resources to issue 7 Aquarium Permits and 7 corresponding Commercial Marine Licenses for the WHRFMA, revise the White List from 40 to 8 species, and implement individual catch quotas for the 8 species remaining on the proposed Revised White List. The need for the Applicant's action is to allow for commercial aquarium collection in compliance with all applicable laws, rules, and regulations pertaining to the industry."
To read comments, add your own, and like this story, see
www.facebook.com/kaucalendar.
See latest print edition at
wwwkaucalendar.com
. See upcoming events at
https://kaunewsbriefs.blogspot.com/2022/04/upcoming-events-for-kau-and-volcano.html
.