Prince Kuhio, left, served as a non-voting member in Congress and led the successful effort to
pass the Hawaiian Homes Commission Act in 1921. Photo from DHHL
THE ONE HUNDREDTH ANNIVERSARY OF THE HAWAIIAN HOMES COMMISSION ACT on Friday drew praise for its founder Prince Jonah Kuhio Kalaniana'ole. It also drew reviews of 4accomplishments and challenges. The Act of the U.S. Congress was signed by Pres. Warren G. Harding on July 9, 1921. Kuhio advocated for the measure as the nonvoting Hawai'i member of Congress, in one of his last campaigns before he died.
Kuhio aimed to put Native Hawaiians back on the land to keep them from being homeless in the changing landscape and makeup of the economy and ethnic groups of the islands. He pointed to Hawaiians who found themselves destitute in urbanized settings and said he feared the race could become extinct. That goal remains today, with 203,000 acres of Hawaiian Homelands across the islands, 11,312 of those acres in Kaʻū.
Gov. David Ige said the one hundredth anniversary of the Hawaiian Homes Act is a "momentous occasion," and noted that "Hawaiian Home Lands is breaking ground this summer on the first subsistence agricultural lots with rural infrastructure." He said DHHL's state financial support is "the highest levels ever in the state's history."
U.S. Sen. Brian Schatz, who chairs the U.S. Senate Committee on Indian Affairs, said Kuhio's "work, his legacy of justice for Native Hawaiians, lives on to improve Native Hawaiian housing, health care and education....It's alive in the work we're doing in Congress. It's alive in all of you." He pointed to this year's American Rescue Plan, with its "historic funding for Native Hawaiian programs, about $200 million for Native Hawaiian health, education and housing — the biggest one-time funding into native communities,
including Native Hawaiian communities, in American history."
William Aila, chair of DHHL and Hawaiian Homes Commission, brought up the idea of raising money for Hawaiian Homelands projects through building the state's first casino on DHHL land. The bill in the 2021 legislation faced opposition from the governor and died.
To read comments, add your own, and like this story, see www.facebook.com/kaucalendar/. See latest print edition at kaucalendar.com.
OPENING OF HU HONUA BIOFUEL PLANT THAT WOULD BURN TREES FROM PAHALA to make electricity for Hawaiian Electric is going back onto the Public Utilities Commission docket. The state Supreme Court reopened the case and sent it back to the PUC to decide on environmental and
procedural issues.

Hū Honua argued that despite the higher price, biofuel should be added to the county's alternate energy portfolio to help wean the island from fossil fuel.
An evidentiary hearing on whether Hū Honua would contribute more greenhouse gas than allowed by Hawai'i law is expected to be held in January. With the power plant unable to open, growers and harvesters of eucalyptus farms around Pāhala have decided to leave trees growing in the ground, rather than add them to the piles of logs that are deteriorating on the farmland, awaiting shipment to Hū Honua, should it open.
To read comments, add your own, and like this story, see www.facebook.com/kaucalendar/. See latest print edition at kaucalendar.com.
Aerial view of a portion of the north flank of Mauna Loa, looking north. In red is the ʻaʻā lava flow that nearly made it to the Mauna Loa NOAA Weather Observatory road. After this photo was taken, the flow advanced to the four-wheel drive summit access road before stopping. USGS photo by D.W. Peterson on July 6, 1975
MAUNA LOA ERUPTED 46 YEARS AGO, THE EVENTS CONFINED TO THE SUMMIT REGION. The eruption on July 5 into July 6, 1975 lasted 20 hours in an area above the 12,000 ft. Lava flows descended to just below 10,400 ft. This week's
Volcano Watch
by USGS Hawaiian Volcano Observatory geologist Natalia Delingne explains more:
This was the first eruption in 25 years, at the time the longest quiet stretch since 1843 (we are currently in the longest stretch at 37 years and counting).
What is interesting about the 1975 eruption? It was the first Mauna Loa eruption monitored by modern instruments, so it provides clues as to what we might
observe in the lead up
to a future Mauna Loa eruption. In addition, while all of
Mauna Loa's 33 eruptions since 1843
started at the summit, about half only had vents in the summit region—like in 1975. Thus, the 1975 eruption is a useful and well-documented example of Mauna Loa summit eruptions: a common style of activity for this volcano.
The sun rises beyond Mauna Kea as lava flows down the side of Mauna Loa
on the morning of July 6th, 1975. USGS Photo by D.W. Peterson
Mauna Loa showed clear signs of unrest beginning in April 1974 and had large seismic swarms in August and December 1974, with maximum daily earthquake counts of up to about 450 (August) and 1500 (December). Daily earthquake counts exceeded 100 most days from February through June 1975. Nothing unusual (given the previous months) was noticed during the day of July 5, 1975. However, that night at 10:51 p.m. HST, seismic activity rapidly escalated, and by 11:30 p.m., the USGS Hawaiian Volcano Observatory (HVO) notified authorities at the
Hawaiʻi Volcanoes National Park
and
Hawaii County Civil Defense
that an eruption appeared imminent. The eruption began July 5, 1975, at 11:42 p.m. with a line of fissures opening up across Mokuʻāweoweo Caldera. It was over by 7:30 p.m. on July 6.
HVO staff arrived at Mauna Loa's summit area two hours after the eruption started. They found lava fountains extending across Mokuʻāweoweo Caldera through to about 1 km (0.6 miles) southwest outside the caldera, with flows advancing west and southeast. By 2:25 a.m. on July 6, additional fissures opened up across North Pit crater and northeast outside the caldera. By dawn, fountains and lava flows had stalled within Mokuʻāweoweo and at the southwestern fissures. The active fissures were now only northeast of Mokuʻāweoweo, with ʻaʻā flows travelling north about 2 km per hour (1.2 mph) towards the Mauna Loa
NOAA Weather Observatory
road. Around 7:15 a.m., the fountains feeding the ʻaʻā flows stopped erupting. This was good news for the road—the lava got to within 165 m (180 yards) of it but did not cut it off. Weak fountaining continued elsewhere northeast of Mokuʻāweoweo until nightfall, when the eruption ended.
Over the next few days it was unclear whether activity would pick up again, as inflation continued, dozens of earthquakes were felt, and hundreds more detected in Mauna Loa's Northeast Rift Zone near Puʻuʻulaʻula. However, by July 10 seismic activity had waned, and between July 9–12 deflation was measured near Puʻuʻulaʻula. By July 12, HVO volcanologists were confident that the eruption was pau (finished)—for now.
Fountains up to 65 feet (20 m) high erupt from fissures on the northeast flank
of Mauna Loa early Sunday morning, July 6, 1975. USGS Photo
The next—and most recent—
eruption in 1984
covered over 90 percent of the 1975 lava flows. However, flows are still exposed just south (mauka) of the Mauna Loa NOAA Weather Observatory road about 3.5 km (2.2 miles) before the observatory.
How representative is the 1975 eruption of summit-only activity? Of the 14 summit-only eruptions for which we know the start and end date, a fifth (3 eruptions)—including 1975—lasted a day or less, one lasted a week or less, four lasted between one and five weeks, five lasted between one and six months, and one lasted several years.
While we don't know when, or how long, the next Mauna Loa eruption will be, it will start at the summit if it follows the pattern set by eruptions documented since 1843. Next, the eruption will either stay at the summit—like in 1975—or migrate down Mauna Loa's flank. Before the eruption, we expect weeks to months of unrest with a rapid escalation of seismic activity immediately prior to the eruption. As our monitoring network is more extensive and sophisticated than in 1975, we expect higher overall earthquake counts. Whatever Mauna Loa does, HVO will continue to closely monitor the volcano to keep you informed.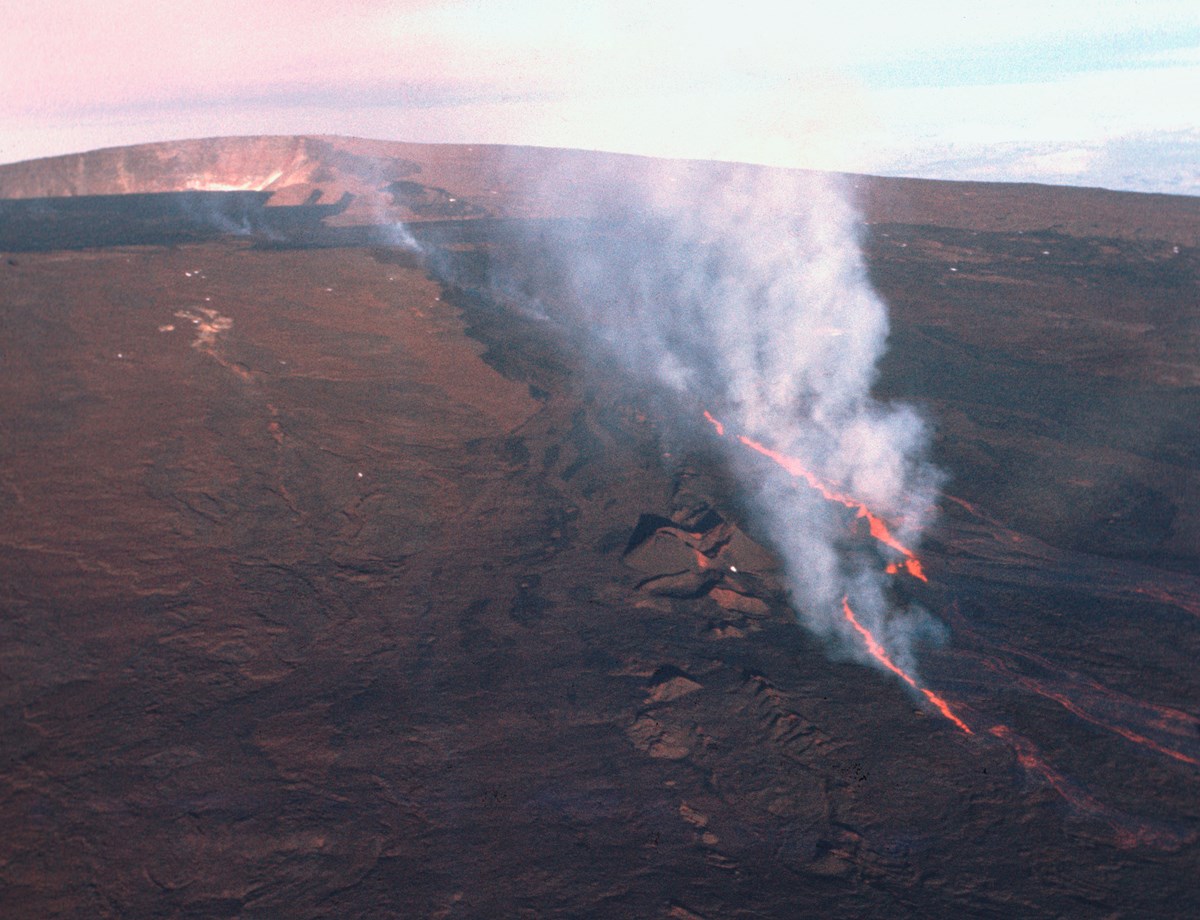 The summit of Mauna Loa on July 6th, 1975, with Moku'āweoweo caldera visible in the background. USGS Photo
To read comments, add your own, and like this story, see www.facebook.com/kaucalendar/. See latest print edition at kaucalendar.com.