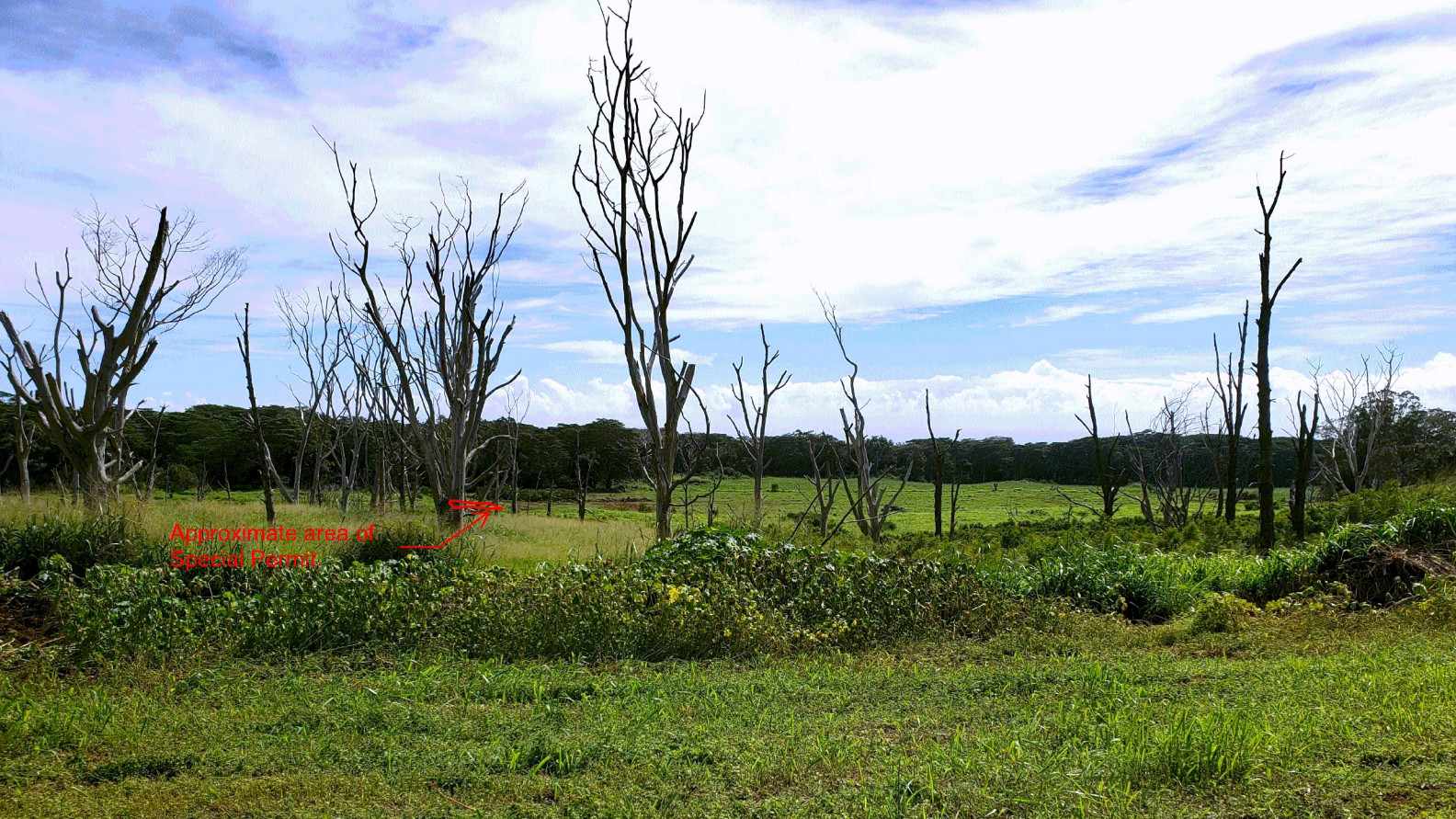 Proposed site for ten satellite dishes to study Fast Radio Bursts from deep space. The permit before the Planning Commission
is for land next to Wood Valley and Makakupu Roads. Image from Academia Sinica Institute of Astronomy & Astrophysics
A DECISION ON PROPOSED FAST RADIO BURST SATELLITE DISHES and a dipole antenna array planned for land adjacent to Wood Valley Road near the intersection of Makakupu Road above Pāhala has been delayed again. Windward Planning Commission postponed the vote on a special permit Thursday to allow the scientific research organization from Taiwan to install the ten dishes and other equipment on two acres of a 10.7 acre parcel owned by Edmund C. Olson Trust, which would lease the site.
Two of the planning commission members, Louis Daniele and John Cross, work for Olson Trust and recused themselves from voting on the matter. That left the commission without a quorum to take the vote, the same situation that precluded a vote during the last commission meeting. The Planning Department has endorsed the project and the commission plans to consider it at
a future meeting.
Tawian's Academia Sinica Institute of Astronomy & Astrophysics representatives said they chose the area due to its absence of radio waves and other electronic noise. A similar plan deeper into Wood Valley was withdrawn last year by the same organization after it drew opposition.
An example of satellite dishes planned for land
off Wood Valley Road. Photo from ASIAA
Regarding the new proposal, the project's Chief Scientist for Hawai'i, Geoffrey Bower, wrote to the Planning Commission, lauding the location for its "natural shielding provided by the high mountains surrounding the site." He pointed out that its "isolation from population centers protects us from the effects of human- generated radio signals, also known as radio frequency interference (RFI). RFI can obscure FRBs making them undetectable, in the same way that light pollution prevents us from seeing the visible light from stars."
Bower said that it could connect with observatories in North America and Asia, with its ability to detect Fast Radio Bursts in sections of the sky invisible to other observatories, improving the ability to make new discoveries about deep space. Fast Radio Bursts are seen as a clue to life beyond this galaxy.
Advocates of the project have noted that the satellite dishes would be passive and would not emit electronic waves or other signals.
Testifying at Thursday's meeting was Michelle Wiel who said her family owns 50 acres with a view of the proposed satellite site. "We would be able to see the satellite dishes and the shipping containers from our location. Just aesthetically, it's not aligned with the existing agricultural heritage of the area." She also said she is "fully in support of science, but I just am opposed to having this in this area in part because
it precludes any sort of advancement in terms of bringing cell service to the area, in the future. Currently,
there is no cell service there. Which means in an emergency, you can't contact the outside world."
Stefan Taylor testified in person at the Planning Commission meeting, saying he is a resident of Wood Valley that the project "could very well open the door for similar explorations and permits on a commercial level."
"Imagine this area that was once occupied by historic sugar, agriculture and founding community turning into a space known for these metal structures. Instead of an organic mamaki tree farm, which is actually thriving these days, grazing cattle and agriculture stimulation..." It could become a place for people gawking where travelers could come to see the contests, he said. He contended it would work against preservation and encouragement of agriculture in the Ka'u Community Development Plan."
See video of testimony on Big Island Video News at
https://www.bigislandvideonews.com/2023/02/04/video-ka%ca%bbu-satellite-dish-array-vote-postponed/
To read comments, add your own, and like this story, see
facebook.com/kaucalendar
. See latest print edition at
kaucalendar.com
, in the mail and on stands.
A NATIVE HAWAIIAN SURVIVOR OF SEX TRAFFICKING WILL ATTEND THE STATE OF THE UNION address in Washington, D.C. on Tuesday, guest of Sen. Mazie Hirono.
Kalei Grant is a Native Hawaiian trafficking survivor leader who now advocates for other survivors of sex trafficking and other forms of gender-based violence. Pres. Joe Biden's State of the Union Address will be Tuesday, Feb. 7 at 4 p.m. Hawaiian time.
Grant is a survivor of domestic sex trafficking. She was trafficked in Hawai'i, where she was born and raised. After nearly two years of being held against her will, she escaped from her trafficker. When she healed, she turned back to help others trapped in commercial sexual exploitation. She now works for the Department of the Attorney General in Hawai'i's Missing Child Center. In 2021, she received the National Child Protection Award from the U.S. Department of Justice in recognition of her efforts in Operation Shine the Light, a cooperative effort between Missing Child Center-Hawai'i, federal, state and local law enforcement agencies, and four nonprofit organizations.
See Kalei Grant's You Tube story about her victimization by a sex trafficker and her transition to working on the problem in a job with Hawai'i's Attorney General. She attends the U.S. President's State of the Union Tuesday with Hawai'i Sen. Mazie Hirono.
The YouTube video is at https://www.youtube.com/watch?v=NuwR5thyLck.
Last month, Grant participated in a roundtable discussion—
convened by Hirono
—with Native Hawaiian survivors of gender-based violence and organizations that support them. The roundtable followed
passage of
Hirono's bill
to allow Native Hawaiian survivors of gender-based violence to access critical programs and resources provided by Congress through the Violence Against Women Act.
"As a Native Hawaiian survivor of gender-based violence, Kalei Grant is working to help combat the crisis of violence against Native women and girls," said Hirono. "I admire and appreciate her commitment to raising awareness and supporting other survivors, and I'm honored to have her as my guest for President Biden's State of the Union Address. Last year, we made important progress by passing my bill to finally
Sen. Mazie Hirono hosted a Gender-Base Violence Roundtable on Jan. 19.
enable Native Hawaiian organizations to use funds from the Violence Against Women Act to support Native Hawaiian survivors of gender-based violence. I look forward to working with the Biden Administration, my colleagues in Congress, and advocates like Kalei to build on this success and advance justice for Native Hawaiian women and girls."
Hirono has been a
vocal advocate
for the Native Hawaiian community and efforts to combat violence against Native Hawaiians. In December, Biden signed into
law legislation introduced
by Hirono to allow Native Hawaiian survivors of gender-based violence to access critical programs and resources provided by Congress through the Violence Against Women Act. Last August, she
pressed FBI Director Christopher Wray
to do more to protect the Native Hawaiian community from sexual exploitation at a full Judiciary Committee hearing and
emphasized the need
for the FBI to include the Native Hawaiian community in its efforts to address the missing and murdered Indigenous people crisis and violence against Native communities. Hirono also
joined a resolution
designating May 5th as National Day of Awareness for Missing and Murdered Indigenous Women and Girls.
To read comments, add your own, and like this story, see facebook.com/kaucalendar. See latest print edition at kaucalendar.com, in the mail and on stands.
A NEW ANIMAL CONTROL & PROTECTION AGENCY is proposed by Hawai'i County and goes before the County Council this month. A statement from the mayor's office says that Hawai'i County "has faced numerous challenges in recent years. In response, the County Council and Mayor Mitch Roth's Administration are working together and taking initial steps to improve animal control services on Hawai'i Island. To help address the challenges while still fulfilling state law, the Hawai'i Police Department assumed the animal control duties through a pilot program in July 2021."

The responsibility for county-wide animal control was historically contracted to Hawai'i Island Humane Society until a few years ago when it declined to submit a bid during contract renegotiations. "While this pilot program was in place, a multi-agency collaboration concluded that care and maintenance of impounded animals requires oversight and operation by a dedicated agency. The result, a bill crafted through cooperation between Council Chair Heather Kimball, Council member Cynthia Evans, the Roth Administration, and the Police Department, should receive its first reading on Feb. 21 before a County Council committee," says the statement.
The county recommends Petco Love Lost data base to
report and find missing animals.
Kimball said, "We understand and appreciate the importance of animal control services within each of our communities and we are optimistic that Bill 22 will be well-received at Council. The goal is to pass this bill in time to have the newly proposed agency funded in this year's County budget so it can quickly and properly address these important animal control concerns of our community."
The Hawai'i County Code and state law require the county to feed and shelter impounded dogs, cats, and domesticated animals. This includes dogs confiscated under the county's dangerous dog law. However, other services formerly provided by the Hawai'i Island Humane Society, such as spay and neutering programs or accepting feral animals, are not required to be performed by the County. The Hawai'i Island Humane Society and other non-profit organizations help to provide these services.
After the new County agency is created, collaboration would continue between the administration and other partners to determine how best to address issues currently outside the purview of the county's responsibility, such as population reduction and feral animal control.
The mayor said, "We're confident that this collaboration will lead to efficient and compassionate response to this issue, which touches so many people and communities. Let's work together toward an acceptable resolution." The statement recommends that the public testify on the Bill 22, by contacting Council Services at (808) 961-8255.
FREE FOOD
St. Jude's Hot Meals are free to those in need on Saturdays from 9 a.m. until food runs out, no later than noon. Volunteers from the community are welcome to help and can contact Karen at pooch53@gmail.com. Location is 96-8606 Paradise Circle Drive in Ocean View. Those in need can also take hot showers from 9 a.m. to noon and use the computer lab from 9:30 a.m. to 1 p.m.
Free Meals Mondays, Wednesdays, and Fridays are served from 12:30 p.m. to 3:30 p.m. at Nā'ālehu Hongwanji. Volunteers prepare the food provided by 'O Ka'ū Kākou with fresh produce from its gardens on the farm of Eva Liu, who supports the project. Other community members also make donations and approximately 150 meals are served each day, according to OKK President Wayne Kawachi.
OUTDOOR MARKETS
Volcano Evening Market, Cooper Center, Volcano Village, Thursdays, 3 p.m. to 6 p.m., with live music, artisan crafts, ono grinds, and fresh produce. See facebook.com.
Volcano Swap Meet, fourth Saturday of the month from 8 a.m. to noon. Large variety of vendors with numerous products. Tools, clothes, books, toys, local made healing extract and creams, antiques, jewelry, gemstones, crystals, food, music, plants, fruits, and vegetables. Also offered are cakes, coffee, and shave ice. Live music.
Volcano Farmers Market, Cooper Center, Volcano Village on Sundays, 6 a.m. to 10 a.m., with local produce, baked goods, food to go, island beef and Ka'ū Coffee. EBT is used for Supplemental Nutrition Assistance Program, formerly Food Stamps. Call 808-967-7800.
Ka'ū Kākou Market, Nā'ālehu, Wednesdays, 8 a.m. to 2 p.m. Contact Nadine Ebert at 808-938-5124 or June Domondon 808-938-4875. See facebook.com/OKauKakouMarket.
Ocean View Community Market, Saturdays and Wednesdays, 6:30 a.m. to 2 p.m., corner of Kona Drive and Highway 11, where Thai Grindz is located. Masks mandatory. 100-person limit, social distancing required. Gate unlocked for vendors at 5:30 a.m., $15 dollars, no reservations needed. Parking in the upper lot only. Vendors must provide their own sanitizer. Food vendor permits required. Carpooling is encouraged.