Volunteers, contractors, firefighters work to hold back a fire in the Kaʻaluʻalu near South Point on
Sunday, the fire burning into the night. Photo by Julian Kaniho
A RANGE FIRE BROKE OUT below the Green Sands community in the Kaʻaluʻalu area on Sunday and drew numerous fire fighters, volunteers and contractors to contain it. Among those helping are Dean Kaniho, Hano Boy Grace with a crew from Kona, Akoni Naves, Jimmy Mahuna, Bob Barnett, Kimo Kaniho, Kawika Karratti, Alfred Keanu and Julian Kaniho. A Hawaiʻi Fire Department helicopter dropped water to douse the fire and prevent it from spreading. At nightfall, the fire was still burning, the crews still working.
Hawaiʻi Fire Department helicopter drops water onto
the Ka'alu'alu fire. Photo by Julian Kaniho
CANDIDATE FOR GOVERNOR JOSH GREEN has responded to candidates Kai Kahele's and Vicky Cayetano's questions about sources of his campaign funding and personal income.
During the
Hawaiʻi News Now
and Council for Native Hawaiian Advancement's
Super Debate
last week, when discussing cost of housing, Kahele said one of the reasons housing is so expensive is that out of state investors and foreign investors are "coming here to Hawaiʻi and are pricing out our local families." Kahele said Green has taken money from real estate developers and private equity real estate donors from the mainland.
Hano Boy Grace doser works into the night.
Photo by Julian Kaniho
Green responded that, "It is disappointing that the congressman has already begun to make personal and political attacks. I've been supported by thousands and thousands of local people, which is a great honor, including the people that build our houses, carpenters that build our houses, and people that finish the houses, the electricians and plumbers. These people believe in me 'cause they know I can bring people together. That's why I'm their choice for governor."
Kahele responded that the reality is that Green has taken thousands of dollars from real estate developers, including $6,000 from a New York real estate developer and $5,000 from a private equity real estate investor. "These are people coming here that are buying our hotels. They are buying our homes. They are buying our land. Why don't you stop taking their money?"
Gubernatorial candidate Vicky Cayetano said, "There is no question that a lot of money has come from outside. She pointed out that when Gov. David Ige was attending an environmental conference in Scotland, Green was on the mainland fundraising at a time he was assigned to be acting governor.
Daleco Ranch area view to Kaʻaluʻalu fire on Sunday. Photo by Richard Taylor.

Green responded to Kahele and Cayetano. Though Kahele has vowed to accept no donations of more than $100 and none from corporations, unions and pacs, Green said, "Unfortunately the Congressman has spent his entire career collecting money from special interests. And worse still, he took money from Milton Choi who's been indicted, who has been indicted for bribing officials. He took money from Dennis Mitsunaga who's been indicted, and has been indicted for corrupting the political system and because Mrs. Cayetano did also... and I am sorry people are attacking because people deserve actual discussion."
Across pastures to the Kaʻaluʻalu fire. Photo by Jana Kaniho
Kahele said, "People are not attacking you lieutenant governor. Why don't you be honest with the people of Hawaiʻi?" Kahele pointed to Green raising $100,000 in one day and his 44 reported fundraisers. Kahele called for campaign finance reform.
Kahele asked about Green's company, Green Health International, LLC, saying it received $600,000 over the last three years, "the bulk of which you received while you were the spokesperson for the state on Covid.... This is your separate private income ....." Kahele asked whether Green doesn't want the public to know "how you have personally benefited from those sources while serving as lieutenant governor." Green responded to the question of benefiting from his position by saying, "Of course not," and that his LLC receives money for his work as a clinician.
Gubernatorial candidate Josh Green, MD (right) responded to questions from Democratic opponents Vicky Cayetano and Kai
Kahele about sources of his fundraising and personal income during Hawaiʻi News Now's Super Debate last week.
Image from HNN
Green said, "It is disappointing, of course, that the congressman continues to mislead with attacks. For the record, though, I will set it straight. I spent my life, the last 22 years, caring for Hawaiʻi's people, particularly the Hawaiian people and the Filipino people as a doctor in Nāʻālehu and then in Kohala. So that's the work he's referring to. It's my clinical work, end of story. There's been innuendo all over the place. I have never worked in any way, shape or form for the pharmaceutical industry or anything like that." Green pointed to LLC's owned by Green and Cayetano.
Cayetano said the sources of a candidate's income are an issue for her because "character matters. You need to be able to trust your leaders." Green responded saying that Cayetano has had 500 LLCs and that one of them is with a person who has been indicted, who worked with Dennis Mitsunaga. Cayetano said she has not had 500 LLCs and has spent her career on her one business. She said that the LLC referred to by Green was was a handbag business and that her sister started and that the woman indicted offered to be the secretary but was never a shareholder.
Cayetano pointed to a condominium with rental income that, she said, went unreported by Green for which he was fined by the Ethics Commission. Green responded that he did report the income, but on the wrong line of the form and received good guidance from the Ethics Commission. Green said "these kind of comments. They don't help anybody. They don't do anything for our state. They don't deal with the over tourism that we have or the health disparities that our Hawaiian community suffers. They don't do any good at all, so I think we should actually focus on issues but I am happy to be transparent and will continue to be, in talk stories as we go through this campaign."
To read comments, add your own, and like this story, see www.facebook.com/kaucalendar. See latest print edition at www.kaucalendar.com. See upcoming events at https://kaunewsbriefs.blogspot.com/2022/04/upcoming-events-for-kau-and-volcano.htm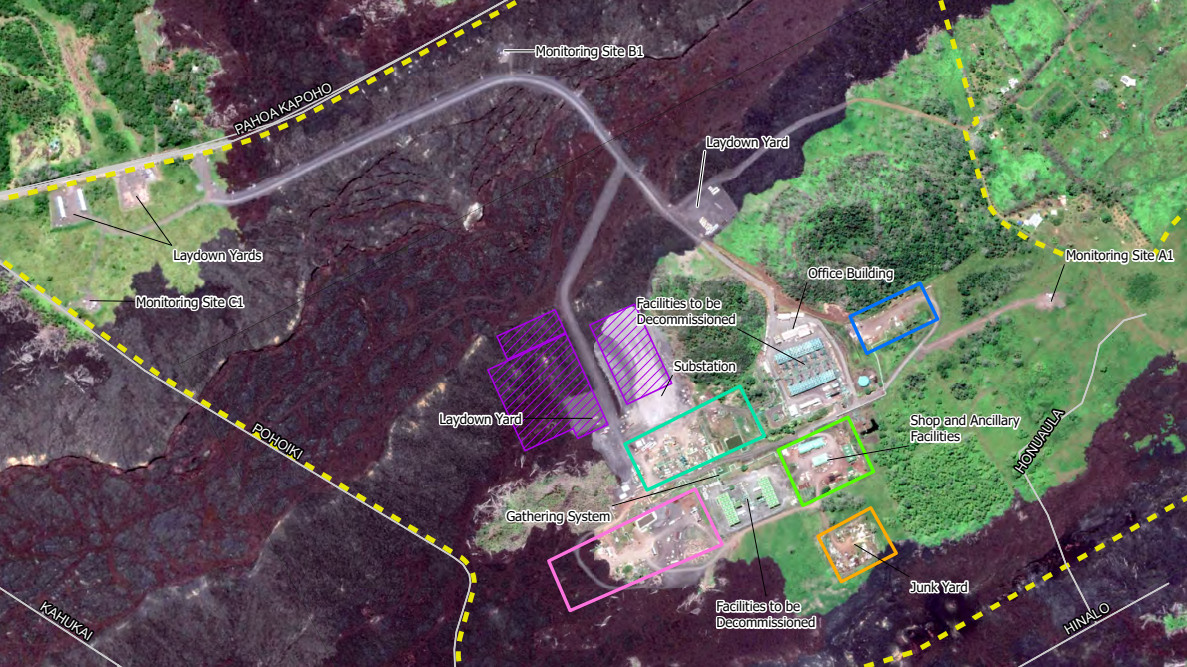 Puna Geothermal Venture seeks public comment on its plan to increase production of electricity from
its site near Pohoʻiki without increasing the footprint of the facility. Image from PGV

EXPANDING GEOTHERMAL PRODUCTION OF ELECTRICITY is the subject of a 30-day public review period for a proposal from Puna Geothermal Venture. Comments are due Aug. 22.
PGV seeks to increase power production at its geothermal plant near Pohoʻiki and submitted an Environmental Impact Statement Preparation Notice to the state. The state Department of Health's Office of Environmental Quality Control published the notice on July 23. The county Department of Planning determined that an EIS is required.
"PGV continued providing renewable geothermal energy to HELCO which distributed the energy around Hawai'i Island until 2018. In May 2018, approaching lava from the 2018 eruption of Kīlauea on the Lower East Rift Zone (LERZ) inundated the main access road to the power plant, the wellheads of two geothermal wells, the substation of the complex, and an adjacent warehouse that stored a drilling rig. PGV restored the damaged access and facilities and on Nov. 5, 2020, electricity production partially resumed. PGV continued the geothermal field recovery work to increase the production of energy since then and as of early 2022, PGV currently produces approximately 25.7 MW."