USGS Hawaiian Volcanoes Observatory tiltmeters are keeping track of recent unrest, including
20 earthquakes in a 24 hour period on the south side of Kīlauea. USGS photo
UNREST JUST SOUTH OF HALEMA'UMA'U around the summit area of Kīlauea Volcano has increased over the past 24 hours, according to USGS Hawaiian Volcano Observatory. In the previous 24-hour reporting period, no earthquakes were located at Kīlauea's summit. However, at 12 a.m. Friday morning, seismicity resumed, and beginning at 5 a.m., a small swarm of earthquake activity occurred at Kīlauea's summit with 20 earthquakes between 5 a.m. and 7 a.m. These earthquakes were primarily located immediately south of Halemaʻumaʻu mostly within Kīlauea's caldera. HVO continues to monitor this seismic activity.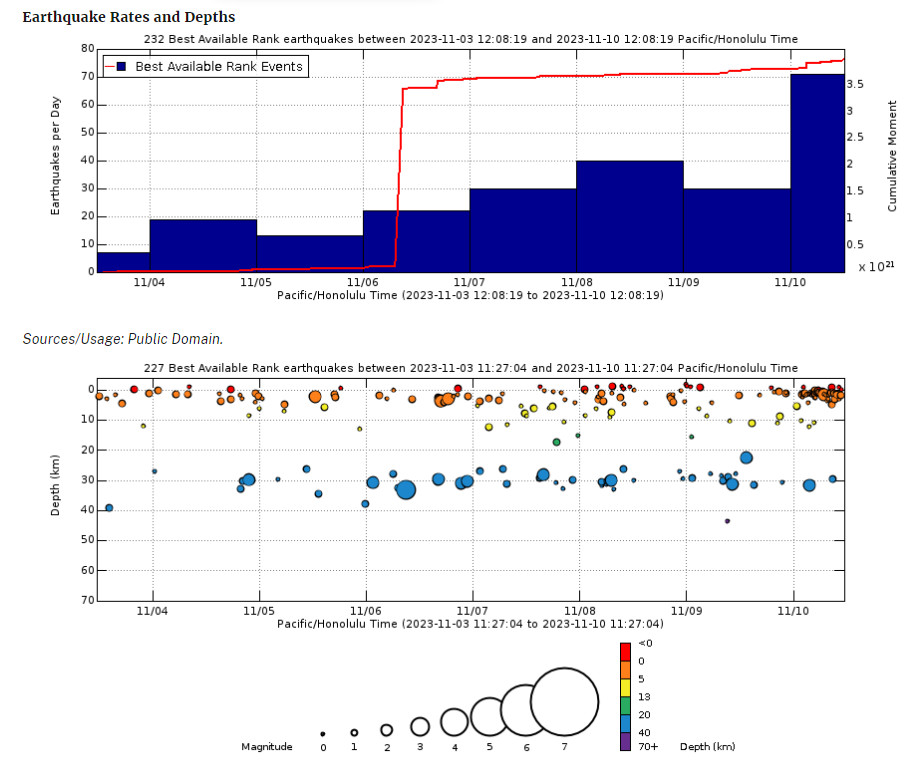 The Uēkahuna summit tiltmeter, located northwest of the caldera, shows slight deflation over the last 24 hours. However, the Sand Hill tiltmeter, located southwest of the caldera, shows an increase in uplift rates over the last 24 hours suggesting inflation of a source south of Halemaʻumaʻu. Overall, the summit of Kīlauea remains at a high level of inflation, above the level reached prior to the most recent eruption in September 2023.
Sulfur dioxide (SO2) emission rates remain low and were measured at a rate of about 100 tonnes per day on Oct. 19.
There is currently no sign of an imminent eruption, but eruptive activity is possible in the coming weeks or months. Increased inflation and earthquake activity (heightened unrest) are expected to precede an eruption. The onsets of previous summit eruptions have been marked by strong swarms of earthquakes caused by the emplacement of a dike 1-2 hours before eruptions.
T
o read
comments, add your own, and like this story, see
facebook.com/kaucalendar
. See latest print edition at
kaucalendar.com
, in the mail and on stands.
EVERYTHING CHANGES AND THAT'S OK
is the title – and the reassuring message – of a prize-winning children's book written by Ocean View resident Carol Dodd.
Aimed at the three-to-seven-year-old age group and written in cleverly rhyming verse, the book gently
explains impermanence to children in a relatable way, by drawing on changes that most keiki see in their daily lives.
A former bookstore and library staffer, Dodd told
The Kaʻū Calendar
that she always wanted to write a children's book but felt daunted by the task of either finding a publisher or self-publishing. Those obstacles fell away when she won a competition run by the Khyentse Foundation, as the prize included the publication of her winning book.
Ocean View author Carol Dodd with her book Everything Changes and That's OK.
Photo by Annie Bosted
"I was so surprised to win," Dodd explained. "I could hardly believe my eyes when I saw the email. It was like a dream coming true. The publisher, Bala Kids division of Shambhala Publications, found an excellent illustrator, Erin Huybrechts, who did a delightful job. Her drawings make the book so charming and so inclusive of children from different nations with different activities".
Asked why she chose impermanence as the central theme of
Everything Changes and That's Ok,
Dodd explained that impermanence is one of the key concepts of Buddhism, a philosophy to which she has been attracted for decades. She wanted to encourage children to not fear change, but to embrace it by understanding that it is okay.
The book has been well received in West Hawai'i. Dodd was surprised when a librarian at the Kailua Kona library recognized her name on the book and then stopped her to say how much she enjoyed the story and that she thought it was a great book for keiki.
Dodd also felt flattered when a close associate of the Dali Llama and a leading authority on Buddhism, Robert Thurman, called her book "lovely." She felt encouraged when the Wood Valley Temple carried
Everything Changes and That's Ok
in its gift shop.
An online review of Dodd's book reads: "From an apple seed growing into a brilliant tree to a child watching a family member grow old, this book offers a thoughtful look at why change doesn't always have to be negative and can instead be observed with appreciation. It poetically presents a story that prompts kids to recognize and adapt to the change they see in their daily lives.
"This beautiful exploration of impermanence is accompanied by vibrant illustrations that explore every corner of the world, from rolling fields in Tibet to the cozy, fireplace-lit living room of a family member's home. The illustrations remind children that everything changes no matter where you are, no matter who you are, and that's all right."
When not writing, Dodd is an avid reader of all genres, and enjoys snorkeling. Her poetry and photos can be accessed through her Instagram account, @caroldodd108.
T
o read
comments, add your own, and like this story, see
facebook.com/kaucalendar
. See latest print edition at
kaucalendar.com
, in the mail and on stands.
A VETERANS DAY CELEBRATION WILL BE HELD on Saturday, Nov. 11 at Nāʻālehu Hongwanji, from 10 a.m. to 2 p.m. sponsored by 'O Ka'ū Kākou. OKK President and veteran Wayne Kawachi said there will be music with Sonny Ramos, a free lunch and drinks as well as door prizes.
VETERANS DAY IS A FREE DAY AT HAWAI'I VOLCANOES NATIONAL PARK on Saturday, Nov. 11, with no admission fees for the public to honor all veterans.