One of the anchialine ponds conserved at Kiolaka'a with purchase and transfer of lands to stewardship.
Photo from Ala Kahakai Trail Association
OWNERSHIP OF KIOLAKA'A, 1,828 ACRES RUNNING MAUKA TO THE KAʻŪ COAST, has been transferred for stewardship to Ala Kahakai Trail Association. Trust for Public Land, which helped to raise the funding and negotiate the purchase of Kiolaka'a with public and private funds, made the announcement this week. The statement said the transfer "maintains miles of open space and public access to coastal lands surrounding Ka'alua'alu Bay and Kapeao fresh water spring, a complex of anchialine ponds, as well as important cultural sites including a section of the Ala Kahakai Trail."
Reyna Ramolete Hayashi, the Aloha ʻĀina project manager for Trust for Public Land, said, "We're celebrating this milestone thanks to the commitment of the Kaʻū community. Their aloha for this special place has ensured it will be protected in perpetuity, and we are humbled to have helped ensure their vision is now reality."
Ka'alu'alu Bay and Kiolaka'a from the air above the Kaʻū Coast.
Photo by Shalan Crysdale, The Nature Conservancy
Kiolakaʻa is home to a treasured natural and cultural landscape, including one of the island's largest cave systems, the ancient Kamakalepo settlement which includes heiau (places of worship) and habitation sites, a native dryland forest, an extensive trail network, native coastal plants, a rich marine ecosystem and two varieties of ʻōpaeʻula – a rare endemic red shrimp. "With 90 percent of Hawaiʻi's native dryland forests lost, the preservation of Kiolakaʻa is critical to the survival of rare and endangered plants," said the TPL statement.
"Protecting ʻāina is key to preserving culture and history," added Ramolete Hayashi. "Efforts like these give us the unique opportunity to partner with communities and honor the values and traditions they hold dear."
The statement also says, "Under the Ala Kahakai Trail Association's thoughtful stewardship, Kiolakaʻa's historic ranch lands will be protected, ensuring Kaʻū's paniolo history is perpetuated. Cattle ranching will continue to fuel the area's economy, supporting local jobs and food security. Community members are welcome to steward precious cultural resources and continue subsistence fishing, gathering and cultural practices in the area."
Keoni Fox, Director of Ala Kahakai Trail Association, said, "ATA looks forward to working closely with the Ka'ū community and the County to create a community management plan that honors the legacy of our kūpuna to mālama these lands for the next generation.
Campers at Ka'alu'alu Bay. Photo from Ala Kahakai Trail Association
Nohealani Kaawa, of the Ala Kahakai Trail Stewardship Committee, said, "When you connect kanaka maoli to their ʻāina kulāiwi in places like Kiolakaʻa, that foundation has great potential to further strengthen and foundate our Kaʻū community. Strong communities are born out of each of us being our best selves and when given a space to work together, it allows for positive impacts, shaping the future of our keiki with all the resources that Kiolaka'a has to offer and teach."
Funding for the conservation purchase was made possible by the County of Hawai'i Public Access Open Space and Natural Resources Preservation Program, the State of Hawai'i Department of Land & Natural Resources Legacy Land Conservation Program, and the Freeman Foundation.
Mayor Mitch Roth said that "Listening to and learning from the community is how we advance positive change. We're grateful for the Kaʻū community's vision and are honored to have worked alongside them to ensure Kiolakaʻa remains a pristine, natural resource for the community for generations to come."
Suzanne Case, Chair of the State of Hawaiʻi's Department of Land and Natural Resources, said, "We're thankful for the commitment of Trust for Public Land and Ala Kahakai Trail Association, who, guided by the community, have ensured another significant acreage of land in our state is preserved."
Cattle at Kiolaka'a. Photo from Ala Kahakai Trail Association
Ernest Moody, EWM Enterprises, LP, the seller of the land, said, "I am honored to convey this historically important property to Trust for Public Land and Ala Kahakai Trail Association, knowing it will be preserved for future generations."
"We are grateful to all participants who have successfully completed the transaction, so this 'āina will be protected in perpetuity," added Hawaii Pacific Brokers Realtor Charlie Anderson, who represented the seller.
Including Kiolakaʻa, Trust for Public Land's completed and in-progress projects have protected more than 24,000 acres surrounding the Ala Kahakai National Historic Trail, a 175-mile trail traversing many storied landscapes throughout Hawaiʻi Island. To learn more about Trust for Public Land visit
tpl.org/hawaii
.
Mauka to Makai Trail at Kiolaka'a.
Photo from Ala Kahakai Trail Association
​
Trust for Public Land is a national nonprofit that works to connect everyone to the benefits and joys of the outdoors. As a leader in equitable access to the outdoors, TPL works with communities to create parks and protect public land where they are needed most. Since 1972, TPL has protected more than 3 million acres of public land, created more than 5,000 parks, trails, schoolyards, and iconic outdoor places, raised $84 billion in public funding for parks and public lands, and connected more than 9 million people to the outdoors. To learn more, visit
tpl.org
.
SENSITIVE PLACES WILL BE OFF LIMITS TO FIREARMS, following passage of a bill at the Hawai'i County Council on Wednesday. Bill 220 includes banning licensed firearms from sensitive places and also prohibits anyone from carrying them when intoxicated. Penalty under the new law could be as steep as revoking the license to carry for a year.
The language of the bill states that it aims "to protect sensitive areas that have traditionally been subject to restrictions on carrying or possessing firearms therein; to protect health, life, and property; and to preserve order and security within the County. The Council finds that the public's expectations have been shaped by legal restrictions on public carry that have been in place in Hawai'i for 170 years, (see 1852 Haw. Sess. Laws Act of May 25, 1852, Section 1 at 19) and within the historical tradition of the United States. Setting restrictions consistent with these public expectations will ease public fear and confusion, avoid individual confrontations, and facilitate private decision-making by property owners."
Maile David, who represents Kaʻū on the County Council, voted for the bill along with four other members. Ashely Kierkiewicz voted against it and Sue Lee Loy and Rebecca Villegas were absent from the nine-member County Council.
The Sensitive Places are listed as: Hospitals, medical facilities, medical offices, and/or medical clinics, except where permission is granted by the administrator of the facility;
Schools, colleges, universities, and/or places where persons are assembled for educational purposes, except where permission is granted by the institution;
Daycare centers, playgrounds, and parks, except where permission is granted by the administrator of the facility;
Churches or religious assemblies, except where permission is granted by the administrator of the church, facility, or congregation;
Voter service centers or places of deposit, and any appurtenances thereto, as defined by section 11-1, Hawaii Revised Statutes;
Government buildings and the accompanying parking lots attached to such buildings, except when the licensed firearm is kept in the vehicle unloaded with an affixed trigger lock or in a locked case;
Private property open to the public where it is conspicuously posted that public carry of firearms is not allowed;
Public transit facilities and any mode of transportation utilized for public transit; and
Bars, restaurants, and establishments that serve alcohol for consumption on its premises.
MACADAMIA CROP INSURANCE DEADLINE IS NOV. 30, according to a statement from University
Crop insurance deadline for macadamia is Nov. 30.
of Hawai'i Ag Extension service. The deadline for coffee tree, coffee fruit, banana tree and papaya tree insurance is Dec. 31.
Extension agent Andrea Kawabata, who specializes in coffee and orchard crops, also recommended that crop insurance be in place before conducting such activities as early pruning and stumping and adding news practices to the farm. She advised contacting the crop insurance agent before proceeding.
JAZZ IN THE FOREST CONTINUES SATURDAY, DEC. 3 at 5:30 p.m. at Volcano Art Center Niaulani Campus in Volcano Village. The evening features Jean Pierre Thoma and the Jazztones in a concert called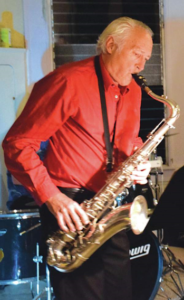 Jean Pierre Thoma
Holiday Spirits, What A wonderful World!
A statement from Volcano Art Center says, "The concert is a holiday celebration of the gifts of life which we enjoy and sometimes forget to appreciate. The blessings of music which express the themes of the holidays are widely spread through the media, and the concert is a reminder of the depth of spirit available to us when we slow down from the busy-ness of the season and give thanks."
The band consists of Jean Pierre Thoma on woodwinds; Alex Czerny on keyboards; and Brian McCree swinging his doghouse bass. "Russell Lundgren moves us along rhythmically, and Leelu Mitchell will provide heavenly vocals for our illumination, inspiration, and pleasure. This concert will be a blend of the old standard holiday melodies, and an up-to-date jazzier expression of our love and unity," says the announcement.
Tickets are $25 for VAC members ($30 non-members). Ticket holders will be able to purchase beer, wine, as well as pupus. Tickets are available for sale online at www.volcanoartcenter.org, or at VAC's Administration Office in Volcano Village. The last day to purchase tickets online is Friday, Dec. 2. After that, tickets will be sold at the door, if they are not sold out. Tickets will be held at Will Call on the day of the show. Pick them up any day before the show at Volcano Art Center's Niaulani Campus Administrative Office, Monday through Friday, 10 a.m. - 4 p.m.
To read comments, add your own, and like this story, see
www.facebook.com/kaucalendar.
See latest print edition at
wwwkaucalendar.com
. See upcoming events at
https://kaunewsbriefs.blogspot.com/2022/04/upcoming-events-for-kau-and-volcano.html
.