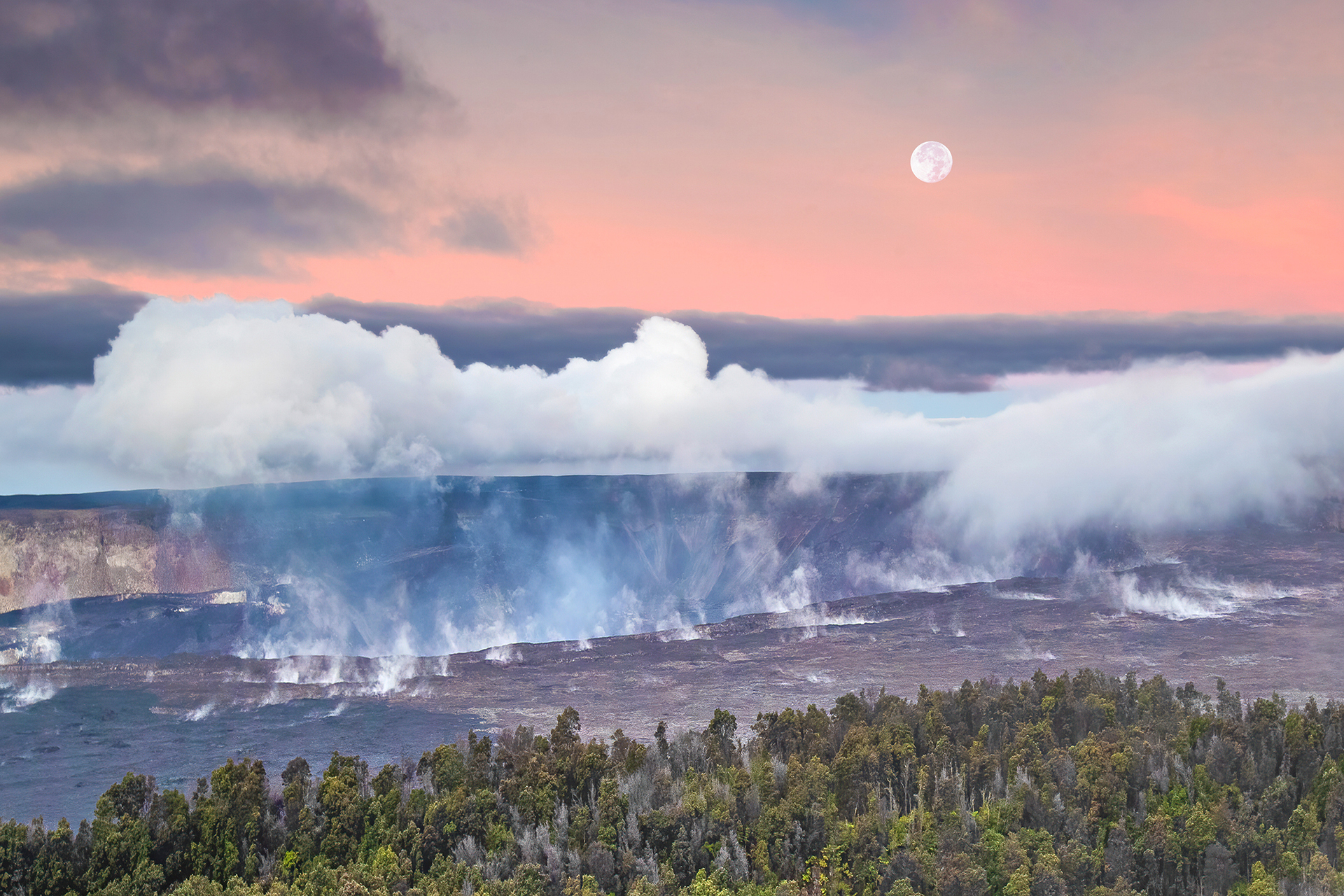 A full moon above Kaluapele, as Hawai'i Volcanoes National park and USGS seek input on demolishing the severely damaged
Jaggar Museum and other buildings and construct new facilities away from Kīlauea crater's edge. See more below.
Photo by Janice Wei/National Park Service
MICHELLE GALIMBA IS RUNNING FOR COUNTY COUNCIL for District 6, which covers all of Kaʻū, into Volcano and into South Kona. She made the announcement on Friday.
"Having been born in Kealakekua and spent my childhood in Kapua in South Kona and Nāʻālehu and Waiʻohinu in Kaʻū, as well as having lived in Volcano for a number of years, I have a great love for our beautiful, vast district, and I hope to have the honor of serving this place and its people on the County Council. By working together we can make extraordinary things happen in this extraordinary place that is our ʻaina, our home."
As a current member of the Windward Planning Commission, a former member of the County Charter Commission, as well as a former member of the Kaʻū Community Development Plan Steering Committee, Galimba said, "I have many years of experience in listening to and working with community members to craft policies and make decisions that express our values and our vision for the future."
As a rancher and business-person, Galimba said, "I have built a successful business around providing grass-fed, locally grown beef to local markets. As an advocate for local agriculture and farmers, I have worked with the Kaʻū coffee farmers to build a market for their world-class coffee, including coordinating the first Kaʻū Coffee Festival.
Michelle Galimba is running for County Council to serve
Kaʻū and other rural areas.
During the COVID-19 pandemic Galimba worked with Vibrant Hawaiʻi, O Kaʻū Kakou and the Nāʻālehu Hongwanji to use CARES Act funding from the County of Hawaiʻi to help local restaurants and farmers stay in business, to provide free meals to the most vulnerable residents, and to provide access to internet and laptop computers at the Nāʻālehu Resilience Hub.
Along with the Trust for Public Land and the Ala Kahakai Trail Association, "I have also worked to preserve thousands of acres of our coastline and agricultural lands by helping to secure public funding for land acquisitions and for putting in place agricultural and cultural resource conservation easements that protect these lands from development in perpetuity."
She said, "In my experience working together is what gives us the power to make good things happen."
Galimba promised to "work hard to bring resources to our district by engaging with the Hawaiʻi County administration to ensure that our Districtʻs needs are recognized and acted upon. I will work with the Department of Parks & Recreation to ensure that our public parks have the funding, equipment and manpower they need, and with the Department of Environmental Management to repair and improve our transfer stations. I will work with the Department of Research & Development to create opportunities for new jobs and businesses in our district."
Galmba said, "We have a responsibility preserve the cultural and natural resource of our district and island. At the same time, it is critical to create opportunities for prosperity and well-being for all. If elected to the County Council, these responsibilities and values will guide my work in serving District 6."
Galimba, 53, is daughter of Alfred and Sami Galimba. Alfred Galimba is a cattle rancher and dairyman, formerly managing some of the largest dairy farms in the state. He worked at Nāʻālehu Dairy as well as Hawaiian Ranch when those were subsidiaries of C. Brewer & Co. Sami Galimba is a cattle rancher, business-woman, and a school teacher starting at

Pāhala

Elementary in the 1960ʻs.

The candidate is the grand-daughter of the late Eustaquio and Carlina Galimba, long-time residents of Waiʻohinu and the late
James and Catherine Nellis of Walton, NY. She has three brothers: Raschad, Garrett and Guy Galimba. Along with the late Timothy Alencastre of Volcano, she is the parent of Ua Alencastre-Galimba, who graduated from Kamehameha Schools summa cum laude in 2019 and currently is a junior at Harvard University in Cambridge, MA.
Galimba chairs the USDAʻs Farm Service Agency County Committee, which helps farmers and ranchers to recover from disasters, and represents Hawaiʻi on the USDAʻs Western Region Sustainable Agriculture Research and Education Program. She has formerly served an eight year term on the State of Hawaiʻiʻs Board of Agriculture. She also is a member of AgHui, a network of agricultural stakeholders dedicated to raising up local agricultural producers and food systems. She is a graduate of the Hawaiʻi Agricultural Leadership Program and had the honor of being the keynote speaker for the Hawaiʻi Agricultural Conference in October 2019.
County Council candidate Michelle Galimba
says she wants to help Kaʻū grow more
businesses, particularly in agriculture.
Galimba serves on the board of HEMIC (Hawaiʻi Employers Mutual Insurance Company), the Agricultural Leadership Program of Hawaiʻi, the Big Island Resource Conservation and Development Council, and has previously served on the board of Farm Credit Services of Hawaiʻi, Hawaiʻi County 4-H Livestock Association, Vibrant Hawaiʻi, Ka Ohana O Honuʻapo, Kaʻū Farm Bureau, and the County of Hawaiʻi Commission on the Status of Women, She is also a contributor to the anthology Food and Power in Hawaiʻi: Visions of Food Democracy.
She is a graduate of Punahou School, has a B.A. in Asian Studies from the University of Oregon, and a M.A. and Ph.D in Comparative Literature from the University of California Berkeley. She has taught Mandarin Chinese and World Literature at the University of Hawaiʻi Hilo.
Along with her brother Guy Galimba, she owns and manages Kuahiwi Ranch and Kuahiwi Ranch Store, which sells livestock feed, local beef, eggs and honey in Nāʻālehu.
Galimba said that as a small business owner, she provides agricultural and retail employment opportunities in the district. Having helped to grow the family ranch and business from one cow in 1993 to its present herd of over 3,000 head, she said she "knows that government can both help or hinder local businesses, and would like to help our district and county grow more businesses especially in agriculture."
COMMUNITY INPUT IS SOUGHT FOR HAWAI'I VOLCANOES NATIONAL PARK, which plans to demolish the former Jaggar Museum, Okamura Building and Geochemistry Annex on Kīlauea Summit. They were damaged beyond repair during the 2018 volcanic eruption and summit collapse

on Kīlauea volcano.
Virtual meetings are scheduled on Thursday Feb. 24 at noon and 6 p.m. There are additional multiple ways to give input, which is due March 11.
The community outreach is part of the Disaster Recovery Project to repair, replace, relocate or remove critical park infrastructure and USGS-operated facilities and equipment damaged during the 2018 eruption and summit collapse. Under the proposed action, the National Park Service would:
• Demolish three damaged structures at Uēkahuna Bluff on the Kīlauea summit (the former Jaggar Museum, the Okamura Building and the Geochemistry Annex).
• Repair and restore access to the existing overlook area at Uēkahuna adjacent to the former Jaggar Museum.
• Replace the Jaggar Museum visitor center function with a new building near the existing Kīlauea Visitor Center by the park entrance. KVC would still be used for administrative offices and K-12 educational programs, and the auditorium would still host public presentations.
• Realign Crater Rim Drive near the park entrance and install a roundabout to improve safety.
• Allow USGS to construct a replacement field station adjacent to the ball field by Kilauea Military Camp in the park.
At left shows the Kilauea before the eruption and summit collapse in 2018. At right is the aftermath.
NPS photos
The public is invited to review project details online, attend a virtual meeting and submit input before March 11 in the following ways:
Online:
The preferred method for receiving input comments is through the NPS Planning, Environment, and Public Comment website at
https://parkplanning.nps.gov/HAVODisasterRecovery
. Detailed project information, including a story map with video and more are available on the PEPC website.
Phone:
There is a dedicated phone line for receiving comments. People can leave a detailed message or request someone calls them back by calling 808-460-6212.
Attend a Virtual Meeting:
The public is invited to attend one of two virtual public meetings on Thursday, Feb. 24, either from noon to 1 p.m. or from 6 p.m. to 7 p.m. The same information will be presented at both meetings so it is necessary to only attend one meeting. The Disaster Recovery Project presentation will be at the top of the hour:
Feb. 24, 12 p.m. to 1 p.m. HST: Join the online meeting:
https://swca.zoom.us/j/91430664015
. Those without access to internet can join by phone: (888) 475-4499 US Toll-free; Meeting ID: 914 3066 4015.
Feb. 24, 6 p.m. to 7 p.m. HST: Join the online meeting:
https://swca.zoom.us/j/97252271515
. Those without access to internet can join by phone: (888) 475-4499 US Toll-free; Meeting ID: 972 5227 1515
The statement from Volcanoes National Park says, "The meetings will provide an opportunity for the public to learn more about the project, have discussions with NPS and USGS staff and provide input. Comments received on the proposed action will be reviewed, analyzed and considered for the environmental assessment. The meetings will be recorded and a link to the recording will be posted on the project website:
https://parkplanning.nps.gov/HAVODisasterRecovery
."
Panoramic view from Uēkahuna looking west towards former Jaggar Museum site (Okamura building on the right). NPS photo
The Park's notice on the meetings and public input reviewed the disaster that led to planning for demolition of the old and building new facilities away from the crater's edge:
"Beginning in May 2018, the park and Kīlauea summit underwent a major change as magma drained from the chamber beneath Halema'uma'u Crater, and the caldera began to collapse, triggering thousands of felt earthquakes and clouds of rock and ash that continued until early August. The seismic activity was primarily centered near the crater, and significantly impacted buildings in the immediate vicinity on Uēkahuna Bluff, including Jaggar Museum and the USGS-operated Okamura facility and equipment, resulting in the closure of the area. The 2018 eruption and caldera collapse were the most destructive eruptive events in Hawai'i in the last two centuries, and the park closed to the public for 134 days. 
"The results of post-disaster assessments found that significant investment would be necessary to make Jaggar Museum and the USGS Hawaiian Volcano Observatory-operated Okamura building and Geochemistry Annex safe to occupy and operational. The buildings are surrounded by fault lines and the area continues to subside on the crater side, undermining slope stability at the existing terraces and building foundations."
THE HELE-ON BUS WILL BE FREE THROUGH 2023 OR LONGER. The County Council approved the measure this week. Free ridership was proposed by new county Public Transit administrator John Andoh.
Grants will be used to pay for the cost of the service, he said.
Hele-On already stopped selling most of its tickets on Jan. 17, only selling passes good through February.
The free bus and para-transit service is expected to begin March 1 or sooner. The idea is to break down barriers to taking the bus, so more people will choose Hele-On and leave cars and trucks at home. See the routes and other Hele-On news at www.heleonbus.org and on the Hele-On facebook page.
CU Hawai'i Federal Credit Union recently provided a $5,000 check to
Kaʻū
Hospital Foundation through a promotion that
gave a donation from each personal loan made to members. Right to left are
Kaʻū
Hospital Administrator Jennifer Aguiar,
Kaʻū
Hospital Foundation President Wayne Kawachi, Foundation board member Patrick Getchus, CU Hawai'i's
Kaʻū
manager Mark Peters, Foundation secretary/treasurer Jean Kailiawa and CU Hawai'i President and CEO James Takamine,
Photo from CU Hawai'i
CU HAWAI'I FEDERAL CREDIT UNION PROVIDED $5,000 TO
KAʻŪ
HOSPITAL FOUNDATION in a recent ceremony. CU Hawai'i made the contribution through a "personal touch" in a recent personal loan promotion, giving back funds to hospital foundations on Hawai'i Island. Ka'u Hospital's sister facility, Hilo Medical Center's Foundation also received $5,000, as did Kona Hospital Foundation.
CU Hawai'i, with its slogan "More Possibilities," offered a personal loan with a great rate, and pledged a donation for each loan booked to go towards the three island hospitals.
A statement from CU Hawai'i says its staff and management "were honored to be able to promote and facilitate this amazing loan special. They are passionate about letting their hearts drive them towards opportunities that make a difference in the lives of their members and community. Where their motto is to provide 'More Possibilities,' they are hopeful that these donations can do just that."
CU Hawai'i has over 66 years of community-rich history, as a member-owned, not-for-profit cooperative financial institution. This allows CU to provide competitive rates, lower fees, free services and more opportunities for the membership and community. CU Hawai'i has seven branches serving the east, west, north and south sides of the island. In addition, CU sponsors a student credit union.
ENTREPRENEURS, STARTUPS, AND THE BOOMING FOOD WASTE BUSINESS
is the theme of a virtual forum on Monday, Feb. 14 from 10 a.m. to 11:30 a.m. It will feature six guest panelists who are leading food waste innovators throughout Hawaiʻi and the continental U.S.
Panelists include Phil Augustus Acosta, Executive Director of Aloha Harvest, the largest food rescue and redistribution organization in Hawaiʻi, as well as Vincent Mina, the president and founding member of Hawaiʻi Farmers Union United.
The forum is sponsored by Maui Business Brainstormers, a grassroots group focused on "creating ways to help local entrepreneurs and new and existing businesses thrive on their journey from the ground up."
The goal of Monday's virtual forum is to generate solutions to tackle food waste on a local and global scale. According to MBB, "You will be amazed and inspired to act, to do your part. You may start a business focused on reducing food waste."
To RSVP, visit
https://www.natleshipweek-hawaii.org/feb-14-2022---food-waste---maui-hawaii.html
.
SEE CALENDAR OF EVENTS & SPONSORS
See the February Print Edition of The Kaʻū Calendar at