Kaʻū Roping & Riding has announced a gymkhana this Sunday at 9:30 a.m. at Nāʻālehu Arena and a Lantern Parade
through Nāʻālehu on Saturday, Dec. 14 at 6 p.m. See more events below. Photo by Geneveve Fyvie
A BAN ON USE OF MANY PESTICIDES BY HAWAIʻI COUNTY passed the County Council Wednesday with a six to three vote. Twenty-three herbicides, including Roundup, will be banned for use in Hawaiʻi County parks, roads, bikeways, sidewalks, trails, drainageways, and waterways. The bill will take effect over the course of four years. Maile David, Kaʻū's councilwoman, voted for the ban. Attendees of the meeting applauded the passage.
The bill doesn't apply to using the herbicides on non-county lands and land leased by the county to others. The bill also allows applying these herbicides "directly into the trunk or onto the cut stump of a targeted invasive species using methods known as incision point injection or cut stump application." This was added at the request of the Big Island Invasive Species Committee, which is combating such species as the invasive albizia tree.
The bill also creates a vegetation management transition committee to oversee development of alternatives to the prohibited herbicides. The committee will include a county resident versed in "weed science," and a person with knowledge in Native Hawaiian plants, tropical horticulture, agroforestry, silviculture, organic landscape design and maintenance, permaculture, and natural farming.
Roundup contains an herbicide that is
banned in Hawaiʻi County for use
by the county on county lands.
The banned herbicides are: acetochol, alachlor, atrazine, aminopyralid, benfluralin, clopyralid, dicamba, dithiopyr, diquat dibromide, diuron, fluazifpr-p-butyl, glufosinate, glyphosate, imazapyr, isoxaben, MCPA, mecoprop (MCPP), metolachlor, paraquat dichloride, pendimethalin, trilopr, trifluralin, and 2,4-D. The main active ingredient in Roundup is glyphosate. Acetochlor is sold under brand names Acenit, Guardian, Harness, Relay, Sacemid, Surpass, Top-Hand, Trophy, and Winner. Atrazine brand names include Marzone. MCPP is often used in combination with other chemically related herbicides such as 2,4-D, dicamba, and MCPA.
The bill states herbicides are "heavily used to control vegetation in public places" and that "exposure to these substances subjects the public, County workers, domestic animals, and wildlife to a high risk of exposure to dangerous chemicals." The bill states that the World Health Organization "has listed glyphosate, a commonly used herbicide, as a probable carcinogen." It is a component of Roundup.
Blake Watson, a Hawaiʻi Sierra Club representative who helped draft the bill, told AP News that a previous herbicide ban proposal resulted in difficulties defining what should be considered toxic. "We decided to make a different kind of system that specifically laid out the chemicals without getting in the quagmire of what's toxic and what's dangerous, which gets really murky. If the county wants to add to (the list), they can add to it."
ROY TAKEMOTO IS THE NEW HAWAIʻI COUNTY MANAGING DIRECTOR, effective Monday, Dec. 2. The Managing Director serves as acting mayor whenever the Mayor is off-island or unable to fulfill his duties.
Mayor Harry Kim's Executive Assistant since 2016, Takemoto will replace Wil Okabe, who resigned. Takemoto, 65, also served Kim in 2000 to 2008, first as Deputy Planning Director and then as Executive Assistant.
Said Kim, "
Roy
has been an indispensable member of my Cabinet, and I have complete confidence that he will serve admirably as Managing Director. I'm really grateful that he's taking on this important job."
Takemoto worked as a private planning consultant prior to 2000 and after 2008. He has a bachelor's degree in philosophy and environmental studies, a master's degree in Urban and Regional Planning, and a law degree from the University of Hawai'i's William S. Richardson School of Law.
Takemoto was raised near Wahiawa on O'ahu, and in 1991 he quit his job working for a hotel developer, married a Hilo girl and moved to Hilo to be among his wife's and mother's families. He has a grown son who lives in
Washington
State
, where he is a software developer.
PRAISE FOR A HAWAIʻI ISLAND, ARMY HELICOPTER PILOT who died in a crash in Afghanistan this week has come from public leaders. Chief Warrant Officer 2 Fuchigami, 25, of Keaʻau, died in Logar Province, Afghanistan, while he and his co-pilot provided air security for ground troops. The helicopter crashed supporting Operation Freedom's Sentinal. Also killed was Chief Warrant Officer 2 David C. Knadle, 33, from Tarrant, Texas.
Lt. Col. Adam Camarano, commander, 1-227th Attack Reconnaissance Battalion, said, "First Attack is saddened by the tragic loss. Our heartfelt condolences go to both families and their friends during this difficult time. Chief Warrant Officer 2 Knadel and Chief Warrant Officer 2 Fuchigami will always be remembered as a part of the heroic legacy of the 1st Cavalry Division; forged by the sacrifices of brave Cavalry Troopers who have laid down their lives in defense of freedom."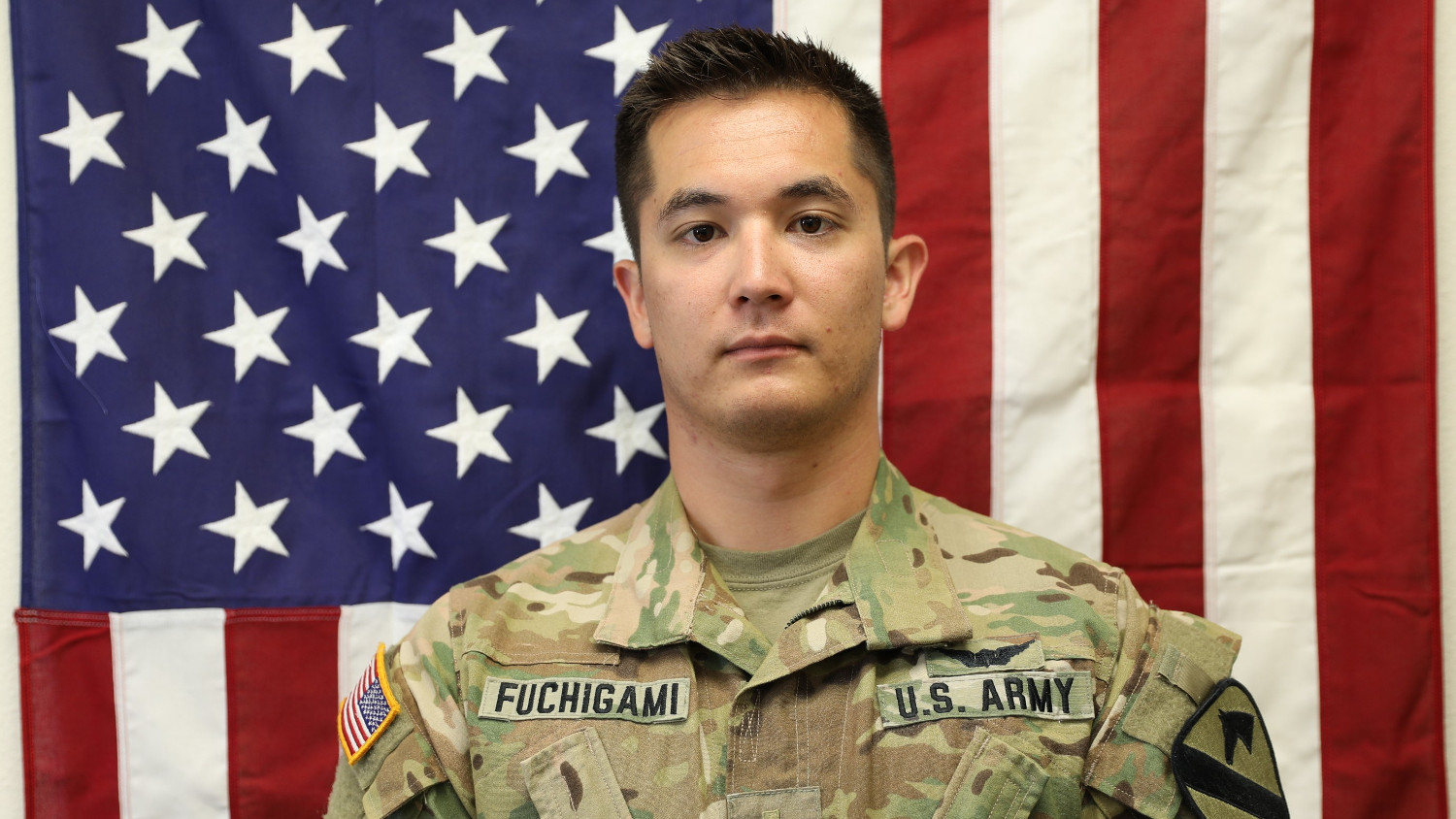 The late Chief Warrant Officer 2 Kirk T. Fuchigami.
U.S. Department of Defense photo
Fuchigami was assigned to 1st Battalion, 227th Aviation Regiment, 1st Air Cavalry Brigade, 1st Cavalry Division, Fort Hood, Tx. He entered active duty in May 2017 and following his initial training, was assigned to 1-227th in October 2018 where he served as an Apache Helicopter pilot. Fuchigami's awards and decorations include the Bronze Star Medal, Air Medal, National Defense Service Medal, Afghanistan Campaign Medal with Campaign Star, Global War on Terrorism Service Medal, Army Service Ribbon, Combat Action Badge and Army Aviator Badge.
Fuchigami deployed to Afghanistan in October 2019. According to Army officials, the incident remains under investigation.
Sen. Brian Schatz wrote: "Kirk Fuchigami served our country with courage and distinction. His death is a loss that will be felt across the Big Island and the state of Hawai'i, and as a nation, we will always remember his sacrifice. We extend our deepest condolences to his wife, family, and friends during this very difficult time. We only hope that they find comfort in knowing that his service exceeded all measures of honor. In life, Chief Warrant Officer Two Fuchigami was a guardian of liberty. In rest, may he find the peace we all seek."
Gov. David Ige wrote: "The people of Hawaiʻi join me in extending our deepest condolences to the family and friends of Chief Warrant Officer 2 Kirk T. Fuchigami, Jr., who paid the ultimate price for our freedom while serving his country in Afghanistan. Let us come together to support the family of this fallen soldier and honor his life, now and in the coming months and years."
To read comments, add your own, and like this story, see
Facebook
. Follow us on
Instagram
and
Twitter
.
See our online calendars and our latest print edition at
kaucalendar.com
.
NĀʻĀLEHU ELEMENTARY SCHOOL FUNDRAISERS focus on reading and fun:
The Scholastic Book Fair runs though tomorrow, Friday, Nov. 22 at the Nāʻālehu Elementary School Library. The public is invited to come browse and buy from to
The Nāʻālehu Elementary School Friend-Raiser will be held Saturday, Nov. 23, at Nāʻālehu Elementary School. "A day full of fun and friendship building with food, games, prizes and more!" stated the announcement from the school.
To read comments, add your own, and like this story, see
Facebook
. Follow us on
Instagram
and
Twitter
. See our online calendars and our latest print edition at
kaucalendar.com
.
A GYMKHANA will be held by Kaʻū Roping & Riding Association this Sunday at the rodeo grounds in Nāʻālehu. Admission is free and it begins at 9:30 a.m. Kaʻū Roping & Riding also announced its annual Christmas Lantern Parade to be held Saturday, Dec. 14 at 6 p.m. in Nāʻālehu. Refreshments will follow at Nāʻālehu Community Center.
To read comments, add your own, and like this story, see
Facebook
. Follow us on
Instagram
and
Twitter
. See our online calendars and our latest print edition at
kaucalendar.com
.
CHRISTMAS IN THE COUNTRY FEATURING THE 20TH ANNUAL INVITATIONAL WREATH EXHIBIT at Volcano Art Center Gallery begins this Friday, Nov. 22, with a VAC-members only preview event from 5:30 p.m. to 8 p.m. Starting Saturday, the public is welcome to come see the exhibit daily, 9 a.m. to 5 p.m., through Tuesday, Dec. 31.
Each year, VAC Gallery in Hawai'i
Volcanoes
National Park
creates "a merry scene of art and aloha" inside its 1877 historic building. In addition to the artwork VAC is known for, unique holiday offerings of island-inspired gifts, ornaments, and decorations – including some that are VAC exclusives – all made by Hawaiʻi Island artists, are on offer.
The concurrent Wreath Exhibit presents one-of-a-kind wreaths in a variety of imaginative media, techniques, and styles, from the whimsical to the traditional. "Those looking for truly original wreaths as well as one-of- a-kind, handmade gift items will not be disappointed by the selection created by the local artistic community," states the announcement from VAC.
At the Niʻaulani Campus, visitors can come see and purchase items from Christmas and More!, a collection of hand crafted quilts. The exhibit will be on display daily, , Friday, Nov. 22 through Monday, Dec. 30.
Christmas in the Country
expands to the Niʻaulani Campus Thanksgiving weekend, Friday, Nov. 29 and Saturday, Nov. 30. The Hale Hoʻomana building will feature a preview of the exhibit and program offerings for the upcoming year and host members of the Volcano Hui, displaying handmade art and gifts as part of the annual Volcano Hui Tour. Live poinsettia will be on display and available for purchase as a fundraiser for
Volcano
School
of Arts & Sciences.
On Friday, Nov. 29, , learn to make lei with tropical Agriculture farmer Kaipo Ah Chong. As a member of Hālau Na Kamalei, his unique experience marries the science of agriculture with Hawaiian lei and hula traditions. This free cultural event is supported in part by Hawaiʻi Tourism. VAC Gallery in Hawaiʻi Volcanoes National Park; entrance fees apply.
Wreathes made from many different media will be on display through the
end of December at Volcano Art Center Gallery. Photo from VAC
Make a holiday card on Saturday, Nov. 30, , at VAC Gallery in the Park. VAC staff member Emily Weiss will lead visitors in making a one-of-a-kind, hand printed, woodblock holiday card using the small, prized, hand-carved linoleum blocks, borrowed from the estate of the late Volcano area artist, Dietrich Varez. All supplies provided. Free; Park entrance fees apply.
Learn the fundamentals of Painting from Observation with Volcano artist Lisa Maria Martin on Saturday and Sunday, Dec. 7 and 8, from to This two-day workshop is suitable for beginner and intermediate students looking to grow a painting practice or to help take their art to the next level by observing and painting from life.
In the December Zentangle: Artist Inspired workshop with Lydia Meneses on Saturday, Dec. 14 at , learn creative tangle techniques inspired by Gustav Klimt and Keith Haring.
Jazz in the Forest: Christmas Jazz featuring Jean Pierre Thoma & the Jazztones, with Jeannine Guillory-Kane, will perform classics of the holiday season on Saturday, Dec. 14 at
December's Hula Kahiko performance will be held Saturday, Dec. 14 at , lead by Kumu Hula Kapuaikapoliopele Ka'au'a with Unuokeahi and Unuiti. Nā Mea Hula with Kumu Hula Moses Kahoʻokele Crabbe begins at , at VAC Gallery.
A Zentangle-Inspired Art Pop-Up Exhibit and Reception will be held on Saturday, Dec. 21 at . Meet the artists and discover art created using the Zentangle method. Bring your friends, your art, and a light pupu to share.
VAC's newest series of programs, Cultural Understanding Through Art & the Environment, features classes on block printing, lauhala weaving, ti leaf lei making, and more. Visit
volcanoartcenter.org/events/
for the full lineup.
VAC is a non-profit educational organization created in 1974 to promote, develop, and perpetuate the artistic and cultural heritage of Hawai'i's people and environment through activities in the visual, literary, and performing arts. Visit
volcanoartcenter.org
.
To read comments, add your own, and like this story, see
Facebook
. Follow us on
Instagram
and
Twitter
. See our online calendars and our latest print edition at
kaucalendar.com
.
Pāʻauʻau Gluch on Aug. 25, 2018. The flooding was attributed to Hurricane
Lane. 2019 has been a quiet year for hurricanes. Photo by Julia Neal
HURRICANE SEASON ENDS IN NINE DAYS, on Nov. 30, and Kaʻū has avoided major storm impact so far. The season began June 1, with the first named storm in the Pacific not showing up until late June. While a few weather disturbances formed, then dissipated, close to the islands, the closest hurricanes came to really affecting Kaʻū this season were Erick and Flossie, in late July and early August.
Erick caused Hawaiʻi County to close down South Point Road, and Punaluʻu and Whittington Beach Parks, and there was high surf, storm surge, rain, and wind.
Flossie was a post tropical cyclone by the time her weather began to affect Kaʻū, and her high surf, winds, and rain were brief.
Neither Erick nor Flossie came close to causing the kind of damage
Hurricane Lane
did in 2018. Even this week's flooding events have not affected Kaʻū as severely as last year's storms.
To read comments, add your own, and like this story, see
Facebook
. Follow us on
Instagram
and
Twitter
. See our online calendars and our latest print edition at
kaucalendar.com
.
SATURDAY, NOV. 23
SUNDAY, NOV. 24
TUESDAY, NOV. 26
WEDNESDAY, NOV. 27
THURSDAY, NOV. 28
Vote for Izaiah "Bobby" Pilanca-Emmsley for the Wedemeyer Award
- Two-Way Player of the Year, at
khon2.com/uncategorized/vote-2019-cover2-hawaii-high-school-football-awards/
. Voting remains open through
Monday, Nov. 25
. The winners will be announced on Thanksgiving by the L.A. Rams. Pilanca-Emmsley is the only candidate from Kaʻū. Fans can vote for six of the seven awards presented.

Vendor Booth Space is Available for the Kamahalo Craft Fair
. The 12th annual event will be held Thanksgiving weekend,
Friday, Nov. 29
, , and Saturday, Nov. 30, at Cooper Center. Booths are open for crafters with quality homemade and homegrown products. Food vendors must prepare all food items in a certified kitchen and must have a Department of Health permit displayed prominently at their booth. Application online at
thecoopercenter.org
. Direct questions to 936-9705 or
kilaueatutu@gmail.com
.
Tūtū & Me Home Visiting Program
is a free service to Pāhala families with keiki, birth to five years old. This caregiver support program offers those taking care of young keiki "a compassionate listening ear, helpful parenting tips and strategies, fun and exciting activities, and wonderful educational resources" from Tūtū & Me Traveling Preschool. Home visits are one hour in length, two to four times per month, for 12 to 15 visits. Snacks are provided. See
pidfoundation.org
or call Tata Compehos and Melody Espejo at 808-938-1088.
To read comments, add your own, and like this story, see
Facebook
. Follow us on
Instagram
and
Twitter
. See our online calendars and our latest print edition at
kaucalendar.com
.