Farmers are using several different fungi to combat the coffee berry borer. Photo by Karla Casco
COUNTY COUNCIL MEMBER BRENDA FORD is questioning Hawai`i Electric Company's barriers to homeowners wanting to invest in solar energy equipment and sell excess electricity back to the utility. During yesterday's County Council committee meeting on Agriculture, Water & Energy Sustainability, she pointed to homeowners having to pay up to $15,000 for a study before HELCO will consider hooking up their solar voltaics to the grid. "Those of us on the council represent a lot of angry consumers of electricity," Ford told HELCO Pres. Jay Ignacio, according to a story in this morning's West Hawai`i Today. The report by Nancy Cook Lauer says Ignacio explained that the study is necessary to make sure the electric grid would be stable and said that HELCO customers should not have to pay for the analysis. Ford pressed Ignacio to explain HELCO's profits and high rates charged to customers.

Good farming practices in Ka`u are helping to keep the
borers away, according to a researcher speaking to
farmers last night. Photo by Karla Casco
KA`U COFFEE FARMS are clean and with continued good mnagement have a good chance in successfully battling the coffee berry borer, said researcher and Kona farmer John Sigurdson of Makapueo Farms. He spoke last night at the Ka`u Coffee Growers Cooperative meeting, saying Ka`u farms are different than in Kona where some farms are completely surrounded by abandoned or feral coffee fields full of borers. He also said he observed that Ka`u farmers are taking good care of their coffee fields, through pruning and keeping leaves and old berries off the ground. He presented his research on using a fungus found in Hawai`i to combat the borer and said the cost of this homegrown fungus could be much cheaper than other fungus brought into the islands to fight the problem. He said that one coffee berry borer beetle can produce 30 to 50 beetles in 25 days and with this exponential reproduction rate can produce 6 trillion beetles in eight months. The beetle has devastated farms in Kona.
RADIATION IN THE OCEAN from last year's Japan tsunami that damaged Fukushima nuclear plants remains under study. The Proceedings of the National Academy of Sciences, released this week, report scientists studying the dispersion of cesium-134 and -137, two radioactive isotopes unnatural to the ocean. Cesium-134 has a half-life of a little over two years and could only come from Fukushima reactors. Cesium-137's half life is about 30 years. It entered the Pacific during above-ground nuclear weapons tests in the 1950s and 60s, providing a benchmark for measuring releases from the Fukushima reactors. Debris from the tsunami could reach the Hawaiian Islands next year, but the scientists expect that much of the radiation will have fallen to the ocean floor before arriving here.
The University of Hawai`i research vessel,
Ka`imikai-o-Kanaloa, helps track radiation from the
Fukushima disaster. Photo from NOAA
Last summer scientists departed Yokohama, Japan, aboard the University of Hawai`i research vessel
Ka`imikai-o-Kanaloa
. They sampled water from the surface to 3,200 feet in depth and hauled in samples of phytoplankton, zooplankton, and small fish. Their ongoing effort examines 15 different radionuclides likely to have been released from Fukushima.
They found that the combined amount of radioactive material from the damaged power plant constitutes the largest accidental release of radiation to the ocean in history. However, none of the sampling so far has shown radiation above EPA drinking water standards since it dispersed so broadly in the ocean.
DOLL MAKERS ARE MAKING DOLLS. Musicians are rehearsing. Crafts persons and artists are registering for Ka`u School of the Arts' Spring Fling on May 5 on the grounds of Punalu`u Bake Shop. The vendor form and details are available on-line at
www.kauarts.org
. Several vendor spots are still available to be reserved.
NEW HIGHS FOR GASOLINE PRICES were recorded this morning. According to AAA, regular averages $4.60 statewide, up more than 27 cents a gallon from a year ago. The nationwide average is $3.93 and the state with the second highest gasoline prices is Alaska. Maui and Big Island prices are higher than O`ahu's. In Ka`u the price for regular in Pahala at Ka`u Gas is $4.80. It is also $4.80 at the 76 in Na`alehu. In Ocean View, the price of regular at Kahala Gas is $4.72, $4.76 at Ocean View Market and $4.66 at Kahuku Country Mart.
PAHALA COMMUNITY CENTER'S Easter Egg Hunt & Fun Day happens today. Registration and activities begin at 3 p.m., and egg hunt starts at 4 p.m. Call 928-3102 or 929-9611.
OCEAN VIEW NEIGHBORHOOD WATCH meets tomorrow night, 7 p.m., at the Ocean View Community Center. Call 939-7033 for more.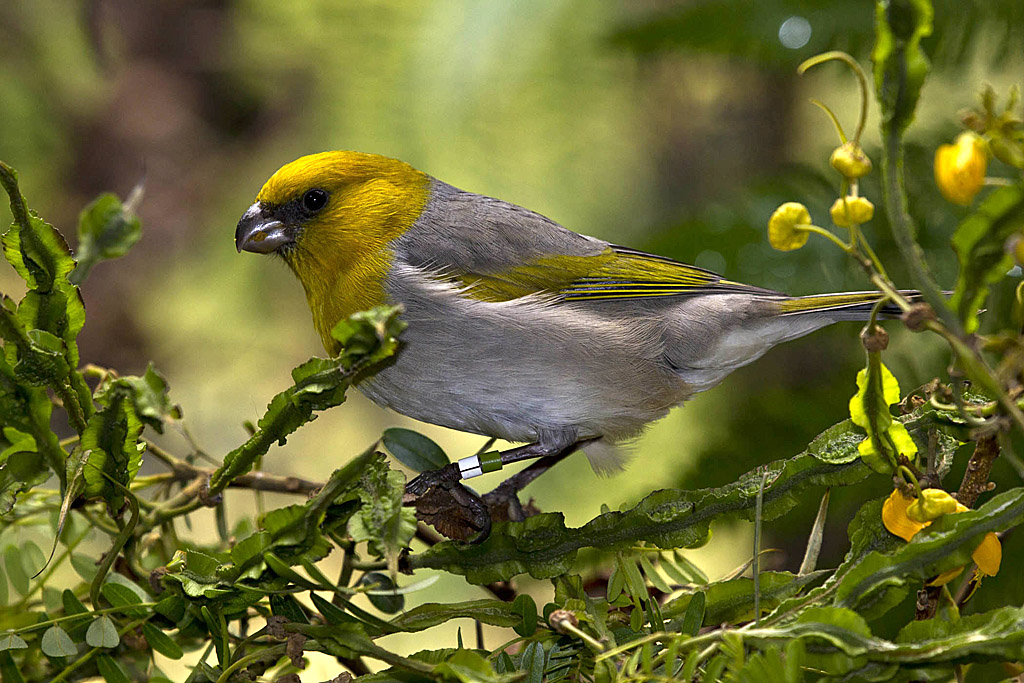 Palila on Mamane at Keauhou Bird Conservation Center.
Photo by Ken Bohn
KEAUHOU BIRD CONSERVATION CENTER Tour takes place Friday from 9 a.m. to 11 a.m. Attendees see and learn about native birds that the facility houses, including the 'alala (Hawaiian crow), which is extinct in the wild; the palila, a finch-billed honeycreeper found only on the slopes of Mauna Kea; the Maui parrotbill, an insectivorous Hawaiian honeycreeper; and the puaiohi, or small Kaua`i thrush. Cost is $20 for Friends members and $30 for non-members. Students are half-price. Call 985-7373 or visit
www.fhvnp.org
to register.
FIRST FRIDAY AT VOLCANO ART CENTER is this coming Friday at the Niaulani Campus in Volcano Village. From 11 a.m. to 12:30 p.m., the public is invited to join a free class in which participants search for Hawaiian values and study the lord's prayer (Pule a ka Haku) and other familiar Hawaiian literature. From 1 p.m. to 2:30 p.m., the VAC offers a free hula class for adults. Keiki Hula, $10 each, will be held from 3 p.m. – 4 p.m. For more, call 967-8222 or visit
www.volcanoartcenter.org
.
VISIT OUR SPONSORS AT PAHALAPLANTATIONCOTTAGES.COM AND KAUCOFFEEMILL.COM.