MAY 12 HAS BEEN PROCLAIMED KA`U COFFEE DAY by Mayor Billy Kenoi. The proclamation says Ka`u Coffee Festival "highlights the unique combination of people and place that help make Ka`u Coffee a favorite across the globe."
It also mentions several awards won by Ka`u Coffees in recent years and calls attention to the 2012 Specialty Coffee Association of America's Top 10 Coffees of the Year awards. Three of the top ten growers are from Ka`u: Will and Grace Tabios, Lorie Obra and Francis and Trinidad Marques. Within the proclamation, the Mayor encourages "all citizens to celebrate the worldwide recognition that the district of Ka`u has brought to our state and our island as a premium coffee growing region."
VOLCANO VILLAGE POST OFFICE won't shut down entirely but its hours could be cut back severely, according to an announcement from the U.S. Postal Service.
The agency reported yesterday that it suffered a $3.2 billion loss on income of $16.2 billion nationwide during the first quarter of this year. The agency pointed to Congress, saying that lawmakers obstructed its cost-cutting plans and its efforts to address exploding costs in future health benefits for retirees.
The U.S.P.S wants congress to approve elimination of Saturday mail right away, but the Senate decided to delay it for two years. The state House is debating over other changes that Post Master General Patrick Donaho says are necessary. He reported that the number of items mailed dropped 4 percent the first quarter of this year from the same quarter last year but productivity of postal workers is higher than ever. The U.S. Postal Service still carries twice the mail as FedEx and UPS. Reducing hours at rural post offices like Volcano could save the postal service $500 million a year, the postal service said.
A PETITION FOR DELISTING HONU, a species currently listed as endangered, has been received by the National Oceanic Atmospheric Administration and is on the agenda for a Western Pacific Fishery Management Council Sea Turtle Advisory Committee meeting in Honolulu today and May 23-24. Also on the agenda are whales, migratory birds and coral.
AHCC President Soulee Stroud signs the petition before
sending it to NOAA. Photo from aohcc.org
The 28-page petition, submitted by the Association of Hawaiian Civic Clubs, asks the Secretaries of Commerce and the Interior to classify the Hawaiian green sea turtle as a separate population – formally known as a discrete population segment – and then remove it from the Endangered Species Act. This would allow the State of Hawai`i to manage the species and to determine rules of engagement. Association of Hawaiian Civic Clubs President Soulee Stroud said, "this would be wonderful, to bring the management of this important cultural animal back to the people of Hawai`i."
Terri Shore, program director for Turtle Island Restoration Network Program – a nonprofit environmental organization based in California that carries out initiatives to protect marine ecosystems, submitted a public comment on behalf of the organizations 60,000 members. In the letter, Shore states that the organization "opposes any action to de-list or allow hunting of the honu," for three main reasons: "the Hawaiian green sea turtle has not met recovery goals under the U.S. Endangered Species Act; threats to the survival and recovery of Hawaiian green sea turtles from human activities are increasing, not decreasing; and any action by the committee or council is premature."
For further information about the meetings, contact Kitty Simonds at (808) 522-8220.
During the Ka`u Coffee Experience,
visitors are invited to chat with 2011
top U.S. Barista Pete Licata.
Photo of Pete Licata and Lorie Obra
by Geneveve Fyvie
THE KA`U COFFEE FESTIVAL HO`OLAULE`A is tomorrow with free music and entertainment at the Pahala Community Center. Visitors are encouraged to come celebrate the success of Ka`u Coffee and talk-story with the esteemed growers. Local businesses, organizations and individuals will present information and sell food, coffee, and arts and crafts at booths during the festival. Coffee tastings will be available to guests indoors at the Ka`u Coffee Experience for $5 each from 9:30 a.m. to 3:30 p.m., with an hour break at noon. For $15 per person, visitors can tour local coffee farms and the Ka`u Coffee Mill and receive free entry to the Ka`u Coffee Experience. Free shuttles to the festival are available from Hilo Hattie; see kaucoffeefest.com or call 929-9550 for more.
HAPA IN CONCERT is tomorrow night, 7 p.m. to 9 p.m., at Kilauea Theater at Kilauea Military Camp in Hawai`i Volcanoes National Park. The concert, organized by Volcano Art Center, is a celebration of Lo`ea Hula honoring Charles Kauhi Ka`upu. Tickets are $35 per person and can be purchased at either Volcano Art Center locations or online at volcanoartcenter.org. Call 967-8222 or email concerts@volcanoartcenter.org for more.
Kilauea Military Camp's Crater Rim Café hosts a special dinner before the concert, which is open to authorized patrons and sponsored guests. Park entrance fees apply.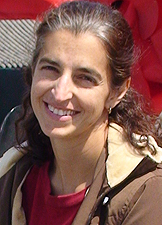 Cheryl Gansecki.
Photo from fhvnp.org

SATURDAY WALK IN THE PARK, offered by Friends of Hawai`i Volcanoes National Park, happens this weekend from 11 a.m. to 1 p.m. Cheryl Gansecki leads the 4-mile hike exploring Kilauea Iki Crater. The guided hike is free to Friends members and non-members are welcome to join in order to attend. Park entrance fees apply. Call 985-7373 or email admin@fhvnp.org.
ATLAS RECYCLING, at South Point U-Cart in Ocean View, accepts recyclables tomorrow from 9a.m. to 1 p.m.