Senators Ben Cardin (D-Md.), Hirono, and Chris Van Hollen (D-Md.) at Senator Mazie Hirono's press conference
yesterday as she attempted to protect Medicare and Medicaid. Photo from Office of Sen. Mazie Hirono
ATTORNEY GENERAL NOMINEE JEFF SESSIONS, the U.S. Senator from Alabama, was the target of questions from Sen. Mazie Hirono concerning his views on immigration, civil rights, and abortion rights today. There were ten hours of grilling during the first day of his confirmation hearing, which continues on Wednesday. The following are some of Hirono's remarks directed to President-elect Donald Trump's nominee:
Sen. Jeff Sessions, Trump nominee
for U.S. Attorney General
"You probably know Senator Sessions that I am an immigrant," said Hirono, who was born in Japan. "And you indicated in one response that you would want immigration reform to center around skills-based immigration reform. And if that were the case, my mother who brought me to the country to escape an abusive marriage would not have been able to come to this country.
"I've heard from immigrants, LGBT Americans, women, and religious minorities who are terrified that they have no place in President-elect Trump's vision of America. And based on what I've heard since the election, I am deeply concerned their fears are well-founded. I'm hoping you can address some of these concerns."
Hirono also pressed Sessions on his long anti-choice record, and tried to secure a commitment from Sessions to uphold Roe v. Wade. In Hirono's view, Sessions dodged the question and she told him: "I think most of us know that the next opportunity for the Supreme Court to weigh in on whether or not to change Roe v. Wade would be a close decision and likely possibly a 5-4 decision and it is not just a hypothetical, but a real concern to a lot of people."
She also questioned Sessions' record on voter protection: "We know that since the Supreme Court's decision that did away with major parts of the Voting Rights Act, that numerous states, 13 states, have enacted laws that are contrary to the Voting Rights Act. So I hope that as Attorney General, you would vigorously review those kinds of laws and to prosecute and to seek to overturn those state laws just as your predecessors have done."
To read comments, add your own, and like this story, see
Facebook
. Follow us on
Instagram
and
Twitter.
KEEP UP THE FIGHT TO PROTECT MEDICARE AND MEDICAID was the battle cry of Sen. Mazie Hirono yesterday after all but two Republican Senators voted against her amendment to prevent any changes to either program without a supermajority in the Senate. The proposal was co-sponsored by Sen. Joe Donnelly of Indiana, where Vice President-elect Mike Pence served as governor.
Said Hirono, "During the campaign, President-elect Trump promised not to cut Medicare and Medicaid. Senate Republicans broke this promise tonight and demonstrated that they are willing to sell-out seniors and working families in their crusade to repeal Obamacare. But tonight's vote has not dimmed my resolve. I will do everything in my power to protect Medicare and Medicaid for families in Hawai`i and across the country."
A wide range of organizations supported the amendment, including AARP, AFL-CIO, American Federation of State, County & Municipal Employees, Service Employees International Union, National Education Association, Healthcare Association of Hawai`i, Hawaii Public Health Association, and the National Committee to Preserve Social Security and Medicare.
After hosting a press conference with Senators Ben Cardin (D-Md.), Jeff Merkley (D-Ore.), and Chris Van Hollen (D-Md.), Hirono took to the floor to share the story of Anne and Lanny Bruder from Kaua`i who depend on Medicare to treat Anne's glaucoma and Lanny's heart condition. "Like many of our kupuna living on a fixed income, they simply could not afford the extra $6,000 a year they would be forced to pay if Republicans succeed in their effort to privatize and voucherize Medicare," Hirono said.
The Hirono-Donnelly amendment would have created a budget point of order to prevent changes to Medicare that raise the eligibility age, change eligibility requirements, or privatize and voucherize the program. The amendment would also prevent changes to Medicaid that reduce state funding from current levels. Any changes to either program would require a supermajority in Congress.
The Hirono-Donnelly amendment has 29 co-sponsors, including Senators Tammy Baldwin (D-Wis.), Richard Blumenthal (D-Conn.), Cory Booker (D-N.J.), Sherrod Brown (D-Ohio), Ben Cardin (D-Md.), Tom Carper (D-Del.), Chris Coons (D-Del.), Richard Durbin (D-Ill.), Dianne Feinstein (D-Calif.), Al Franken (D-Minn.), Maggie Hassan (D-N.H.), Kirsten Gillibrand (D-N.Y.), Patrick Leahy (D-Vt.), Bob Menendez (D-N.J.), Jeff Merkley (D-Ore.), Christopher Murphy (D-Conn.), Patty Murray (D-Wash.), Jack Reed (D-R.I.), Bernard Sanders (I-Vt.), Charles Schumer (D-N.Y.), Jeanne Shaheen (D-N.H.), Debbie Stabenow (D-Mich.), Jon Tester (D-Mont.), Tom Udall (D-N.M.), Chris Van Hollen (D-Md.), Elizabeth Warren (D-Mass.) Sheldon Whitehouse (D-R.I.), and Ron Wyden (D-Ore.).
Hirono pointed out that nearly one in three Americans depend on Medicare and Medicaid for their health needs.
To read comments, add your own, and like this story, see
Facebook
. Follow us on
Instagram
and
Twitter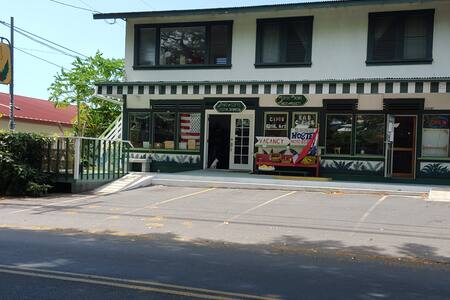 Affordable Airbnb accommodations are found in Na`alehu and throughout Ka`u,
Volcano and Miloli`i. Photo form Airbnb
AIRBNB HAS LITTLE IMPACT on housing in Hawai`i, according to a report in this afternoon's Pacific Business News. PBN writes about a study done by housing analyst Ricky Cassiday which says that Airbnb is found in 1.53 percent of the statewide housing stock. It is the third largest vacation rental company in Hawai`i and brings an average additional income of $9,000 a year to each host. The year long study analyzed 8,134 listings and found that 88 percent of them were booked less than half the year, indicating that most of the time the houses are used by owners.
"It is important to note that this activity serves as a vital economic lifeline for many hosts while also providing substantial economic benefits to local businesses and Hawai`i's overall economy," stated Cassiday,
PBN
also reports on a 2016 Hospitality Advisors LLC analysis, stating that Airbnb contributed $353 million to Hawai`i's economy in 2015.
PBN
wrote that "Cassiday notes that housing availability and affordability are not impacted by the number of short-term rentals, but instead by complex housing market regulations, zoning laws, mainland and foreign direct investment, limited supply, lack of public investment, policy, economic opportunity, lack of infrastructure, cost of production, and other dynamics."
To read comments, add your own, and like this story, see
Facebook
. Follow us on
Instagram
and
Twitter
THE IDENTITY OF AN OCEAN VIEW WOMAN KILLED IN A CAR CRASH has been released. Thirty-four year old Mona Yoshitaro, a member of the Marshallese community, died following a two-vehicle crash Friday, Jan. 6 on Highway 11 just north of the 96-mile marker.
Responding to a 7:18 p.m. call Friday, police determined that a 2003 Kia four-door sedan operated by Yoshitaro had been traveling north on Highway 11 near the 96-mile marker when it crossed left of center on the roadway and collided head-on with a 2003 Nissan pickup truck that was traveling south.
The occupants of the Nissan, a 66-year-old man and a 63-year-old woman, both of Ocean View, were taken to Kona Community Hospital for treatment of their injuries. Yoshitaro was also taken to Kona Community Hospital, where she was pronounced dead at 11:55 p.m. Friday. Police believe speed and inattention were factors in the crash. An autopsy has been ordered to determine the exact cause of death.
The Traffic Enforcement Unit has initiated a coroner's inquest investigation and is asking for anyone who may have witnessed the accident to call Officer Christopher Kapua-Allison at 326-4646, extension 229. Tipsters who prefer to remain anonymous may call Crime Stoppers at 961-8300 in Hilo. This is the second traffic fatality this year compared with none at this time last year.
To read comments, add your own, and like this story, see
Facebook
. Follow us on
Instagram
and
Twitter
Brennen Nishimura scored the first point of the soccer season for the Trojans during the opener for the Ka`u Trojans.
Photo by Pam Taylor
KA`U TROJANS WON THEIR FIRST SOCCER GAME OF THE SEASON. The battle against Christian Liberty ended this past weekend at Pahala County Ball Park with the Trojans on top. The final score was 3 to 1. Brennen Nishimura won the first point of the soccer season for the Trojans.
`UKULELE MAKING DEMONSTRATION, Wednesday, Jan. 11 from 10 a.m. to noon. Kilauea Visitor Center lana`i in Hawai`i Volcanoes National Park. Oral Abihai shares his skills in making the instruments from local and exotic woods. Free; park entrance fees apply.
MAKE A BEADED PEACE SIGN, Wednesday, Jan. 11 from 3:30 to 5 p.m. to celebrate Martin Luther King Day. For children grades K-8 at Pahala Community Center. Call 928-3102.
KA`U CHAMBER OF COMMERCE annual meeting is set for Discovery Harbour Community Center on Thursday, Jan. 26 at 6 p.m.
Bring a dish to share. Find out how to be a part of the Ka`u Chamber. RSVP at 443-3127.