Ka`u could soon have the first green powered coffee mill according to Olson land manager John Cross. Photos by Julia Neal
HYDROELECTRIC plans for Ka`u are reviewed in a new story by
Big Island Video News
. David Corrigan reports, "the infrastructure is being laid for a sustainable future." Corrigan, hydroplant developer Edmund C. Olson and Olson land manager John Cross, traveled up the mountain above Wood Valley Road to Keaiwa Reservoir recently to examine the site where the hydro project is under construction involving the 13 million gallon Keaiwa Reservoir built in 1920. It has the potential to power the nearby Ka`u Coffee Mill, macadamia nut husking operation and about 400 homes in Pahala, said Olson and Cross. Cross said that the Ka`u Coffee Mill could be "the first coffee mill that is totally green powered, no fossil fuels used to process and dry and roast the coffee."
Keiawa, 13 million gallon, reservoir above Wood Valley Road.
The alternative energy with a 400 kw power plant will be used to help husk a million and a half pounds of macadamia nuts grown nearby.
The water to create the energy and electricity comes from tunnels, many of them installed in the time of the sugar plantations. "Now everything is being upgraded. Its a massive project, requiring work on steep cliffs and muddy hillsides," Corrigan reports. He noted that "Local farmers are helping Pahala and Wood Valley transition from the defunct plantation era economy to a new model – rooted mostly in gourmet coffee – giving new life, and hope, to Ka`u's agricultural way of life."
"As a brand, Ka`u coffee has been blazing a path towards global recognition, with continued victories at world renown cupping competitions. As a name, Ka`u is even giving the celebrated Kona-brand a run for its money," the
Big Island Video News
story reports. "The region has reinvented itself with its new found coffee industry, making local agricultural celebrities out of hard working farmers like Bull and Jamie Ka`ili`awa. The success is punctuated every year with the popular Ka`u Coffee Festival." For more see
bigislandvideonews.com
.
Mayor Billy Kenoi says geothermal could power the island.
Photo by Teresa Tico
GEOTHERMAL'S FUTURE was touted by Mayor Billy Kenoi last night at a talk story meeting. According to
West Hawai`i Today
this morning, the mayor and other county officials visited Ormoc City in the Philippines where he said three workers run a geothermal plant that is clean and provides 220 megawatts of power. "To put that in perspective, if everybody gets home, 6 p.m. turns on the lights, peak power – 180 megawatts, is what it takes for this entire island," the Big Island, said the mayor. The story by Erin Miller reports that the mayor said he would like to see additional geothermal in West Hawai`i. During the same talk-story, held in Kona, County Council Chair Dominic Yagong said he supports geothermal but is concerned about plans to depend on geothermal to power up the other Hawaiian islands through sending the electricity along a cable between the islands, the
West Hawai`i Today
story reports.
KA`U HIGH & PAHALA ELEMENTARY SCHOOLS invite the public to do a walk-through tomorrow. To reserve, call 928-2088.
THE DEADLINE FOR KEN WICKS SCHOLARSHIP has been moved to May 1. Anyone entering or re-entering the work force or the higher education system may apply. For more visit
kauchamber.org
.
Photo of banded spiny lobster from reefguide.org
LOBSTER & CRAB SEASON ENDS MAY 1 and applies to all forms of harvesting, by hand, by net or trap. The taking of female spiny lobsters and female Kona crabs has been illegal in any season since 2006. In order to take spiny lobsters their heads must be 3-1/4 inches in length. Spearing of spiny lobsters is prohibited. Slipper lobsters must be 2-3/4 inches in tail width and spearing of slipper lobsters is prohibited. See more on the regulations at
www.hawaii.gov/dlnr/dar
.
RED CROSS VOLUNTEERS and those interested in becoming volunteers are asked to meet tomorrow at 7 p.m. at H.O.V.E. Road Maintenance Corp. in Ocean Views. For more call Hannah Uribes at 929-9953.
`IKE HANA NO`EAU
cultural programs are scheduled this week from 10 a.m. to 1 p.m. on the lanai of Kilauea Visitor Center. Today, Sam and Edna Baldado discuss the cultural uses of kalo, the taro plant. Ka`ohu Monfort teaches how plants and Hawaiian culture are used to heal and nourish. Ranger Adrian Boone and volunteer Ed Shiinoki demonstrate and make traditional three-holed bamboo nose flutes, and praise and worship leader Rupert Tripp, Jr. shares his love for music.
Tomorrow, Boone and Shiinoki again demonstrate nose flutes. Master lei artist Patricia Kaula shares na lei, the art of traditional and modern lei making, and the Makuakane `Ohana celebrate Merrie Monarch, sharing the arts and music of Hawaiian culture tomorrow and Friday.
The programs are free, and park entrance fees apply.
LINDA ROWELL STEVENS' signs copies of Uncle Kawaiola's Dream, the latest book she illustrated, tomorrow from 11 a.m. to 2 p.m. at Volcano Art Center Gallery in Hawai`i Volcanoes National Park. The event is free and park entrance fees apply. Call 967-7565 or visit
volcanoartcenter.org
for more.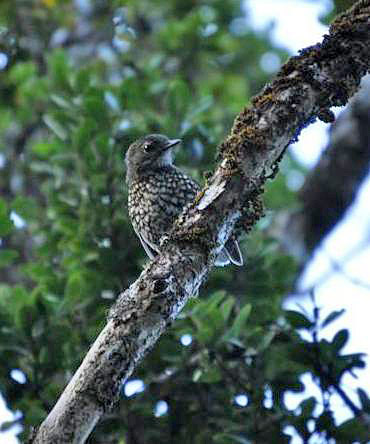 Photo of puaiohi by Michelle Smith, KBCC
A KEAUHOU BIRD CONSERVATION CENTER tour still has openings for next Monday, April 16 from 9 a.m. to 11 a.m. The center, located in Volcano, is one of two operated by San Diego Zoo Institute for Conservation Research. Captive propagation and release techniques aim to reestablish self-sustaining populations of critically endangered birds in the wild. Friends of Hawai`i Volcanoes National Park is offering the tour. `Alala, Hawaiian crow; palila, a finch-billed honeycreeper; Maui parrotbill, an insectivorous Hawaiian honeycreeper; and puaiohi, small Kaua`i thrush, are among birds cared for at the center.
"Since the tour is during breeding season, we may even have the unique chance to see chicks being fed," said Julie Mitchell, manager of Friends. Program cost is $20 for Friends members and $30 for non-members. Students (K-12 and college with valid student ID) are half-price. Email
institute@fhvnp.org
or call 985-7373. Visit
fhvnp.org
.