Yesterday, the Indian Affairs committee approved Senator Akaka's amendment to the "Akaka Bill" which streamlines
it to work with the Native Hawaiian Roll Commission created by the legislature and Gov. Abercrombie.
Photo from Sen. Dan Akaka
THE U.S. SENATE COMMITTEE ON INDIAN AFFAIRS passed a trimmed down version of the Native Hawaiian Government Reorganization Act yesterday.
Sen. Dan Akaka.
Photo from progressivepatriots.com
According to the bill's author Sen. Dan Akaka, the streamlined bill "builds on recent efforts by the State of Hawai`i," which is in the process of registering native Hawaiians across the state.
"The Native Hawaiian people are the only federally-recognized Native peoples without a government-to-government relationship, and no clear path to securing one without legislation," Akaka said. "This bill will create parity in federal policy so that Native Hawaiians will be treated the same as all other recognized indigenous peoples - no more, no less.
"Congress has created and continues to fund programs to address the Native Hawaiian needs in the areas of health, education, welfare and housing, but has failed to uphold the final and most important piece of the trust relationship with Native Hawaiians, a guaranteed right to self-governance. By approving this amendment, the members of this Committee took a stand for justice and a step towards equity," said Akaka.
Sen. John Barrasso of Wyoming.
Photo from wyofile.com
Sen. Dan Inouye said, "Federal recognition for Native Hawaiians is long overdue and I will continue the fight started by my longtime partner and friend, Sen. Akaka. Whether it be during this Congress or the next, I will not rest until the sovereign rights of Native Hawaiians are recognized and Sen. Akaka's legacy is fulfilled."
According to a Michael Levine Civil Beat story posted yesterday, the bill faces a battle to be heard on the Senate floor as it has never made it that far before. The story states, "Indian Affairs Vice Chairman John Barrasso, a Wyoming Republican, was the lone panel member to raise his voice in opposition to the bill. At the end of the hearing, he noted that Sen. John McCain, who was absent, wished to be marked down as a "nay" vote as well."
However, the story quotes Barrasso addressing Akaka – the only Native Hawaiian ever elected to the U.S. Senate, "You've dedicated many years of your life in the Senate to recognition of Native Hawaiian government. So, regardless of how I or anyone else feels about the merits of your bill, I admire your tenacity, your dedication, your leadership, not only to this cause but to the well-being of native people everywhere."
Senate candidates Mazie Hirono and Linda Lingle both have stated that they support the bill.

GERALD ERICKSON DIED WEDNESDAY, after attempting to extinguish his neighbor's burning home with a garden hose, according to Hawai`i Fire Department. The house fire on Kama`oa Road was reported at 10:35 p.m. on Wednesday night. A press release issued by the fire department claimed personnel arrived on scene and found the four-bedroom house full of smoke, with the kitchen cabinets burning. The fire was put out with portable extinguishers. Within the 2,000 square foot home, an estimated 550 square feet sustained damages estimated at $50,000 to $88,000.
Erickson, 68, was found and transported to Hilo Medical Center, where he was later pronounced dead. Police have ordered an autopsy to determine the exact cause of death.
An unattended propane stove is reported to be the cause of the fire.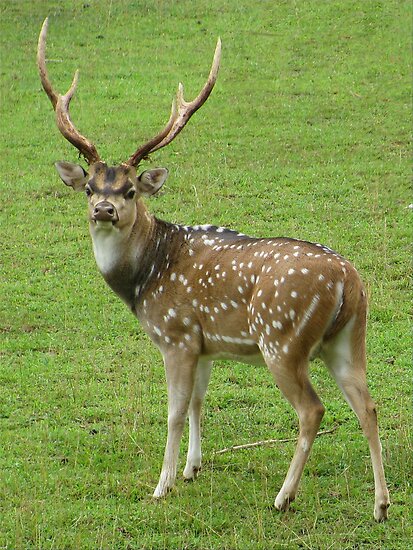 Axis deer are a threat to ranches, farms and
the native environment.
Photo from redbubble.net
THE PILOT WHO FLEW AXIS deer to Hawai`i Island to introduce them as game for hunters was sentenced yesterday to helping the organization tasked with eliminating the invasive species. Along with a year of probation, Maui pilot Thomas Hauptman, who owns Pacific Helicopter Tours, was ordered by U.S. District Court Magistrate Kevin Chang to contribute 500 hours of helicopter flight time, a value of more than $300,000. The judge declined to imprison the pilot, though the law would have allowed up to a year of incarceration.
Michael Song, the Assistant U.S. Attorney who handled the case against Hauptman, said the introduction of axis deer to Hawai`i Island could still create years of ecological problems. Ranchers and farmers say they fear what happened on Maui – destruction of crops and competition for grazing land.
While several deer have been eradicated, there could be more, particularly in Ka`u and Kohala where they were first spotted in 2011. Song also said that finding and eradicating deer takes precious funding away from eliminating other invasive species.
In his defense, Hauptman told the court that deer were brought by boat for years to the Big Island from Maui where nine were introduced in the 1950s on the Valley Isle where they exploded to a population of more than 46,000, according to an Associated Press story. He told the judge, however, that he would do "Whatever it takes to get it right." He said he released one male and two female on Hawai`i Island. A fourth axis deer died during the flight.
For his community service, which will be managed by the Big Island Invasive Species Committee, it is estimated that 1,000 acres can be covered by helicopter to look for axis deer in about one hour. To report sightings, call 443-4036.
Water tunnels will be restored for agriculture.
Photo from Gov. Neil Abercrombie

THE KA`U AGRICULTURAL WATER COOPERATIVE DISTRICT committee met yesterday to work toward establishment of agricultural entities that want restoration of the old sugar plantation water systems from Wai`ohinu and mauka of Na`alehu, to Pahala and Wood Valley to Kapapala Ranch. The Kohala Center is helping entities to come up with local agricultural water organizations, such as cooperatives and the Ha`ao cooperation has been set up and its articles have been sent to the state Department of Commerce and Consumer Affairs.
A Moa`ula area entity is expected to complete its organization soon, to be followed by others,. Gov. Neil Abercrombie has released $700,000 for surveying the old horizontal shafts that were dug into Mauna Loa for water that once carried sugar cane to the mill in flumes. Those sources would be used for farm and ranches and would be carried by pipe rather than open ditches and flumes. Some of the tunnels need to be made safe as they are subject to caving in. Additional money has been passed by the state legislature to do the actual work of restoration of tunnels and distribution of the agricultural water. For more information, contact Jeff McCall at 928-6456.

THE NEXT HA`AO AGRICULTURAL WATER MEETING will be hosted Thursday, Sept. 27, at Wai`ohinu Park at 2:30 p.m. All are welcome to attend. For more, call Jane at 939-9461.
Testifier tears up PLDC rules at Big Island hearing.
Photo from Big Island Video News
TODAY IS THE DEADLINE TO SUBMIT TESTIMONY on proposed rules to govern the new Public Land Development Corp., which would allow more private sector economic development on state owned lands. Post public testimony on this island has opposed the idea of the state handing off public lands for development. Comments can be emailed to joy.y.kimura@hawaii.gov and randal.y.ikeda@hawaii.gov. The PLDC has oversight from the state Board of Land and Natural Resources.

HAWAI`I WILDLIFE FUND hosts a beach clean up tomorrow at Kamilo, from 8 a.m. to 2 p.m. All volunteers will meet at Wai`ohinu Park on Hwy 11 near mile marker 65 at 7:45 a.m. Those interested can contact Megan Lamson at 769-7629 or kahakai.cleanups@gmail.com.

KA`U FARM BUREAU is hosting a lender fair tomorrow from noon to 4 p.m. at the Pahala Community Center. Attendees will hear a brief presentation and meet with representatives from Hawai`i Department of Agriculture, United States Department of Agriculture and Farm Credit Services. Light refreshments will be served. For more information, call Ka`u Farm Bureau President Chris Manfredi at 929-9550.

RECYCLING AT NA`ALEHU SCHOOL gym will be accepted tomorrow from 9 a.m. to 1 p.m. For more call 929-2413, extension 230.
A GUIDED PALM TRAIL HIKE, within the Kahuku Unit of Hawai`i Volcanoes National Park, will be held tomorrow and again on Sept. 29 from 9:30 a.m. to 12:30 p.m. For more call 985-6011.
Hawai`i Wildlife Fund hosts a clean-up tomorrow. Photo from HWF
HALAU HULA KA MAKANI HALI `ALA O PUNA, under the direction of kumu hula Ehulani Stephany, performs tomorrow on the hula platform near Volcano Art Center Gallery within Hawai`i Volcanoes National Park, from 10:30 a.m. to 11:30 a.m. Hands-on cultural demonstrations will be from 9:30 a.m. to 1:30 p.m. at VAC Gallery. The events are free, however, park entrance fees apply.
SOCIETY OF CREATIVE ANACHRONISM, a medieval recreation group, meets, talks, plans events, does handicraft and more tomorrow from 2 p.m. to 3 p.m. Call for location, 895-8013.
OCEAN VIEW COMMUNITY ASSOCIATION HOSTS A BBQ tomorrow from 2 p.m. to 5 p.m. at the Ocean View Community Center. For more, call 937-7033.
A GARDEN TALK STORY & PLANT & SEED EXCHANGE is hosted at Na`ohulelua Historical Church Sunday from noon to 3 p.m. Call 929-8164 for more.
THE DEPARTMENT OF HAWAIIAN HOME LANDS will hold a community meeting at Pahala Community Center at 6:30 p.m. on Monday. The meeting involves the regional plan for Ka`u and organizers ask for input for the community.
The Ka`u Hawaiian Home Lands association urges everyone to attend. The Ka`u Regional Plan can be read at hawaiianhomelands.org.