`O Ka`u Kakou received a $5,000 Monty Richard Hawai`i Community Award from Bank of Hawai`i last week.
Photo from Bank of Hawai`i
A VOTER FRAUD INVESTIGATION has been launched by the Hawai`i Police Department focusing on the 2010 General election. In a statement, HPD said "no other details will be released as it is an active investigation." The investigation is being handled by Detectives of the Area 1 Criminal Investigation Section. Voter Fraud, under section 19.3.5 of the Hawai`i Revised Statutes, is a class C felony. According to HPD, the investigation was launched based on information provided by the Hawai`i County Office of Elections.
The Office of Elections has drawn statewide news coverage involving County Clerk Jamae Kawauchi shutting down the office before the Primary Election to conduct an audit. There have also been suits filed by employees who were fired.
John Christopher Stevens.
FLAGS ARE FLYING HALF MAST today at post offices in Ka`u, Kilauea Military Camp, schools and other public buildings in honor of those who died in a fire set at the U.S. Consulate in Benghazi, Libya yesterday on the anniversary of the 9/11 tragedy. One victim was University of California, Berkeley graduate and Arabic speaker John Christopher Stevens, who served as a Peace Corps volunteer in North Africa and a career diplomat, helping with the liberation of Libya from the dictator Muammar Gaddafi. Secretary of State Hillary Clinton and other diplomats described Stevens as a hero among Libyans and urged strength and continued determination to help Libya with its transition from dictatorial regimes.

`O KA`U KAKOU RECEIVED A BANK OF HAWAI`I MONTY RICHARD HAWAI`I COMMUNITY AWARD last week. The $5,000 will be used to purchase two jet skis for the local fire department, restore and maintain local cemeteries and restore the Pahala Hongwanji School and dojo building for community use. The organization's tag line is "We are Ka`u," and the group, led by Wayne Kawachi and founded with Guy Enriques, supports and promotes, "a healthy community through education and economical development opportunities that improve the quality of life in rural Ka`u. One important focus is helping kupuna in the community by installing safety equipment (like handrails and grab bars) in homes, and doing yard work. The organization is also involved in several restoration projects," says the statement from Bank of Hawai`i Foundation.
Other organizations receiving $5,000 each are West Hawai`i Community Health Center, North Kohala Community Resource Center and the Arc of Hilo. The presentation was made on Sept. 8 at Kahua Ranch in Kohala.
Applications for next year's awards will be available through Bank of Hawai`i branches in May, with a deadline in July.
LIFE OF THE LAND has proposed a Distributed Generation plan for the state of Hawai`i in its submission to the U.S. Department of Energy which is holding public hearings on the future of energy tomorrow at Kealakehe High School in Kona and Friday at Hilo High School. Both meetings are at 5 p.m. Life of the Land testimony says that Distributed Generation is an alternative that would eliminate the need for "an expensive interisland cable."
The Life of the Land testimony predicts the emergence of a decentralized grid and the idea of "cascading natural deregulation." As the cost of renewable systems trends downward and electric rates go up, those who can leave the grid, will leave the grid. The fixed costs associated with energy production, transmission and distribution will then have to be absorbed by the remaining (smaller) rate base still on the grid.
Those who remain on the grid will then see their rates go up even more, which in turn provides even stronger incentives for more people to opt out of a centralized grid, driving ever higher the rates for the diminishing ratepayers who remain, Life of the Land testifies.
Community members meet tomorrow in Pahala to discuss the Ka`u
Agricultural Water Cooperative. Photo by Shalan Crysdale

REGISTERING FOR MOLD CERAMICS, for grades 4 through 8, must be completed before tomorrow for those who want to attend. The classes, held at Pahala Community Center from 3 p.m. to 5 p.m., start Thursday, Sept. 20, and end Thursday, Oct. 25. There is a fee for supplies. For more, call Nona at 928-3102.

THE NEXT KA`U AGRICULTURAL WATER COOPERATIVE DISTRICT meeting is scheduled for tomorrow at 4 p.m. at the ML Mac Nut Field Office. Each region between Kapapala and Ha`ao Springs is expected to send a representative. The organization is restoring agricultural water from the old plantation system. Meetings are open to the public. For more information, call Jeff McCall at 928-6456.

A RED CROSS VOLUNTEER MEETING is hosted tomorrow night, 7 p.m., in Ocean View at the H.O.V.E. Road Maintenance Corp. office. The meeting is geared towards current volunteers and those interested in becoming volunteers. For more, call Hannah Uribes at 929-9953.

DEADLINE TO SUBMIT TESTIMONY on proposed rules to govern the new Public Land Development Corp., which would allow more private sector economic development on state owned lands, is this Friday. Comments can be emailed to joy.y.kimura@hawaii.gov and randal.y.ikeda@hawaii.gov. The PLDC has oversight from the state Board of Land and Natural Resources.

HAWAI`I WILDLIFE FUND hosts a beach clean up at Kamilo Saturday, from 8 a.m. to 2 p.m. All volunteers will meet at Wai`ohinu Park on Hwy 11 near mile marker 65 at 7:45 a.m. and are asked to bring sturdy shoes, bag lunch, sun and wind protection, plenty of drinks and four-wheel-drive vehicles if possible. HWF will supply cleanup materials. Those interested can contact Megan Lamson at 769-7629 or kahakai.cleanups@gmail.com.
KA`U FARM BUREAU hosts a lender fair this Saturday from noon to 4 p.m. at the Pahala Community Center. Attendees will hear a brief presentation and meet with representatives from Hawai`i Department of Agriculture, United States Department of Agriculture and Farm Credit Services. Ka`u Farm Bureau President Chris Manfredi says, "Our hope is that by accessing resources made available by these agencies, producers may find ways to maximize their profits." Light refreshments will be served. For more information, call Manfredi at 929-9550.

RECYCLING AT NA`ALEHU SCHOOL gym will be accepted Saturday from 9 a.m. to 1 p.m. Sort by type and receive 5 cents per HI-5 container and an additional 20 cents per pound on all aluminum will be redeemed to the school, courtesy of Atlas Recycling. For more call 929-2413, extension 230.

A GUIDED PALM TRAIL HIKE, within the Kahuku Unit of Hawai`i Volcanoes National Park, will be held this Saturday and again on Sept. 29 from 9:30 a.m. to 12:30 p.m. This relatively easy 2.6-mile loop crosses scenic pasture along an ancient cinder cone with some of the best panoramic views Kahuku has to offer. For more call 985-6011.

NA MEA HAWAI`I HULA KAHIKO PERFORMANCE is Saturday from 10:30 a.m. to 11:30 a.m. at the hula platform near Volcano Art Center Gallery within Hawai`i Volcanoes National Park, with Halau Hula Ka Makani Hali `Ala O Puna under the direction of kumu hula Ehulani Stephany. Hands-on cultural demonstrations will be from 9:30 a.m. to 1:30 p.m. at VAC Gallery. The events are free, however, park entrance fees apply.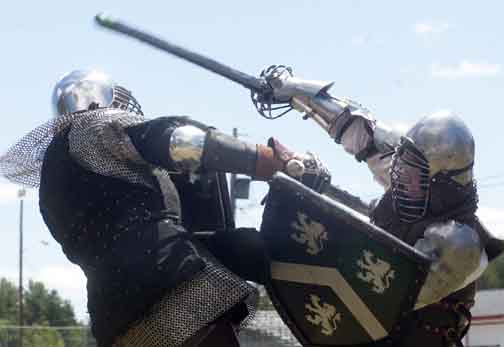 Society of Creative Anachronism meets Saturday.
Photo from scademo.com
SOCIETY OF CREATIVE ANACHRONISM, a medieval recreation group, meets, talks, plans events, does handicraft and more on Saturday from 2 p.m. to 3 p.m. Call 895-8013.
OCEAN VIEW COMMUNITY ASSOCIATION HOSTS A BBQ Saturday from 2 p.m. to 5 p. m. at the Ocean View Community Center. For more, call 937-7033.
A GARDEN TALK STORY & PLANT & SEED EXCHANGE is hosted at Na`ohulelua Historical Church Sunday from noon to 3 p.m. Call 929-8164 for more.
THE DEPARTMENT OF HAWAIIAN HOME LANDS will hold a community meeting at Pahala Community Center at 6:30 p.m. on Monday, Sept. 17. The meeting involves the regional plan for Ka`u and organizers ask for input for the community. Hawaiian Home Lands staff and all the commissioners from around the islands are expected to attend.
The Ka`u Hawaiian Home Lands association urges everyone to attend. The commissioners for the island of Hawai`i are Leimana Dematte and Ian Leiloy. The President of the Ka`u Hawaiian Home Lands Association is Jeff Kekoa. Vice President is Liz Kuluwaimaka, Secretary is Darlyne Vierra and Treasurer is Stephanie Tabada. The Ka`u Regional Plan can be read at hawaiianhomelands.org.