Albatross in Flight, a hand-colored block print, as seen in A Perfect Day for an Albatross, a new
book by Volcano artist Caren Loebel-Fried, with book signing and discussion with seabird biologist
Cynthia Vanderlip on Thursday, Sept. 28. See story below.
FILL DIPLOMATIC APPOINTMENTS is the directive in the letter to Pres. Donald Trump from Sen. Mazie Hirono and nine other U.S. Senators today. Hirono, who serves on the Senate Armed Services Committee, says that diplomacy is key to avoiding war with North Korea.
It may look a little like Florida but
this is the Korean Peninsula where
diplomacy could prevent war, says
Sen. Mazie Hirono.
The letter to Trump states: "As North Korea continues its illegal nuclear weapons program, commits blatant violations of international law, and makes threats to our country and allies, the confirmation of a U.S. Ambassador to the Republic of Korea must be prioritized to send a concrete signal to reassure not only our ROK allies but also the American people. Just as our diplomatic mission to the ROK deserves leadership of an ambassador to represent our nation's interests, our country's diplomatic and military efforts in the Indo-Asia-Pacific region deserve permanent Assistant Secretaries of State and Defense to coordinate our diplomatic efforts on North Korea, other regional challenges as well as opportunities to advance U.S. interests."
Hirono and nine Senate Democrats also call on Trump to fill the vacancies for Assistant Secretary of State for East Asian and Pacific Affairs and Assistant Secretary of Defense for Asian and Pacific Security Affairs. "These key positions have gone unfilled in over eight months of the Trump presidency. In the wake of North Korea's actions, Senate-confirmed nominees for these positions would provide stable leadership and coordinate State and Defense Department efforts as our country works with our allies and partners to reach a diplomatic solution," says the letter.
Hirono and colleagues point out that the United States has diplomatic relations with over 190 nations "but none are as extensive and instrumental to our national security as those with our treaty allies such as the ROK. The U.S.-ROK alliance was strengthened by the bonds forged between U.S. and ROK troops during the Korean War and it continues to be strengthened by the Korean-American community, our economic ties and our mutual defense treaty commitments."
To date, the Senate has confirmed 20 ambassadorial nominees including six to close allied nations. "It is critical now for our government to affirmatively convey to our ROK allies that our relationship is valued in the same manner as these nations, and as senators we stand ready to consider your nominees," states the letter, which also calls for Trump to respond.
To read comments, add your own, and like this story, see
Facebook
. Follow us on
Instagram
and
Twitter
.
Hawai'i is the most racially and ethnically diverse state, and third
most diverse overall. See the study at
WalletHub.com
.
HAWAI'I IS THE MOST ETHNIC AND RACIALLY DIVERSE STATE, and the second most generationally diverse state, according to a study released today by WalletHub. The company set out to determine where the most idea and identity exchanges have occurred at the highest level in the U.S. — and where the population is relatively more homogeneous. WalletHub's analysts compared the 50 states across five key categories: socio-economic, cultural, economic, household and religious diversity.
Hawai'i comes in first in Racial & Ethnic Diversity, second in Generational Diversity, third in Income Diversity and Household Size Diversity, fourth in Worker Class Diversity, ninth in Linguistic Diversity, 14th in Birthplace Diversity, 22nd in Industry Diversity, 27th in Educational-Attainment Diversity and 30th in Occupational Diversity. The economic measures covered only the civilian population and did not include the military.
Hawai'i ranks as the third most diverse state overall, after California and Texas, and just ahead of New Jersey, New York and New Mexico. The least diverse, according to WalletHub is West Virginia, with Maine second and Vermont, New Hampshire, Montana and Kentucky, behind them.
Read the full report on diversity, how the study was done and what it means at
WalletHub.com
.
To read comments, add your own, and like this story, see
Facebook
. Follow us on
Instagram
and
Twitter
.
TELEHEALTH COMES IN OCEAN VIEW and the public is invited to check it out on Thursday, Sept. 28, from 10 a.m. to noon at Ocean View Community Center.
The Kona Veterans Administration Community Based Outreach Center has helped to bring in the new method of health care. VA staff will share innovations in technology that will increase care for veterans. The public will view telehealth equipment, observe demonstrations and speak with VA providers.
Ocean View Community Association President Ron Gall said: "The Telehealth equipment was donated to the Ocean View Community Association by GlobalMed Telemedicine. It was installed and tested today and volunteers will be trained on the equipment this week. The VA has targeted November 1st to launch the system. Veterans will be able to have real time visits with a Kona VA doctor without traveling to Kona."
For more information, Call David Willard at 329-0574 or Ron Gall at 939-7033.
To read comments, add your own, and like this story, see
Facebook
. Follow us on
Instagram
and
Twitter
.
THE KA'Ū COMMUNITY DEVELOPMENT PLAN, Bill 52, AND THE ISLANDWIDE STYROFOAM BAN, Bill 13, will be discussed again at tomorrow's Hawai'i County Council Meeting in Kona at the West Hawai'i Civic Center, starting at 9 a.m. Ka'ū residents can participate via videoconferencing at Nā'ālehu State Office Building or by attending the meeting.
To read more about these bills visit previous Ka'ū News Briefs,
Bill 13 - Styrofoam Ban
and for
Bill 52 - Ka'ū CDP
.
A PERFECT DAY FOR AN ALBATROSS is a new book with writing and illustrations by Volcano artist Caren Loebel-Fried. The public is invited to a book signing and discussion with Loebel-Fried and seabird biologist Cynthia Vanderlip on Thursday, Sept. 28, from 7 p.m. to 9 p.m. at Volcano Art Center, Niaulani Campus in Volcano Village.
School Library Journal
describes the book as "A wonderful introduction to a magnificent sea bird, this vibrantly illustrated story belongs on every shelf."
The artist will share personal experience researching on Midway Atoll, and explain how she created the book,
A Perfect Day for an Albatross
. She will sign copies of her book, and personalize limited edition prints of the book art. The original art created for the book will also be on display.
Cynthia Vanderlip has worked in the Northwestern Hawaiian Islands since 1989 for National Marine Fisheries Service, U.S. Fish & Wildlife Service, the state Department of Land & Natural Resources and Oceanic Society as a biologist, technician, naturalist and U.S. Coast Guard-licensed boat captain. Since 2002, Vanderlip has led annual field camps at Kure Atoll for the DLNR, Division of Forestry & Wildlife.
Cynthia Vanderlip on Kure Atoll. Photo by Hawane Rios

TWO STORY TIME EVENTS ARE OFFERED AT KA'Ū LIBRARIES the first week of October. Tūtū and Me Traveling Preschool staff will read a book aloud to keiki of all ages, with "a fun activity and snack provided following the story," according to the event flier issued by Hawai'i State Public Library System.
Story Time
is free to attend and will take place from 10 a.m. to 11:30 a.m. at Nā'ālehu Public Library on Monday, Oct. 2, and from 10:30 a.m. to noon at Pāhala Public Library on Thursday, Oct. 5.
For more information call Nā'ālehu Public Library at 939-2442 or Pāhala Public Library at 928-2015. For more library events, visit
librarieshawaii.org/events
.
To read comments, add your own, and like this story, see
Facebook
. Follow us on
Instagram
and
Twitter
.
Pick up the September edition of
The Ka'ū Calendar
delivered
free to 5,500 mailboxes throughout Ka'ū, from Miloli`i
through Volcano. Also available on stands throughout
the district. See it online at
kaucalendar.com
UPCOMING FALL TROJAN SPORTS:
Girls Volleyball
Wednesday, Sept. 20, Ka'ū vs. Konawaena, away.
Friday, Sept. 22, Ka'ū vs. Christian Liberty, home.


Eight-Man Football
Thursday, Sept. 21, Ka'ū vs. Pāhoa, away game at Kea'au Field.
Saturday, Oct. 7, Ka'ū vs. Kohala, home.
Saturday, Oct. 21, Ka'ū vs. Pahoa, home.


Cross Country
Saturday, Sept. 23, Ka'ū vs. Hawai'i Prep, away.


Bowling
Saturday, Sept. 23, Ka'ū vs. Kealakehe at Kona Bowl.
OCEAN VIEW COMMUNITY ASSOCIATION BOARD meets tomorrow, Wednesday, Sept. 20, at noon in the Ocean View Community Center. For more, call 939-7033.
MELE AND HULA will be presented by Hālau Ke 'Olu Makani O Maunaloa, tomorrow, Wednesday, Sept. 20, at Kīlauea Visitor Center auditorium at 6:30 p.m. Led by Kumu Hula Meleana Manuel, the halau mission is to strive to perpetuate the native Hawaiian culture through mele (song) and hula. The event is free. Park entrance fees apply. Hawai'i Volcano National Park's interpretation division is the sponsor.
HAWAIIAN CIVIC CLUB OF KA'Ū meets Thursday, Sept. 21, at 5:30 p.m. at Nā'ālehu Methodist Church. The new President is Berkeley Yoshida. For more details, call Blossom DeSilva at 929-9731.
IN AN EFFORT TO KEEP KEIKI SAFE, National Child Passenger Safety Certification, a Safe Kids Worldwide program, is offering free car seat checks at Pāhala Community Center on Friday, Sept. 22, from 10 a.m. to noon. Partners for Safe Keiki and Hawai'i County Fire Department co-sponsor the event. All are welcome.
Those with recalled or structurally unsound car seats will receive a free new car seat, acquired through grant funding from the Department of Transportation. For more information or to schedule an appointment, call or text 808-896-1336. For information about Child Passenger Safety, visit
safekids.org
.
THE NATURE CONSERVANCY HOSTS A VOLUNTEER DAY at its Kona Hema Preserve in South Kona on Saturday, Sept. 23, from 8 a.m. to 3 p.m.
Space is limited so those wanting to volunteer must contact Schubert in advance to reserve a spot on one of the trucks. For more, read the
Ka'ū News Briefs from September 8
. To contact Schubert, email
lschubert@tnc.org
or call 443-5401.
HAWAI'I SEED FEST: LOCAL SEEDS FOR LOCAL NEEDS,
sponsored by The Kohala Center and Hawai'i Seed Growers Network, is scheduled for Saturday, Sept. 23, from 9 a.m. to noon in Pāhoa and Honalõ.
"Check out variety trials in progress, learn how to conduct successful trials in your garden, enjoy refreshments and tastings of crops being grown from local seed, talk story with a local seed grower, and meet others in your community interested in improving local food security," says an announcement from The Kohala Center. Attendance is free but space is limited. Reserve online at
localseeds.eventbrite.com
or call The Kohala Center at 808-887-6411. Visit
Hawai'i Seed Growers Network.
NATURE & CULTURE: AN UNSEVERABLE RELATIONSHIP, a moderate hike approximately 2 miles takes place Saturday, September 23, from 9:30 a.m. to 11:30 a.m. at Kahuku Unit of Hawai'i Volcanoes National Park. Palm Trail hikers visit a place where catastrophic change (hulihia) and subsequent restoration (kulia) can be observed as the land transitions from the 1868 lava flow with its pioneer plants to deeper soil with more diverse and older flora. Learn about native plants that play a vital role in Hawaiian culture. Free. Visit
nps.gov/havo
for more.
THE 4TH ANNUAL KA'Ū COFFEE TRAIL RUN with races starting and ending at the Ka'ū Coffee Mill will take place this Saturday, Sept. 23. Staggered gun starts begin at 7 a.m. Runners will receive a race goodie bag, including a T-shirt and more. Each registered participant will also be entered into a door prize drawing valued at $700.
Trail terrains vary between races: the 5K is a family-friendly, run/walk trail through macadamia nut groves and coffee fields; the 10K is a moderate run through macadamia nut groves and coffee fields; and the Half Marathon follows the 5K & 10K course, then continues up to an elevation of 3,100 feet, traverses onto a 4-wheel drive access road, marked trails undulating through grazing pastures. Through midnight on Thursday, Sept. 21, runners can register online at
webscorer.com/
Free music and entertainment and post-race massages will also be available for $1.00/Minute at the event.
Race day registration ends at 6:30 a.m. For more details about the event visit
okaukakou.org/kau-coffee-trail-run/
.
ACOUSTIC INSTRUMENT PLAYERS, DRUMMERS, SINGERS AND DANCERS ARE WELCOMED for Kanikapila on Saturday, Sept. 23, from 6 p.m. to 9 p.m., at the Nā'ālehu Methodist Church Hall. For more, call Desmond at 937-6305.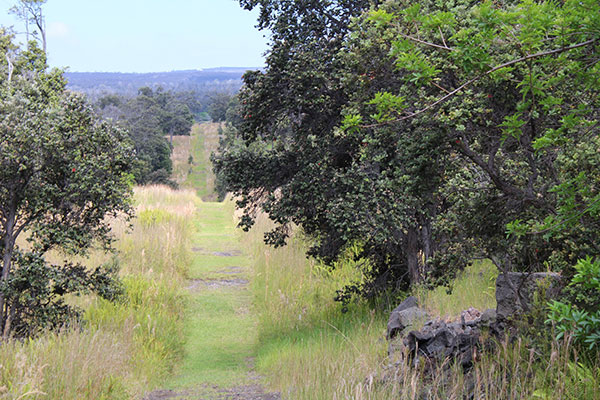 Palm Trail in the Kahuku Unit of Hawai'i Volcanoes National Park.
Photo from NPS/Sami Steinkamp
THE KOHALA CENTER'S DEMONSTRATION FARM HOSTS A FIELD DAY on Saturday, Sept. 23, from 10 a.m. to 4 p.m. (45-434 Lehua St, Honoka'a).
The Kohala Center's event description offers "a farm tour, hands-on training, and planting of an agroforestry system designed to diversify crops, control weeds naturally, and improve soil health."
This event is open to the public, with high school students and teachers encouraged to learn about the upcoming fall High School Sustainable Agriculture Program.
Contact Dave Sansone at
sansone@kohalacenter.org
or 808-887-6411 for more information.
JOIN A GUIDED HIKE ALONG THE PALM TRAIL on Sunday, Sept. 24, from 9:30 a.m. to 12:30 p.m. within the Kahuku Unit of Hawai'i Volcanoes National Park. This moderately difficult 2.6-mile loop traverses scenic pastures along an ancient cinder cone, with some of the best panoramic views Kahuku has to offer. Free. Visit
nps.gov/havo
for more.
A VOLLEYBALL CLINIC for five to 14 year-old youth, co-sponsored by the Hawai'i Police Department, will be held at Ka'ū District Gym from 6 p.m. to 7:30 p.m. on Monday Sept. 25. The instructor will be Ka'ū High School girls volleyball coach Joshua Ortega and coaching staff, assisted by the Ka'ū High School Girls Volleyball team. Gym or court shoes required. Participants must turn in a signed registration waiver form. For more information, and to register, call Ka'ū District Gym at 928-3102.
ART ENTRIES WILL BE ACCEPTED ON MONDAY, SEPT. 25 for the Ka'ū Chamber of Commerce's Annual Art Show. The art show will be open for public viewing from Tuesday, Sept. 26, to Friday, Sept. 29, in the CU Hawai'i Federal Credit Union Annex Building (behind CU) in Nā'ālehu, during normal credit union business hours.
An Artist Reception for distribution of prizes and art pickup will be the morning of Saturday, Sept. 30.
Categories include: painting, graphics, photography, craft, lei, weaving, jewelry, quilting, sculpture, and woodworking. There will also be categories for Youth and Keiki entries, for which the entry fee is $1 per artwork - CU Hawai'i has offered to sponsor any and all keiki who ask.
The winning popular vote piece will be displayed on the cover of
The Directory 2018,
according to new Chamber co-chairs Alan Stafford and Allen Humble who describe the annual art show as a fundraiser for the Ka'ū Chamber of Commerce scholarship program. For more details, visit the Chamber website at
kauchamber.org
or call 936-5288.

REGISTER KEIKI GRADES K-8 FOR ART: For Metal Stamped Bracelets, register until Sept. 26. The art class will take place at Pāhala Community Center on Wednesday, Sept. 27 from 3:30 p.m. to 5 p.m. For more, call 928-3102.