Hawai`i National Guard Youth Challenge Academy cadets travled to KMC today to participate
in Memorial Day Ceremonies, including presentation of the colors. Photo from Youth Challenge
MAYOR HARRY KIM GAVE THE KEYNOTE ADDRESS this Memorial Day at Kilauea Military Camp today. The theme was
Celebrate-Honor-Remember
. Children of Mountain View Elementary School sang patriotic songs. Hawai`i Volcanoes National Park waived entrance fees for 30 minutes before the 3 p.m. ceremony. A special buffet was served after the Memorial Day event.
Members of the Hawai`i National Guard Youth Challenge Academy at Kulani presented the colors during the ceremony.
Mayor Harry Kim arrived to Kilauea Military Camp to
give the Memoral Day Address, greeted by manager
of the recreation and hotel facility manager Randy
Hart. Photo from KMC
Hawai`i National Guard Youth Challenge on the Big Island is one of two in the state. A 17.5 month quasi-military training program consists of a 22-week Residential Phase and 52-week Post-Residential Phase. A statement from the Kulani administration says that "Kulani, like the other 34 Challenge programs throughout the United Statesa and Puerto Rico, continues the tradition of carrying out the mission to provide participants with the values, skills, education and self-discipline necessary to become successful, productive and responsible adults." Kulani holds two classes a year and offers a CBASE Curriculum to provide opportunity to earn a high school diploma.
Providing the Color Guard for the Memorial Day Service is one of many public activities that also included help with a recent high school graduation.
To read comments, add your own, and like this story, see
Facebook
. Follow us on
Instagram
and
Twitt
er
GOV. DAVID IGE SENT OUT THIS MEMORIAL DAY MESSAGE: "As friends and neighbors prepare to lay flowers and wreaths, and float lanterns across the waters of Hawai'i this Memorial Day, Dawn's and my thoughts are invariably with the military families who strengthen our community by their example. They are the embodiment of Hawai'i's long history of proud military service.
"Both Dawn's father and my own served in the distinguished 100th infantry battalion during the Second World War, along with so many others. We know the pride of loved ones in military service. We also grieve with the families whose brave sons and daughters, as well as mothers and fathers, leave home to serve, never to return.
"On this day, let us all reflect on the sacrifices made by those who serve in uniform, protecting us near and far. And let us strive, together, for a world in which need for those sacrifices may be diminished.
Sen. Mazie Hirono less then five days after her kidney was removed
for cancer. She sent out a Memorial Day message today.
Photo from Office of Sen. Mazie Hirono
To read comments, add your own, and like this story, see
Facebook
. Follow us on
Instagram
and
Twitt
er
SEN. MAZIE HIRONO SENT OUT THIS MEMORIAL DAY MESSAGE: "Memorial Day is an opportunity for us as a nation to honor our service members, remember those who gave their life in service to our country, and reflect on the legacy they left behind. Please join me and take a moment to honor the sacrifices made by our fallen service members, and reaffirm our commitment to support them and their families."
Hirono returned to the U.S. Senate last Monday after undergoing the removal of a kidney for cancer treatment the previous Thursday. She said cancer was also found in her seventh rib. "I still have a way to go in my journey to recovery, but I expect to be back in fighting form." She said she will continue to work "with all of you on the same page of common cause. Aloha."
To read comments, add your own, and like this story, see
Facebook
. Follow us on
Instagram
and
Twitt
er
HAWAI`I VOLCANOES NATIONAL PARK ENTRANCE FEES INCREASE this Thursday, June 1. A statement from HVNP says the hike is the last phase of a three-year incremental plan to meet national standards for parks with similar visitor amenities.
The 2017 per-vehicle fee will change from $20 to $25 and the pass is valid for seven days. The per-person fee (the rate bicyclists and pedestrians pay) will increase from $10 to $12, and the motorcycle fee will increase to $20.
Hawai`i Volcanoes National Park entry fees increase this Thursday. Photo from HVNP
The popular annual Tri-Park Pass will increase from $25 to $30 in 2017. The annual Tri-Park Pass is available to all visitors and allows unlimited entry for one year to three national parks: Hawai'i Volcanoes National Park, Pu'uhonua o Hōnaunau National Historical Park, and Haleakalā National Park.
Recreational entrance fees are not charged to holders of the Tri-Park Pass, America the Beautiful National Parks and Federal Lands ("Interagency") Pass, Senior, Access, Every Kid in Park,
Volunteer, or Military passes. These passes may be obtained at the park, or
online
. In addition, visitors less than 16 years old are not charged entrance fees.
Entrance fees at Hawai'i Volcanoes National Park support ongoing
trail maintenance, road and parking lot striping, cabin repairs, hike
guides, restrooms, picnic tables, and much more.
Photo from HVNP
Fee increases for the park's backcountry and front-country campsites were implemented in October 2016. There is a $10 per night charge for the front-country campground at Kulanaokuaiki, up to seven consecutive nights; and a $10 per permit charge for backcountry campgrounds like Nāpau, 'Āpua Point, and Halapē, up to three consecutive nights. Availability is on a first-come basis, not a reservation system. The camping permit fees are similar to other public camping fees statewide.
In addition, entrance fees will increase for commercial tour companies on June 1. Road-based tour vans carrying one to six passengers pay a $25 base fee and starting June 1, will pay a $12 per-person rate to enter the park. The commercial tour per-person rate will remain at $12 through 2021. The base fee will not change. Non-road-based tour companies, i.e. hiking tour companies that are on trails more than touring the park by vehicle, don't pay a base rate but their per-person entrance fees will increase under the schedule.
An NPS report shows that 1,887,580 visitors to Hawai'i Volcanoes National Park in 2016 spent $159,195,500 in communities near the park. That spending supported 1,917 jobs on island, and had a cumulative benefit to the local community of $199,923,400.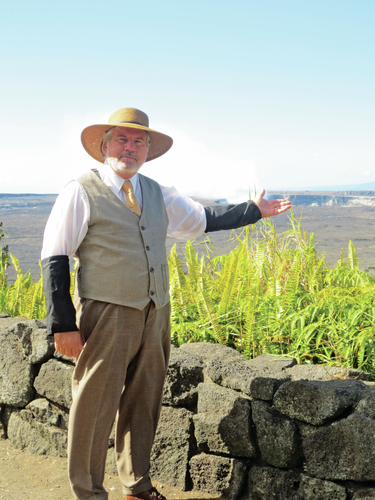 Dick Hershberger, of Ocean View, portrays
Thomas Jaggar, founder of Hawaiian
Volcano Observatory. Photo from HVNP
A WALK IN THE PAST, tomorrow, May 30, features living history presenter Dick Hershberger, dressed in period costume and bringing back to life Thomas A. Jaggar, founder of Hawaiian Volcano Observatory and a prominent figure in the history of volcanology, the study of volcanoes. The program takes place in the Whitney Vault, a 16-by-12-foot underground laboratory that still has original seismograph equipment, and is located under a mound in front of the Volcano House.
Performances of
A Walk into the Past
are on select Tuesdays at 10 a.m., noon and 2 p.m. Meet at the Kīlauea Visitor Center. There is no charge for the performance, but park entrance fees do apply
A SINGLE VEHICLE ROLL-OVER ACCIDENT left one man dead and two others seriously injured on Sunday at 8:58 p.m. near the 33-mile marker on Hwy. 11 in Hawai'i Volcanoes National Park.
The vehicle, a white Toyota Tacoma truck, was traveling in the Ka'ū-bound lane when it rolled over and ejected all three occupants. A 48-year-old male passenger was found pinned beneath the truck and pronounced dead on the scene by Hawai'i County Fire Department medics.
The 43-year-old male driver, a Pāhoa resident, was placed under arrest for suspicion of driving under the influence of alcohol. He was transported by ambulance to Hilo Medical Center for further evaluation, and escorted by National Park law enforcement personnel. The third occupant, a 53-year-old male, was also transported to Hilo Medical Center for treatment.
One lane of Highway 11 remained open during the accident scene investigation, and both lanes were open and flowing freely early Monday morning. Names are being withheld pending notification of next of kin, and further investigation.
This is the second fatal traffic accident in the park this year.
Anyone with information regarding this accident can call Park Dispatch at (808) 985-6170.
Monument at Midway marking the battle that changed WWII.
Photo from HVNP
To read comments, add your own, and like this story, see
Facebook
. Follow us on
Instagram
and
Twitt
er
KA`U FOOD PANTRY, Tuesday, May 30 from 11:30 am.. to 1 p.m. at St. Jude's Episcopal Church in Ocean View.
AFTER DARK IN THE PARK on
Tuesday marks the 75th anniversary of the Battle of Midway, the turning point in World War II in the Pacific. Midway is now within a National Marine Monument and is an historical site.
The talk takes place at 7 p.m. at Kilauea Visitor Center Auditorium in Hawai`i Volcanoes National Park. A $2 donation helps support programs.
To read comments, add your own, and like this story, see
Facebook
. Follow us on
Instagram
and
Twitt
er